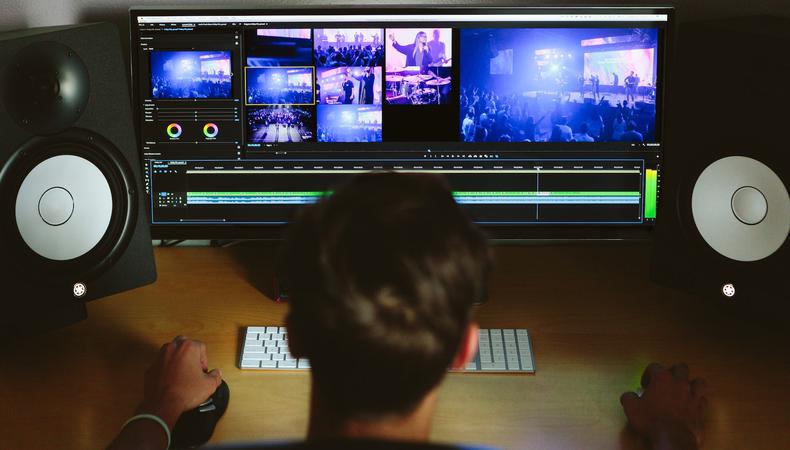 Whether it's for film, a web series, or digital ads, one of the most crucial parts of the postproduction process across genres and mediums is editing. For anyone who wants to have a career as a video editor, finding a great training program is key. Designed to train students in every aspect of the video editing process—from skills as granular as specific functions in different software to examining the role of an editor in the scope of a larger production—the following schools offer unique learning opportunities.
The American Film Institute may be one of the most highly selective video editing schools in the country, but it's for good reason. It prides itself on being and producing the best, so it only accepts students they believe will be the future of film.
The AFI Conservatory in Los Angeles offers many two-year programs that allow students to specialize in the area of film and video that most interests them. The editing specialization trains "fellows" on the technical side of the editing process, while emphasizing how storytelling plays a part in edits. Fellows are guaranteed editing work on at least eight films and also get the chance to work in other disciplines, including cutting films and working as assistant editors.
AFI also prides itself on bringing "master storytellers" to campus for talks, panels, and seminars. Past speakers include British editor Anne V. Coates and "Spotlight" editors Tom McArdle and Michael Rezendes. At the end of the program, fellows are armed with a full demo reel suited for their entrance into the industry, as well as all the knowledge they'll need to be the smartest editor around.
Degree: Masters of Fine Arts
Tuition: $61,425 (first year); $63,575 (second year)
Notable Editor Alumni: Sarah Broshar ("The Post," "Ready Player One"), Affonso Gonçalves ("Carol," "Beasts Of The Southern Wild"), Andrew Seklir ("Westworld," "Fargo"), Katy Skjerping ("Grey's Anatomy," "The Good Wife"), Byron Smith ("House of Cards," "True Detective")
NYU's Tisch School of the Arts has a reputation for turning out industry icons, and their editor alums are no exception. Tisch's editing program is housed within the film and television department's postproduction specialization, which offers classes focused on editing structure—both narrative and documentary-based—and technical software training.
Students are given a base education in the core principles and techniques of production, as well as writing, criticism, and the history of the film and television industry. This holistic look at video creation allows students to understand editing not just as a methodology, but as a storytelling tool.
As they progress to higher levels within the specialization, students do a fair amount of hands-on learning between working on other students' projects and learning more advanced techniques. Tisch also offers its students a wide range of equipment and resources: in post-production suites on campus, students have access to everything from Final Cut Pro X and Avid Media Composer to Adobe Premiere Pro CC and Intuos5 Touch tablets.
Degree: Bachelors of Fine Arts in Film & Television with a specialization in Post Production
Tuition: $58,552/year
Notable Editor Alumni: Sally Menke ("Pulp Fiction"), Joel Coen ("Fargo," "No Country For Old Men")
Thanks to seriously sizable donations from alumni—George Lucas contributed $175 million—the University of Southern California is rich in both funds and support. If you're interested in video editing, you can learn the discipline in the Peter Stark Producing Program.
Known for its technical training, the program provides students hands-on experience and software trials while also emphasizing film history and techniques. Students also have access to a wide range of resources, including Avid editing bays, color correction suites, sound mixing rooms, visual effects studios, and ADR and foley stages.
Run like a studio, the program challenges you to think more about how video editing and post-production play a part in the context of not only the big-picture of a specific film but the industry as a whole. If you want the real experience of working in video editing, USC says it can give it to you.
Degree: Bachelors of Fine Arts in Film & Television with a specialization in Post Production
Tuition: $57,256/year
Notable Editor Alumni: Debra Neil Fisher ("The Hangover," "Austin Powers"), Lee Haxall ("Crazy Stupid Love," "Arrested Development"), Walter Murch ("Apocalypse Now," "The English Patient"), Avi Youabian ("The Call," "Step Up Revolution"), Tim Atzinger ("Survivor," "The Voice")
Although Chapman University's Dodge College of Film & Media Arts is relatively young—it was founded in 1996—that doesn't mean it's not a top-notch program with a lot to offer students. In particular, the program boasts a Digital Media Arts Center that features a 1,500 square foot directing stage, a 4K screening room, and an 18,000 square foot digital arts studio. Even more impressive? For those interested in editing, Chapman has a 76,000 square foot production studio, giving students the chance to get hands-on experience with multiple editing suites, a production design studio, and set workshops.
The three-year MFA program is mentor-focused with a curriculum in visual storytelling, specific techniques, and industry-standard software. During the first and second years, students get a foundational look at filmmaking and how production plays a part in the process; the program also promises students the immediate ability to gain real-life production experience, not just the staged scenarios in class. In the third year, students are given the chance to work with a student-run team on a thesis project with a $15,000 budget. After being given a well-rounded look at film production, video editors are able to split off into their specialization to further their education in specific areas.
Degree: Master of Fine Arts with a specialization in editing
Tuition: $58,552 a year
Notable Editor Alumni: Patrick J. Don Vito ("Green Book," "National Security"), Shelby Hall ("Jojo Rabbit"), Brett Blake ("Toy Story 4")
Emerson College offers both a Bachelor of Arts and a Bachelor of Fine Arts, both within the Media Arts Production major, which offers students a wide look at production in general as well as a deep dive into specializations like video editing. Students spend their first semester learning the production foundations and industry history, all while attending production workshops.
Students are then able to dive into editing, with multiple courses offered that each teach different software and techniques with the aim of sending graduates into the world fully equipped, professionally. At the end of the four-year program, students have the opportunity to participate in capstones to gain a BFA and graduate with professional work.
Degree: Bachelor of Arts and a Bachelor of Fine Arts
Tuition: $48,560/year
Notable Editor Alumni: Michael McCusker ("Ford v Ferrari," "Walk The Line"), Dave Blass ("The Boys," "Asylum"), Zach Kornfeld (YouTuber, "The Try Guys")
"There's a really strong, informal network between alumni, especially in the entertainment industry. That's a real benefit to our program: students are able to find positions shortly after graduation."
This story originally appeared in the May 27 issue of Backstage Magazine. Subscribe here.
Find and apply to the latest video editor and post production jobs on Backstage here.