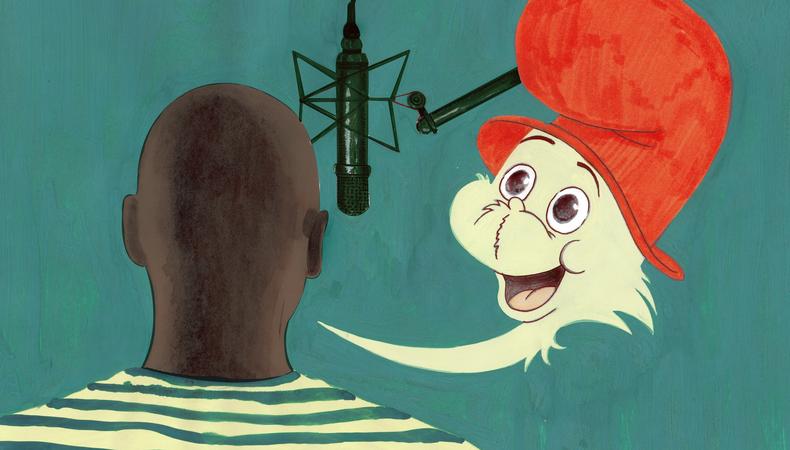 Few casting directors know the ins and outs of voiceover like Mary Hidalgo. A veteran of the field who got her start at Disney, she's now behind some of the buzziest animation projects out there, including the "Lego Movie" franchise, 2018 Oscar winner "Spider-Man: Into the Spider-Verse," Matt Groening's "Disenchantment," and Netflix's latest, an animated adaptation of Dr. Seuss's "Green Eggs and Ham." For the new series, which is now streaming on Netflix, Hidalgo assembled an impressive cast: Michael Douglas, Adam Devine, Ilana Glazer, Keegan-Michael Key, Diane Keaton, and more to bring both iconic characters and newly created ones to life. In conversation with Backstage, Hidalgo explains what she looks for in a voice cast and shares some advice for actors hoping to break in.
READ: 7 Tips for Starting a Voiceover Career Later in Life
What was the casting process like for "Green Eggs and Ham"?
You start with the characters. I talked to Jared [Stern, the show's creator], talked to the producers, saw what their desires were, and then we all started making lists and throwing names around. It helps if it's somebody established; it's easier. It's a shorthand; certain actors do certain things. So, you talk about those people. I get the character descriptions, and then I have to make lists according to their archetypes—there's the grumpy old man, there's the vibrant young man, there's the ingénue, there's the worried mother.
How did you determine what these iconic characters should sound like?
Jared had a clear idea who those voices should be; Sam I Am had to be young and energetic and funny. But sometimes it's not as clear. When you have supporting characters, like Snerz in this, which Eddie Izzard voiced, that could be anybody. I tried to think more outside the box with those characters, because you're allowed to.
What are some differences between casting for animation and live action?
When I first started doing animation, I thought, Oh, it's all about the voice and the performance and not about the look. But I've kind of changed my view on that, because sometimes, if you want somebody to play a superhero, you think of whose voice would be good. Then you kind of go through those guys who have already played superheroes; you would want, say, Chris Hemsworth over someone who is known for another kind of work. When I was doing live-action work, a lot of times you look at the actor and ask, "Does that person look like the character?" Sometimes, the acting is almost secondary to getting the look. It's kind of the opposite of what animation is. I just want somebody who does something different than everybody else.
What makes someone stand out in a voiceover audition?
Sometimes, when I audition actors, they just give me what's on the page and they don't dig any deeper. I do like a deeper dig. Read between the lines or do something that just kind of pops away from all the other performances. When I have to do auditions for things, I audition a lot of people. It's nice to hear something that feels like an oddball take on the character or an interesting voice or emotion. Just reading what's on the page most of the time doesn't work for me.
Describe your typical audition process.
I contact all of the voiceover agents I have really good relationships with and I say, "We're looking for this character. Could you audition your actors?" That's the first step, so [it's] a lot of self-records, or sometimes those actors will go into the agency and go to a booth. At that phase, it doesn't matter. And then, what I'll do is I'll listen to them again and if there's something that I like, I'll pull those actors out. Then we whittle it down to smaller groups and we'll have callbacks in person with the creatives and me. If that's good, we whittle it down even more and either we find the person or we whittle it down completely to a couple of people, and then maybe have another audition. But it always starts with the agents. That's why it's a lot of numbers. For actors who won't audition, we sometimes put them to the side. For instance, on Matt Groening's show ["Disenchantment"], he wanted to hear everybody read the material. If they didn't read, they weren't going to be on the show. In the end, it all depends on who the creatives are. Some people are OK with just one audition.
How do you know when an actor and their voice are right for a part?
Because of the name value of the actors that we go after, we just listen to clips of them from different things that they've already done. So, with Michael Douglas, we found the most current thing that he had done so that we could hear his voice and see if it fits in the body of the character. We'll have a drawing of the character, and we'll look at it with the voice behind it. That's how you go about it. You go after your dream cast. If your dream cast says no, then you go out to your second dream cast, and it just keeps on going until it all kind of gets into place.
For actors, what are the differences between auditioning for voiceover and live action?
I don't think there's any difference; I think you have to be a really good actor. If you want to pursue being an actor, you pursue it on all levels; it all has the same importance. When you get in a booth by yourself to record a scene with somebody else who's not there, it's way more challenging than if you're in front of a camera. You have to know what you're doing, so studying acting and learning how to act is the best thing you can do for any form of entertainment.
What makes for a memorable voiceover audition?
It usually only happens if they make me laugh. If I laugh at the audition because it's just weird, then I'll remember them. I hear so many auditions and everything kind of starts sounding the same until somebody does something really weird or unusual and you just think, Ah, I'll remember that; even if they're not right for this, I'll remember that person.
What shouldn't an actor do in your audition room?
Don't apologize. Just do your best. That's all I care about. Care about what you're doing [as if] it's not just another audition your agent sent to you. Really think about it. There are so many opportunities now in voiceover that I think a lot of actors get auditions all the time, every day. Just care a little bit. Also, I typically don't like somebody to put on a silly voice, because the projects that I'm working on tend to not want that. Sometimes people think with animation that they have to do a "Ren and Stimpy" kind of weird voice, but no. Just do what you're good at.
Where do you look for talent outside of agents or managers?
I only usually look elsewhere if I have to find kids. I tend not to go outside—comedy clubs aside, because a lot of times that's where you find a lot of really great talent. But until those standups have established themselves as actors, it's harder to put your faith in [the fact] that they can do this material that you're trying to do, the nuances with beats. There's no ground floor in animation, it feels like.
What advice do you have for actors who want to break into voiceover?
It seems to be kind of cliquey, the voiceover world, so just don't get discouraged by that. Just keep working at it. That's all I can really say. Just don't give up. It's easy to give up when you keep on auditioning and auditioning and not getting anything, but something will happen. If you believe it'll happen, it will happen.
READ: 38 Must-Know Voiceover Terms
How has the industry changed since you started casting?
It's gotten much faster because everything's digital now. It's actually really great for actors, because that just opens it up to everybody. When we have auditions, I can hear everybody instead of just looking at a résumé and guessing if they can do the material; they have an opportunity to do the material and send it to me and I can listen to it. If it doesn't go any further, it doesn't go any further, but the digital aspect is fantastic for actors, especially. Back in the day, we used to have to record things on a boom box off of television. That was impossible. It was impossible to figure out who was good and not good other than by auditioning people. Because of that, I don't see as many actors in my room as I used to in the past. It's not necessary.
What don't actors know or realize about what you do?
I definitely get the question about whether or not you have to be a good actor. I run into that a lot. Somebody will say to me, "I don't want to be on camera, I just want to do voiceover." But you should want to do all that other stuff because you're an actor. I bump up to that constantly. If you just want to do cartoons, well, you're never going to do cartoons if you don't know how to act. Also, a lot of actors don't understand that I don't know how to get people agents—that's your job!
This story originally appeared in the Nov. 14 issue of Backstage Magazine. Subscribe here.