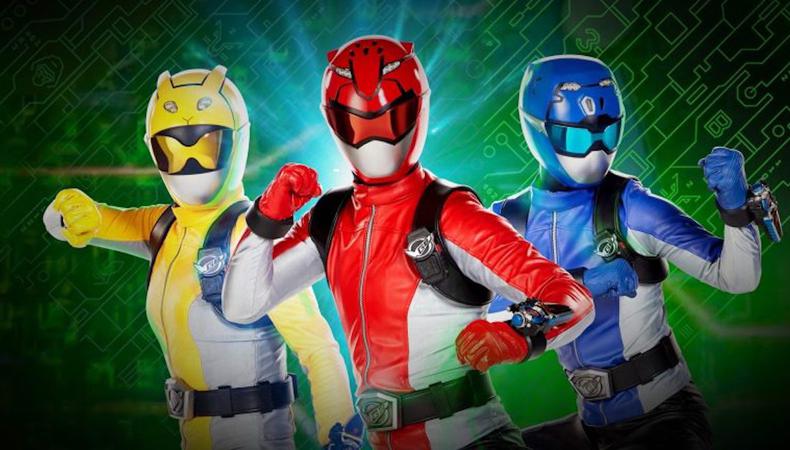 It's morphin' time...again! For more than three decades, the mighty "Power Rangers" franchise has punched, kicked, flipped, swung swords, and roared across TVs and pop culture, cementing its status as one of the most popular—and longest-running—properties in all of kids' entertainment. Despite delays in production brought on by COVID-19, Season 28, "Power Rangers: Dino Fury," began filming in Oct. 2020, and will premiere on Nickelodeon in 2021.
The series is based on the Japanese tokusatsu franchise "Super Sentai," from which it takes much of its action footage; the new season will specifically be based on the "Super Sentai" 2019 series "Kishiryu Sentai Ryusoulger." Following two years of "Power Rangers Beast Morphers," Season 28 will focus on the adventures of a new team of evil-battling rangers, each of whom are fueled by the energy of the morphing grid and prehistoric power of dinosaurs.
As of May 2020, the series was still being cast: young people aged 18 to 25 who were "photogenic, charismatic, and energetic" with an outgoing and positive personality, and experience with acting and athletics (martial arts, dance, and gymnastics) were summoned by casting directors and producers via social media.
"Power Rangers" was created by Haim Saban and Toei Company, Ltd. and executive produced by several, including Judd "Chip" Lynn, Brian Goldner, and showrunner Simon Bennett. It first debuted on Aug. 28, 1993 on Fox Kids and its 28nd season will premiere on Nickelodeon in 2021.
Because Season 28 of the series has begun production with a newly announced core cast, there are currently no casting calls or auditions. However, be sure to keep an eye on Backstage—which has had casting calls for "Power Rangers" in the past—for future opportunities.
Past casting notices have included:
'Power Rangers: Beast Morphers': High School Students (supporting)
All genders, 18-25 (to look 18-21)
Should be photogenic, charismatic, and energetic; acting experience is a plus, but not required
Average weight + height (men: 5'6"-6', women: 5'2"-5'8")
All ethnicities
'Power Rangers: Dino Charge': Power Ranger Lead
Male, 17-19
gregarious, physically fit, and athletic
5'8" to 5'11" (no one over 5'11")
All ethnicities
'Power Rangers: Dino Charge': Kayla (supporting)
Female, 25-30

must have comedic timing, athletic build

petite (5'3" to 5'5")

All ethnicities
'Power Rangers: Dino Charge': Jeremy (supporting)
Male, 25-30
physically fit, athletic build, heavier than the Rangers, but not heavy
average height (5'8" to 5'11")
All ethnicities
Since the show is constantly evolving, auditions for new rangers are held every two years, according to Brennan Mejia, the Red Dino Charge Ranger from "Power Rangers Beast Morphers."
When it came time to cast Season 28 (the process of which took place in April and May 2020 and was completed by August), casting directors and producers sought out talent on social media via CNA Casting, among other casting venues. They were seeking "confident, good-hearted, and courageous" applicants with "strong athletic abilities such as martial arts, dance, gymnastics or acrobatics."
Those who wanted to audition were encouraged to submit a "good, current photo" and self-tape. The latter came with extremely specific instructions: "wear form-fitting athletic wear," start with a close-up while you introduce yourself, and provide a physical demo, among several other requirements. The notice also asked auditioners to "have fun [and] enjoy yourself" and informed potential cast members that they must be willing to relocate to Auckland, New Zealand "for up to 9 months."
As of September 2020, the announced cast for Season 28 includes:
Russell Curry as Zayto/Red Dino Fury Ranger

Kainalu Moya as Ollie/the Blue Dino Fury Ranger

Hunter Deno as Amelia/Pink Dino Fury Ranger

Chance Perez as Javier/Black Dino Fury Ranger

Tessa Rao as Izzy Garcia, the Green Dino Fury Ranger
The actors for the Black, and Gold Dino Fury Rangers have yet to be officially announced (most likely to keep this a secret until these characters are revealed later in the season). However, other actors who have been cast on the show (and are speculated for these parts) are:
Alexandria Nuñez

Jordon Fite
For "Power Rangers Beast Morphers," the casting director was Iris Hampton, who also found talent for "Power Rangers Megaforce," "Power Rangers Dino Charge," and "Power Rangers Ninja Steel," among several other seasons of the show going back to 1998. In a Feb. 2018 tweet, she wrote, "We will begin casting soon for another amazing season of Power Rangers! Contact your agents and managers for details… Would love to see great young talent proficient in martial arts, gymnastics, acrobatics or dance."
Jasmeet Baduwalia, who played Ravi a.k.a Beast Morphers Blue in "Power Rangers Beast Morphers" remembered his rigorous audition process in 2018 well: "I think the process for me started on March 27 and the whole process was just like, I think it was about five auditions that we had to go through. So it's a very long process and the first one is just a pre-read that you do with the casting official. Then you've got a casting director audition. Then you've got a producer audition. Then, you have another producer audition, and then you get the screen test or a chemistry test. I think for me the goal of it all is to make sure they get the right person. They want to make sure you have the physical abilities, they want to make sure you can perform well, just from acting to performing physical kicks, martial arts, or karate, or whatever you can do."
He continued, speaking on the mystery surrounding what role he was even reading for: "So you just go into it with the generic vibe. It just says reading for Ranger. They don't tell you what Ranger you're going in for. They don't tell you what color you're gonna go in for.... It was mostly just what everyone thought fit. What the network, what the producers thought looked good at the end after the screen test."
As far as who the series has traditionally sought out for its cast of lead heroes: it boils down to being young, very physical, and diverse. Speaking on assembling the "Dino Fury" cast, Simon Bennett recently said, "In terms of the cast, obviously it's a diverse group of people reflecting the diversity that we find in the world. There's a huge range of different ethnicities, cultural backgrounds, and other forms of diversity involved in the crew and making the show in New Zealand. New Zealand is a very liberal country and issues like gender fluidity, sexuality, ethnicity, they really don't affect the making of the show. I would say the film industry here is incredibly diverse and open."
Being in shape is a must: Reflecting on life prior to his audition, Baduwalia said, "I think mostly I just wish before the show I would have done more martial arts. We do a lot of fights in the show... You should be able to do kicks or [flips] or running. You've got to be very physical. This role is very physical but it's also very fun."
Be yourself: "The number one piece of advice that Haim Saban and Chip Lynn told us when we got here was to be ourselves," Baduwalia said. "If we messed up in the audition room it was okay, it was not the end of the world. And also just being prepared, just being prepared for the journey.... Have your acting chops ready, have your physical abilities ready, and at the end of the day, anyone can be a ranger: I'm a full blood Punjabi Ranger, the first-ever in the history of Power Rangers.... And just have fun because they want to see you having fun. They're going to be spending so long with you in New Zealand that they just want someone to work with. They just want to be around someone that's fun, that they can get along with."
Do your research: "A lot of people audition for shows and they don't know anything about it," Mejia said in a video in which he provided self-tape audition tips. "I recommend you get a feel for what it is you're going for. If you're not familiar, go watch 'Power Rangers'! See how the Rangers act, see what type of dialogue you're using, see how they react with one another, listen to the musical cues."
Don't be discouraged: "And in regards to not getting the job, it doesn't mean you were bad," Mejia added. "Sometimes not getting the job literally comes down to their preference. Be courteous, be kind, be a human being. Remember, [the casting directors] are not there to be evil, to make you feel small and belittle you. They want you to do a good job. In the audition process, it's not just one person who decides you don't get the job. It's not just the casting director, there's also the directors, the producers, the writers, the executives, the studio, Hasbro themselves. They want you to be the person to embody this character that they can make a brand around."
You never know what will come of an audition: Liana Ramirez, who played Roxy, an avatar/cyber villain on "Power Rangers Beast Morphers," performed extensive physical/martial arts routines for her auditions and callbacks. However, she ended up not getting that role. "I had worked so hard for four months for something I wanted so bad...to be told 'No' was so terrible. I cried a lot, but in the same conversation of being told 'No,' they actually said, 'Hey wait, we're not really saying no to you completely. We want you to come in and audition for the villain of the show.' And when I heard that I was like, 'Oh, this is so confusing. You're saying no but you're saying maybe at the same time? Like what is happening? But in the end, I felt this was another opportunity, this is really good that you're bringing me back in still. So I was like, 'You know what? Let's go for it.' So I went in and I got the sides for this girl named Roxy [and] I went in for a testing session with the executive producer Chip. I was in the room for 30 minutes or more doing the same two-page scene about 10 times or more, and I came out of the audition feeling so good about this new character Roxy and how fun she was. I am so thankful for the role that I got. If you are an actor or an actress and casting is giving you a second opportunity to come in for a role that you may have not wanted in the first place, don't pass up the opportunity! Because that role can change your life."
Currently, there is no information regarding auditions for Season 28 or future seasons of "Power Rangers." Be sure to keep your eyes out for notices on the official website, Twitter and Instagram pages, and Backstage for updates and related audition opportunities. Remember, the show adds in new characters and recruits new team members/villains regularly so check in often!