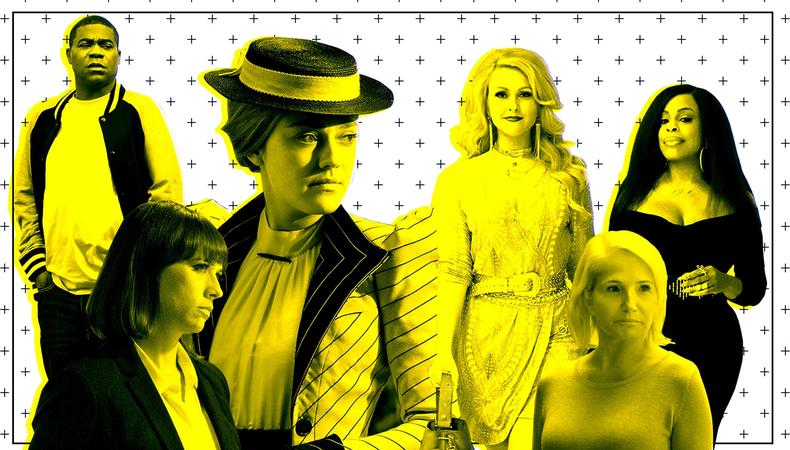 Getting cast on a TV show might seem pretty straightforward. Then you hear things like "network test" and "executive," and it's clear that landing a part is more than just wowing a casting director and a showrunner in an audition. What goes on in network casting is famously unclear. The truth is, the unknown makes the process much more intimidating than what's actually going on behind the scenes, which can typically be described as a compounded casting process. What actors should know is that network casting is just another team seeking out talent and finding the best fit for their shows.
A single casting department oversees sister networks TBS and TNT. Mike Page and Alexis Booth are the casting executives for the cable network. But you shouldn't be surprised to see their casting credits on shows and movies before each of their tenures at Turner. Once Page was introduced to casting through a reality production company, he cycled his way through scripted casting director roles and projects that ranged from network TV to premium cable. He padded his résumé before accepting the job as manager of casting at Turner, where he started to apply his experience in a new way and worked his way up to director of casting. We spoke with Page about the ins and outs of a career as a casting executive, what actors can expect form the casting process at TBS and TNT, and where he and Booth scout for new talent.
Network executives have gotten a bad rap in the industry. Whether it's the connotation that they're "suits" or the fact that they exist as a type of ominous, mysterious presence, when execs get involved, it changes the energy of a casting process. But Page's open appreciation of actors might change that. He's looking out for what's best for talent and the network, and trying to identify when those two things overlap. One thing is certain: He definitely does not fit the stereotype.
What is a casting executive's job like?
I oversee casting, along with Alexis Booth, for both TNT and TBS, which means my primary responsibility is to represent the network's needs, taste levels, and current desires for programming. I work closely with development, publicity, production, postproduction—every single department here, even business affairs.
Every studio and network does it a little bit differently. Our goal is to really work with our casting directors, writers, producers, and directors in a very collaborative manner. Our intention is never to micromanage, but really be involved in the process and create the most interesting, unique, different takes that we can on the characters.
We weigh in on ways we can help each department, and we work closely with development, prior to even officially picking up a script. That means we might be willing to be attached, then we are in charge of hiring the individual casting directors and local casting if needed, and then we oversee and work with the casting directors throughout the entire process.
The big buzzwords that Alexis and I like to use the most are "reinvention" and "discovery." Those are our primary goals in terms of what we are looking for talent-wise. We wanted to get as far away from the traditional ideas and thoughts of what casting was—finding the biggest name star that you can and populating around them. We really thrive on not just diversity casting for the sake of diversity, but to really reflect what the world actually looks like, to tell real stories and not have [people] in any kind of token role.
On the other hand, we have gotten some really great luck and had some major name talent. What was so exciting about that for us is that we didn't hire them just because of their names; they were right for these roles, and what we were so interested [in] is [that] for each of these actors, these are reinventions, things we haven't seen them in before.
What is a casting executive's role in developing a new show at TBS and TNT?
As far as bringing on our casting directors, once the show, the pilot, or the series gets picked up, we'll then reach out to the producers and start speaking with them. Often, the producers have casting directors they've worked with or have primarily worked with that come as a part of the team. We are very supportive of our producers, and we usually go with their pick. There are definitely times, though, that they are open to our suggestions, which we'll put together. We'll check with availabilities; casting directors are very similar to actors in that they have to hustle for jobs. Just the same as any actors, they have to take meetings and deal with rejection.
We will get résumés and availabilities on 20 or more different casting directors for the one position, send those over to different show creators, see who they want to meet with, set up the meetings, and, of course, [share] our opinions and experiences with them, and then we'll ultimately come to a consensus to hire them.
What's really enjoyable about being a casting overseer is we can typically take our time with the process and do it right. Traditionally, we'll hire a casting director to start work 10 weeks before the production shoots, but whenever we can, we actually prefer to start them earlier so we can really take time and we don't have to rush.
We have year-round development, not a crazy pilot season. Whether it's pilot or straight to series, for our current productions, we get the time to do it right. Alexis and I try to get out when we can, two to three times a week, to see different comedy shows, stand up, improv, various plays, and musicals. We go help talent scout. We use any of the people that we've seen in that or in any of the other shows or online—really, wherever—and share those lists and ideas with our casting directors. We try to never demand a casting director see somebody or read somebody, but we'll talk it out with them: This is why we respond to them, and this might be somebody you don't know.
The vast majority of casting directors out there are such great proponents of diversity of all kinds and really turning over all those stones. It's been such a relief that rarely do we ever have to push it. There are times that at the network level, we do have to encourage [them] to dig a little bit deeper, especially in this day and age with our technological resources and our ability to really look at every corner of the world for talent. If we do have a character that is written, or we've decided to go with a performer who has a disability, or whichever might be a smaller acting pool, sometimes we have to nudge a little harder to keep looking. Just because they didn't come in during the first couple sessions doesn't mean that they're not out there.
How involved are casting executives with the life cycle of a show?
Once the show is shooting or wraps, casting directors are usually taken off, and that's when it comes back into our hands. Any issues or anything that pops up, whether it's discussions of potential recasting, issues dealing with credits and postproduction, working with publicity—it pretty much doesn't end for us until it airs. Sometimes things pop up even after it airs, so we're in it for the long haul.
One thing that has been really cool about being at the network level is that it's fantastic to have a bird's-eye view of a project. When I was in the casting trenches, sometimes I could get a little tunnel vision; I can get used to it, I am having to grind up so much. A casting director's job is never done. The phones are never going to stop ringing, there are actors sitting in your lobby, it's just go, go, go from 8:00 a.m. until midnight, if not longer. Being here at the network, we're not directly doing the day to day and the nuts and bolts of everything. That gives us that chance to step back and try to think outside the box a little, or see where are we getting a little expected, traditional, or where are we getting boring? And what can we do there?
Someone like Kevin Reilly [president of TNT and TBS, chief creative officer of Turner Entertainment] knows what he wants and he is so inspiring; when we are in the room with him doing a network cast for our series regulars, if he's not approving somebody or he doesn't immediately respond positively to somebody, he'll talk it out. He is open to people disagreeing with him; in fact, he prefers it. He doesn't want a bunch of yes men, so he will explain his position, and he expects you to explain yours and, ultimately, the best argument will win.
The network executives are here to support the producers and creators, but, again, also to ensure we're giving our audiences what they expect and what they deserve and that we're making the best shows that we can.
What is a typical day in the life of a casting executive?
Every day is different; there really isn't a standard day-to-day. We still love to meet with as many actors as we can, so we try to do one or two general meetings with actors per day. We talk to actors of all levels, from known names down to recent discoveries or people just starting out. I also read every single script that comes in. Alexis and I divide up the shows evenly, so we both work on both networks. We try to see what changes are happening to what characters just to make sure the actors are still right.
We reach out to producers and directors when we can to [see what] their vision [is], how can we best support them, and sometimes how can we help nudge it along a little bit if something is a little, perhaps, traditional, in a sense. We talk with our casting directors and our casting associates on a daily basis to see how the deals are making, working with our production to make sure that we are right on budget, that the travel needs are being met, that the AFTRA guidelines are being met.
If we have done any hiring for performers with disabilities, we ask, Are we meeting all of their required needs? We also need to ask, Are we working closely with publicity? Part of the network's job is who is going to have the most impact in helping us sell our show.
If you're imagining an endless string of auditions in front of different combinations of producers, directors, showrunners, and executives, you can relax. TBS and TNT have taken advantage of technology in the casting process. Once you nail the perfect audition on tape, you're done.
How are people cast on a TBS or TNT show, from the network point of view?
We have completely entered a new era of casting. Since Kevin arrived, we haven't done a single live network test. Everything is on tape, basically like screen tests. I think it works so much better for our projects and our talent because, from the actor's perspective, you are getting to work in the medium that you're actually going to be working in. The audition is a screen test.
[In the past,] there's a tiny little theater, and you go in front of all of the network "suits" and have to perform this role, which if you are not a theatrically trained actor, may not be your strong suit. Sometimes what you see in the room isn't what you see onscreen, and sometimes what you see onscreen isn't what you can get in the room.
[Now,] all of our tests come to us via tape. We switch it up sometimes, [depending] on the project or the show and schedules, of course, but usually it will just be [that] the network executives we gathered will speak with the writers, producers, our studio counterparts, if we have them on that project. Everybody can explain their opinions, but we'll sit down and watch them with Kevin and discuss. Then we'll reach back out and talk with everyone, which I think has made it a much more organic process than perhaps it was traditionally. It's also been really exciting because that's actually allowed us to hire multiple series regulars off of self-tape.
Self-taping has become so huge, but it is really a miracle, and I think can be a godsend for the actors, especially those that know how to do it. You don't have to be in Los Angeles to post your series regular [audition]. There have been people that just nailed their very first audition with self-tape, and that is what we end up presenting to Kevin Reilly, and [then we hire] the person. It can be expedited that way, and other times it can just be a lot less of the pressure, whereas traditionally it could be a series of three, four, five—I've even seen it up to 10 different auditions before you finally get to the network test. This way, I think we've cut out a lot of the stress and unnecessary pressure of the testing process.
I am very happy to relieve actors of the process of waiting in a room with their competition for the job that could change their career. The fact is that we're television networks and this is going to be a product for the screen, so let's see what you can do on the screen. Let's have you meet with the directors, with the casting director, or the writer in your room, do multiple takes, get the best that you can, and we'll take a look and see it in the actual format it's intended for.
What are the qualities of a memorable audition tape?
It seems obvious, but I want to see the character more than anything else. Yes, when I read a script, I get ideas in my head, but when I walk into a casting session, I honestly don't know what I want. I want to see it, I want to discover it. I want to see an audition that gives me something I didn't see coming, and that can transform me. Whether I've seen the scene just one time or if I've seen it 2,500 times—which has happened—somebody can make interesting and unique choices that make sense.
At the end of the day, it's about the character. I think of an audition, and I think of the relationship between casting and the actor as a collaboration. I don't want somebody giving me an audition that is them giving me what they think I want. I don't actually know what I want. When it comes to life and it's this actor's offering of their take on a character and it is just so inspiring, that's what I love. I have gotten to see so many of those discoveries with the cast of "Wrecked," the cast of "Claws." Watching something like the family on "Animal Kingdom" come together and just vibe is so interesting and inspiring and unexpected. It makes me truly passionate for the job.
What do I need to know about auditioning for a TBS or TNT show?
Most importantly, the audition needs to be a win. The audition is casting telling you, "We think you might be right." Nerves are natural and are going to happen, but every actor should know before they walk in the room that they are there for a reason. They are there because casting believes in you. There are so many thousands of other actors that could be there at that very moment.
All of the auditions that come to us at the network level are "the chosen ones," depending on the role and the size of the role. Sometimes we do get choices, but for the co-star roles and the guest star roles, it is usually just the producers' choice.
I think that can be a real missed opportunity, when people think, Oh, it's just a co-star. No. It is not just a co-star, it is a character, and we are hiring and paying and creating this character for a reason, so it is an important role. The casting of and the performance of a co-star role is some of the hardest work you can do, to present an entire character in one word or one line. It's somebody who is still a three-dimensional person, and I think it's such a challenge.
When we're watching these auditions, No. 1, we try to make sure there's quality. Is the actor strong enough for the role? And No. 2, is it interesting? Have I seen this 1,000 times before? If so, can we do better? Can we do something else?
Our audiences expect and demand tailored programming that is unlike something they are going to see elsewhere. My job in casting is to do everything I can to ensure that it's the highest quality, the most interesting, and the most fun.
There is no specific agenda for talent at TBS and TNT. Page is constantly on the search for people to populate the next great project, and he's open to actors at every level. He and Booth scour the L.A. show scene and beyond, and they want to talk with talent about their potential. At these networks, being a newcomer doesn't mean your name hasn't reached the executive level.
What do I need to know about TBS general meetings?
Our generals really runs the gamut. A decent amount of them are pitched to us from the agents and managers. Most of them know it's the type of challenge where we are looking forward to getting to know [talent] a little more. The other—I'd say half of that—are people that we've seen onstage, here in the local scene, that we saw online, that we've seen in a different show, or that we're just big fans of and really wanted to discuss what they're interested in.
The conversations change a little bit depending on how established the actor is. If we are talking to somebody who is just starting off, the conversation will usually focus on what can the actor do to move forward and take the next steps. We almost always end up recommending an actor, whether they are dramatic or comedic, studying at a place like the Groundlings or Upright Citizens Brigade. Alexis and I are such huge fans of those programs, as well as all the different comedy houses here in L.A., Chicago, and New York. I think it fine-tunes an actor's skill set so much.
If we are speaking with a much more established actor, for us what's interesting is to talk with them and see what discoveries they want to make. What kind of reinventions are they looking to do? When have they felt typecast? What are they done doing? And what would they really like to do? It's so exciting to talk to an actor that we know so well from comedy who wants to play a dark, twisted serial killer. Or, someone who is always dark and brooding saying they're funny. We've got you.
What kind of talent is TBS and TNT looking for?
I love duality. I wanted to be able to work in both comedy and drama. What's so cool for us on the casting spectrum is we are looking for every actor. Whatever the skill set is, whatever your strengths are, we're looking for you. We want to see the unexpected. I keep going back to interesting and unique, but out-of-the-box. Wherever we can tell stories in a way that they haven't been told before is what we want to do.
In terms of individual talent, I think my absolute favorite is when we can do that reinvention. I absolutely love and adore anytime we can get a comedian and put them in a drama and show that. Just looking at "Claws," we've got great discoveries. I think in both Karrueche Tran and Jenn Lyon, who has been around, but didn't have any major roles at the time. Then there were reinventions with Judy Reyes, Carrie Preston, and, of course, Niecy Nash.
What's so neat for us is if you line up all of our shows on TNT and TBS, we have this amazing spectrum; on one end we have "Angie Tribeca," which is this great slapstick, barstool comedy with Rashida Jones that's along the lines of "Airplane" and has these great cameos with Chris Pine, Natalie Portman, and Jon Hamm. Then, spanning all the way to the other end of TBS, is "Search Party," which is great dark comedy, and an amazing, fantastic, fresh new cast. Jumping over to TNT, we have "Claws," on a nice dramedy side, then we go as dark as you can possibly get with "The Alienist."
Do I need a social media presence to get cast on TBS or TNT?
If you have 1 million followers on Twitter, YouTube, Snapchat, or whatever, that'll probably help you get into the room. It is interesting, all of our ears are going to perk up—but at the end of the day, we need the chops for acting. That's what's going to push you through. So yeah, you might be able to get into the door based on that; that might get you an audition, but it's not going to get you any further. We need the quality, we need the goods.