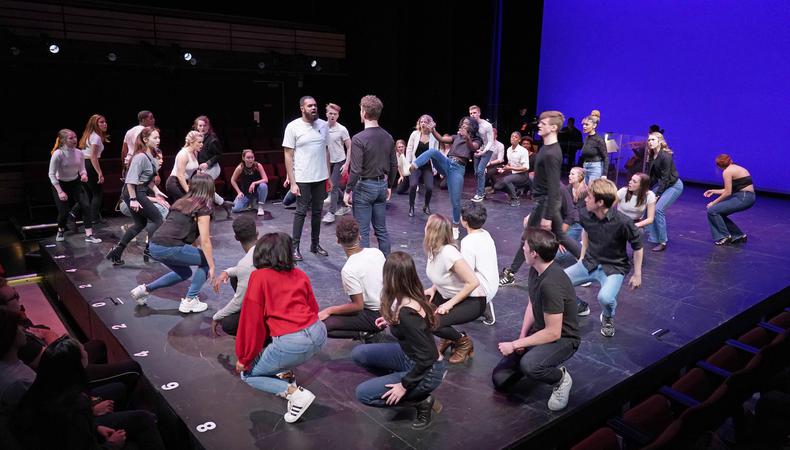 We're profiling the best performing arts programs in the U.S. and beyond with Reaching Higher, our inaugural questionnaire series diving deep on all things higher education: What should you look for when choosing the right school for you? What do college admissions pros want from their freshman class? What opportunities await students during their studies and post-graduation? Learn everything you need to know right here!
Are looking for a performing arts education that prepares you for all mediums and gets you ready to face the professional world head-on? The University of Michigan is a renowned school in all areas of study, and the U-M School of Music, Theatre & Dance is no exception. Chair of the Department of Musical Theatre Vincent J. Cardinal sat with Backstage to answer our Reaching Higher questionnaire, which is sure to provide clarity and inspiration for parents and prospective students alike.
The University of Michigan is one of the nation's top public universities and a Big 10 school. Students embrace all that comes with that, not just sports but the rich liberal arts offerings and the diversity of our community. Students often earn a minor in pursuit of their major degree. University of Michigan believes that the best working actors are smart, well-educated actors who have a well-rounded education.
Our hope is that each student completes his or her degree with a toolbox of techniques for performance, a strong sense of empathy, and a commitment to ongoing cultural literacy. We are not dogmatic about our approaches to performance but do expect students to know the foundations and history of the techniques they choose to employ in preparation and performance. We are committed to ongoing initiatives to ensure a nurturing, just, equitable and inclusive educational environment for our learning community.
Our curriculum is designed to become increasingly flexible as each student progresses and discovers their areas of strength and areas of challenge. Initially, we emphasize music and dance, then quickly add acting, so that by the end of the sophomore year students have a solid foundation in all three areas of performance with certain areas emerging as unique strengths. At the end of the sophomore year, each student goes through a progress evaluation where the plan for the next two years is discussed and they determine their unique curriculum areas of focus, which often includes a minor in an additional discipline.
The Bachelor of Fine Arts in Musical Theatre requires a minimum of 124 credits: coursework is 75% within SMTD and 25% within the liberal arts. SMTD coursework to include: musical theater (first year introduction, performance, musical theatre history), theater (acting, theater history, technical theater), dance (ballet, tap, musical theater styles; jazz, hip hop, modern electives), private voice lessons, music theory and piano. Liberal arts coursework to include: freshman writing, upper-level writing, foreign language or tested proficiency, history, and academic electives from across the University of Michigan.
The balance of academics and arts attracts a very bright peer group who are focused on their craft while participating fully in collegiate life. The supportive atmosphere creates lifelong connections between students, alumni, and faculty and provides a foundation for a fulfilling and successful creative life.
Prospective students submit an application to the University and School of Music, Theatre, and Dance along with a prescreen portfolio. Some applicants are then selected for an in-person audition. More information can be found here.
Arrive well prepared so you can relax and enjoy sharing your work with the faculty. Think of the audition as an opportunity to communicate where you are in your artistic and educational journey with a group of people who are already invested in your success. This is not a "knock 'em dead" situation where you need to impress anyone. This is a chance to get some input about where you might best thrive in your unique college experience.
We look for someone who:
has intellectual curiosity, imagination, initiative, discipline and recognizable talent

is prepared, ambitious, flexible, and is clearly a team player who appreciates and takes pride in the artistic growth of fellow students

can communicate very specific ideas and choices in dialogue/lyrics, music, and dance

sings with an understanding of the musical line and a healthy approach that doesn't push the voice higher than is appropriate

has music reading skills, especially at the piano

is committed to acting as the basis of all training and is passionate about working in plays, television, and film, in addition to musical theatre

has interests beyond the arts and is engaged in understanding the diversity of the world at large and how the arts can impact and enrich contemporary culture

has researched the Department, SMTD, and U-M by reading the website and official publications and by communicating with the Office of Admissions, rather than relying only on internet opinions or YouTube postings

is committed to a university environment and has considered the reasons for pursuing a BFA degree at a university rather than a conservatory
All graduating seniors perform in an industry showcase in the spring. The showcase is performed in Ann Arbor for family and friends and in New York City for agents, casting directors, managers, and directors.
Think about the educational and training outcomes you hope for and look at universities that have had success in providing those outcomes. Have an objective sense of your best learning styles, what kind of educational experiences give you energy, and what kind of community brings you both confidence and challenge. These insights will help direct you toward a conservatory education or a university education; toward a big city, a college town, or a rural environment; toward highly focused professional training or broader educational experiences.
That goal is to get a great education rather than to get a great part.
The School of Music, Theatre & Dance (SMTD) is committed to delivering the highest quality educational experience possible, consistent with the standards of the University of Michigan. SMTD is prioritizing the health and safety of all members of our community, with special consideration and thought toward vulnerable individuals, by following health and safety protocols and public health guidance designed to minimize and prevent the spread of COVID-19 within our community.
We are offering the curriculum in a "hybrid" form with some classes fully online and some classes partially in person with enhanced safety measures.
It really is a difficult and extraordinary time. Acknowledging those challenges, it is good to focus on what you do have control over and what you're grateful for. Disappointments and trials, caused by these difficult times, are mostly temporary. Enjoy the things that you enjoy and give yourself a break and a breath when it starts feeling overwhelming. Better days are ahead.
Looking for remote work? Backstage has got you covered! Click here for auditions you can do from home!