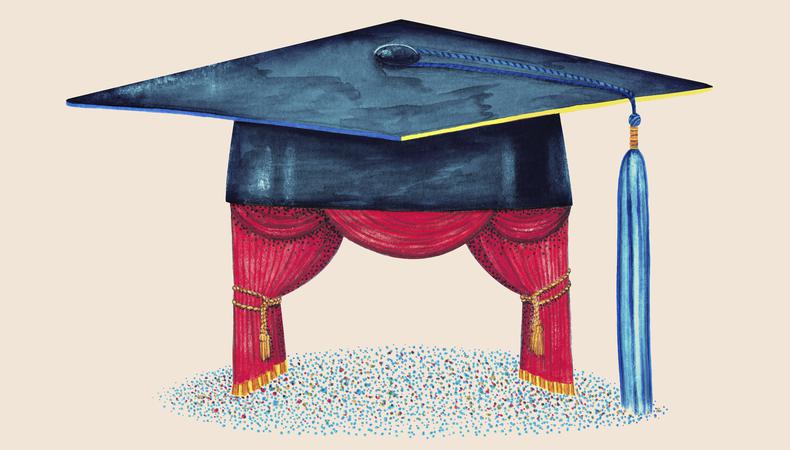 College applications and auditions are an exciting time. You're taking a step toward the career of your dreams! But it's also a nerve-racking time full of unknowns, especially when you have a variety of audition processes to navigate as a prospective acting student. We're here to help: Musical theater program directors from three of the top musical theater programs in the U.S.—University of Michigan, University of Cincinnati College-Conservatory of Music, and Carnegie Mellon—offer insight and advice on how you can get accepted into your top-choice school.
You should know about these 25 acting programs.
What preparation do you expect for auditions?
Vincent Cardinal (University of Michigan): A range of training, and that the work they bring in will reflect the best of their training at whatever level it is. Aubrey Berg (College-Conservatory of Music): I like kids to have done research about our program. They should acknowledge that we look at three areas of performance expertise. They need to show smarts in the pieces that they pick: be age-appropriate, read the play that the monologue is from, understand the background. The same with the songs; [they should] know the characters and the situation so they can make smart and informed decisions. You should also be able to answer my questions and tell me a little bit about yourself in the process. Gary Kline (Carnegie Mellon University): A song has to enhance the person. There are songs that just do not fit; they're singing them because they can. Take the time to think as an actor: Who am I and what do I want to present? What story can I tell you in music? There are so many songs, and [auditioners] don't bother to shop for them.
What kind of training do you expect from prospective students?
VC: Just that they've done the work that they know at that point. You don't need a college audition coach. That's lovely if you can get it, but it's certainly not a requirement. A lot of public school theater and English teachers have done a great job prepping students. AB: We usually say that you need to do two out of three musical theater disciplines really well, and one of them has to be singing. There are musicals where you don't have to dance a lot and there are musicals where you can get by with weaker acting, but there are no musicals where you don't sing. GK: We want to make sure that the person has been onstage. I love people who haven't done a lot or been to a lot of training programs. We're looking for fresh talent—but you do have to have some experience onstage. Even if it's at your high school, you've got to have played some major characters.
READ: 5 Things to Do Before a College Audition
What advice do you have for prospective students?
VC: Relax and let it be a meeting of people interested in the arts. I believe there are a lot of really great programs in the country and amazing teachers, so I trust that most students end up in great programs and get terrific training. The audition process is more about sorting out where people fit, rather than "winning the game" of auditions. GK: There's a certain number of people who have taken a lot of dance or a lot of singing lessons. Find a good acting coach. People have sung in choirs or been in shows—that's not having an acting coach teach you how to go through and break up the beats, find the moments, find the switches, use the language. You need an acting coach.
What do you want to see in a college audition and how is that different from casting a show?
VC: We are looking for intellectual curiosity that allows a student to take full advantage of this incredible institution. We're a very flexible program in terms of the curriculum, so that intellectual and artistic curiosity really serves the student here in helping find their journey through their four years. AB: We're not just evaluating skills; we're also trying to find the people behind those skills, if that makes sense. I think there are all the usual things to be aware of. We see young people doing pieces that are completely inappropriate for their age, singing songs that may be great to listen to but really don't tell you anything about the person who's performing them. We see kids who have no sense of who they are, and they're always difficult to evaluate. I look for people who seem particularly interested in the world, as opposed to having musical theater blinkers on. I like my students to be able to have a conversation, to have good social skills; I like them to be able to walk into a room, shake somebody's hand, and introduce themselves and have a conversation. GK: You get a certain vibration or feeling or connection with someone because they are connected with their inner self. It's the way the eyes look as though they don't have it memorized, yet it's memorized; it feels like it's in the moment. It's two basic questions to me, that's it: Who am I singing to and what do I want? When those aren't answered, you can tell there's a certain shallowness to the whole thing.
READ: 5 Simple Steps for Finding a College
What can help set someone apart? What stands out to you and makes someone memorable?
VC: I think we remember the people who are good communicators and present themselves as they are. AB: I like actors who give themselves over to the performance and don't stick up a sign saying, "Look at me, look at me." This may be a controversial comment, but I know that there are a lot of coaches working out there right now preparing high school students for college auditions, and I feel sometimes that kids are coached so much that there is no spontaneity left in the performance. Every time you perform, you should do it as though it's the first time. After so much coaching, some kids just try to reproduce what their coaches have told them is good instead of spontaneously enjoying the material and sharing the character's thoughts and sharing the character's emotions. I know a lot of coaches do a really good job, but sometimes I think it robs young performers of the essentials that we look for. GK: It doesn't feel the need to blow the walls down, because volume is a huge thing and people tend to over-sing. I want to get some nuance.
This story originally appeared in the Feb. 27 issue of Backstage Magazine. Subscribe here.