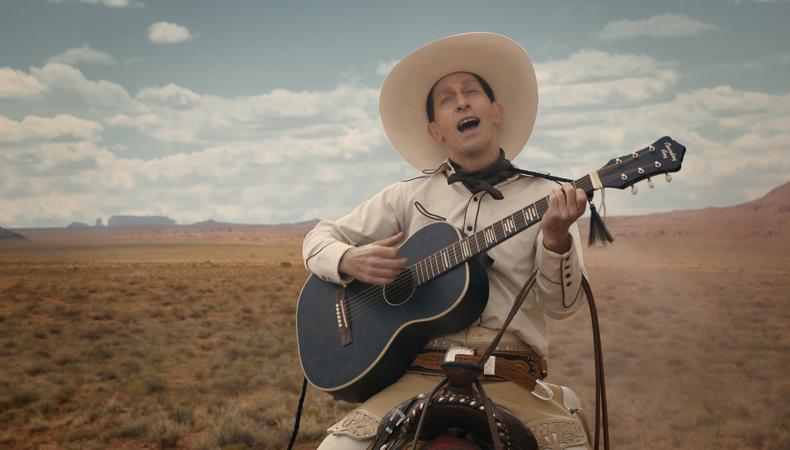 For the Coen Brothers' latest, Western romp "The Ballad of Buster Scruggs," six different aesthetic styles were required, since the Netflix feature is essentially six short films in one. That meant costume designer Mary Zophres had to make sartorial decisions six times over, a feat she discusses here—along with how she communicates with actors and the ways in which her work assists their transformations.
In your words, how would you describe the role of a costume designer?
It's slightly different on every project, but generally, [my job] is to read the script, interpret the script, and convey the story and the sense of character through the costumes they wear. You're servicing the script and the director's vision first and foremost.
Is the director the person with whom you work most closely?
I work closest with the director and the actors, and then the crew, production design, and cinematography. And then later in the process, sound comes into play, the locations department—ultimately, filmmaking is an extremely collaborative art form. My boss, the person I'm trying to please the most, is the director. But my job is to help the actors feel and inhabit their character, so that's a very important relationship, as well.
What was unique about costuming 'The Ballad of Buster Scruggs'?
What was unique about "The Ballad of Buster Scruggs" is it's six different stories that are radically different in style and tone and also in what we're trying to convey. You're working in one style for one story and then you're shifting gears and working in another style entirely. Although we were always grounded in the 1850s to the 1880s, it did feel like working in a six-gear car. Also challenging when working on a Western is you're trying your best to recreate what you've done the research for. What you're looking for is sometimes hard to accrue, you can't get your hands on it because it doesn't exist. When we did find fabric that we thought might be right, it was manipulating the fabric to achieve what we were looking for. The weight of the wool in the 1800s is completely different to the weight of the wool nowadays.
Can you speak further to that relationship between the costume designer and actor?
You're putting them in a time and place. There's a transformation that happens in a fitting room when an actor gets into character. That's my favorite part of my job: watching an actor transform into a person or the character they're playing.
READ: How to Audition for Netflix
Do you frequently find actors transform before your eyes with costuming?
It happens all the time, and that is magical. Sometimes it's their posture changing, seeing them practice a walk. They'll put on their shoes that their character is going to wear and they start to walk differently, their gait is different, their stance is different. I've had them practice their accent in the room, and you get goosebumps because it's a transformative moment.
Do you have to establish trust with an actor?
I've been doing this a long time, and I feel like I've got enough on my résumé now that when I meet an actor for the first time, there's a trust there because they feel a sense of comfort. It's extremely important for me to make them feel like they can inhabit their character and also to make sure they're able to go in front of the camera at ease and that they feel good about the costume they've put on and how it's helping them portray the character. It's a very important relationship, and it's also a very private relationship.
Are there ever instances where an actor's input impedes your process?
I wouldn't say it gets in the way; you have to listen. Listening is a huge part of my job. Yes, I'm opinionated and might stand firmly behind my opinions if I've done my research, but I keep my ears open. Communication is an important tool in every relationship, from marriage to friendship to costume designers with actors. I have been in situations where I might have felt that an opinion got in the way, but there's generally a way to work around it and make sure that everybody is getting what they need.