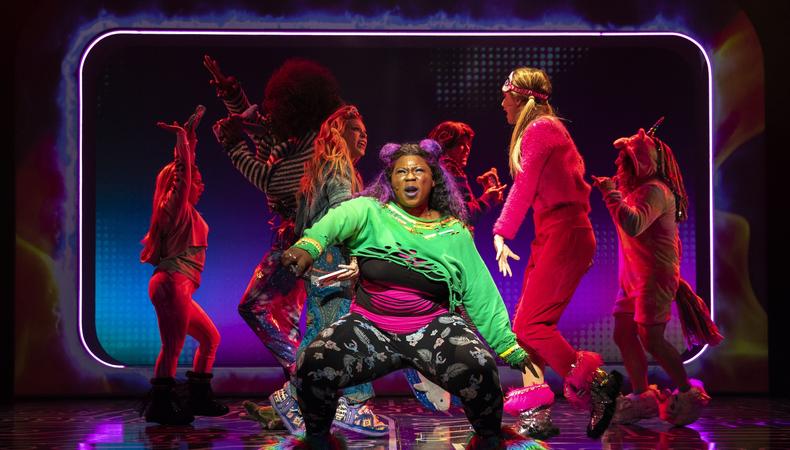 Want to audition for Joe Iconis? You'll need to unleash your inner eccentric.
"I immediately gravitate to weirdos," Iconis says about what he looks for in the audition room. "I work with plenty of actors who are classically beautiful, but all of them, there's something totally weird and surprising about them. I don't know how you go in and give a great audition, but I do know I like strange people and I like people who are honest."
Looking at the composer's decade-plus of musical theater credits, including "Bloodsong of Love" and NBC's "Smash," it's unsurprising that actors who embrace their quirks are those best-suited to Iconis' work. That's certainly true for "Be More Chill," the sci-fi musical-comedy about a forlorn high schooler who takes a literal chill pill to achieve popularity, opening March 10 at Broadway's Lyceum Theatre. It marks Iconis' Broadway debut.
The show's score is as kinetic and delightfully offbeat as its concept. "It's not a story about teenagers who are stoned on their couch; all of the characters are fairly anxious, so I felt like this score should be pulsating with this kind of intense energy," Iconis says of the sound's conception. "It's like a contemporary Kander and Ebb score; even the songs that are ballads are kind of up-tempo. It wants to have this relentless energy."
He penned both music and lyrics, and insists he was as piqued by the musical's content as its style. "Getting into the sci-fi elements and the actual story, I thought, How exciting to write something about real issues, about problems that young people and adults deal with," Iconis marvels. "Anxiety, depression, peer pressure; all this stuff that I struggle with still—how cool is it that we can talk about it through this lens of sci-fi comedy?"
The show's road to Broadway, which the theater-maker calls "a completely unprecedented bizarre, miracle journey," is as peculiar as the musical itself. After middling reviews for its out-of-town premiere at New Jersey's Two River Theater in 2015, the creative team assumed the piece was dead. A cast recording was released, however, and audience reception begged to differ.
Befitting its themes, the musical went viral and found a fervent online afterlife in that recording. Three years (and millions of album streams) later, the piece arrived in New York for an Off-Broadway run at Signature Theatre this summer. It sold out immediately—as did an extension. The strange little show that could was headed to Broadway.
READ: Why Will Roland Left 'Dear Evan Hansen' for 'Be More Chill' Off-Broadway
"For years I've gotten, 'Your shows are too weird for people who just think commercial, but they're too commercial for people who want avant-garde, pat-yourself-on-the-back downtown theater,' " Iconis says. "I've been through this multiple times in my career now where there's all this momentum going into a show, and then it opens and it's the ultimate womp-womp and it's over. For 'Be More Chill' to happen in this way, it's just shocking, because this has never been a way to get a commercial production of a show to New York City before."
With each incarnation, from Jersey to Tumblr streams to Off-Broadway and now to the Lyceum, Iconis, book writer Joe Tracz, and director Stephen Brackett have learned more about the piece they've created. That is, in no small part, due to contributions from its actors.
"I've always been a writer who is aggressively obsessed with actors, and so when I'm in a rehearsal room, I love everyone to have a seat at the table," Iconis says. "It's actors who are literally inhabiting the roles we're writing, and I just don't know any way to write other than to wrap roles around actors. How that translates in the development process is constantly asking, 'Does that feel weird to say? How do you think the character would say it?' It feels like actors are actually part of the collaboration and not puppets who are hired to say and do the things I've written."
In that receptive approach, Iconis has found that actors appreciate working with him. And in turn, he consciously works as hard as he can for them, to give them material worthy of their skill.
"I've found that actors tend to have a good time working on my stuff because I love that collaboration," he says. "My goal is to make the show the best it can be, but I also want to show off every fucking person on that stage. I cannot stand when I see a show and I feel like they wasted a great actor. If you can't write a song that's showing off this actor, then get somebody who can. They're the ones who have to do it in front of an audience, so work hard and give them something to play with."