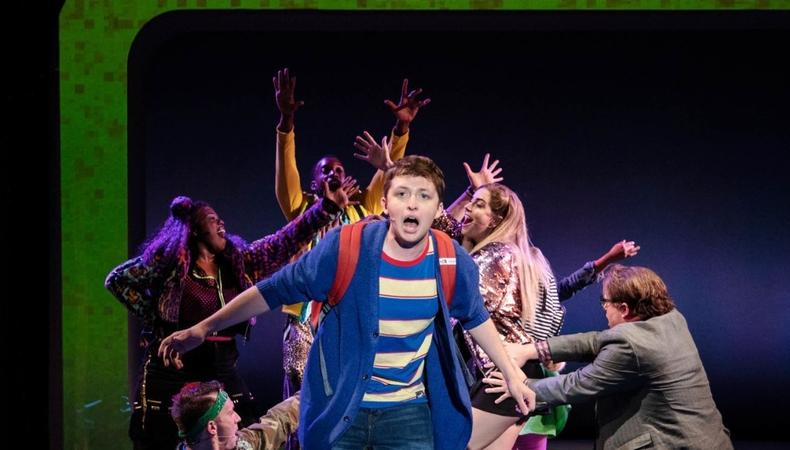 "Dear Evan Hansen" has ascended to a mainstream echelon of success that few pieces of theater achieve, so you would think leaving the show would be an impossibly hard decision for an actor to make, right? Actually, wrong—at least in the case of Will Roland, who was with that musical for four years. But when "Be More Chill," a high school-set tuner running through Sept. 30 at Signature Theatre, came knocking, Roland did not hesitate to open the door and leap through it.
As the show's perennially uncool protagonist, his Jeremy is faced with an offer for popularity he can't refuse. And though sci-fi elements abound, Roland actually accesses his character by going back to the acting basics, a process he discussed with Backstage along with vocal endurance and what he hopes the musical's audiences take away with them.
How did you come to be involved in "Be More Chill"?
My involvement in "Be More Chill" is roundabout. I did the very first, very unofficial reading in a boardroom at [composer] Joe Iconis and [book writer] Joe Tracz's agent's office in April of 2013. I actually read the role of Michael, which is hilarious. Then they had some workshops which I was not involved with. Then the production at Two River Theatre [in 2015], I auditioned and was in the last round of callbacks for Jeremy, and for whatever myriad reasons—auditions are crazy things—I did not get it. That definitely devastated me at the time, but then I got to go out of town and do this new show called "Dear Evan Hansen" that summer. It worked out like it should have.
Did you have any hesitation leaving "Dear Evan Hansen" for an Off-Broadway show?
Not a bit. I loved doing "Dear Evan Hansen." It was truly four years of my life, and I felt so fulfilled by that process, creating that role and being out of town with it and all the readings and Off-Broadway and the whole experience of being in previews and opening on Broadway and all the press and the Tonys push. And remaining with the production as cast members began to depart was also an honor and an incredible experience, to welcome [new actors] into the cast. But also, it was time to go. I love new musical theater, I love creating roles. This opportunity was truly a no-brainer.
You did jump from one new musical to another—are you passionate about doing new work?
Creating new musical theater is the reason I was put on this earth. I love old musicals and I love slightly old musicals, and there are definitely some classic roles in the canon that I'd love to play, but I care so much more about the role that has yet to be written, and it gets me going. There's a certain sort of collaboration that emerges when you're working on a new piece that really fulfills you in a way that's hard to describe. I love working with writers and directors and choreographers to help them discover how great the piece they have is—which, unfortunately, I can't do with Alan Jay Lerner because he's dead.
"Be More Chill" has a passionately-devoted fanbase. What has that aspect been like?
It's a real trip. There's so much about the show that is so beloved in certain circles, but also this run at Signature this summer, there will be about 24,000 seats. There's no way that all 24,000 of those people are the devoted fans of "Be More Chill." So there's always this responsibility and this balance to say, "I want to make sure to deliver the thing that these people have fallen in love with," but also [remember] that most of the people seeing it are meeting it for the first time. And those are the people I'm really focusing on. It's sort of unnatural for someone to come into a show knowing the whole thing, so it isn't possible for me to figure out how to play to that. I play more to the people who don't know, and I just hope the people who do know enjoy it anyway.
What sort of preparation did you do to play Jeremy?
The first thing I had to do was stop listening to the cast album [featuring a different actor]. It's important to note that I was a "Be More Chill" fan for two years before we had millions of "Be More Chill" fans. When [I got the role], I immediately reached out and said, "Can you please send me the script and the score? I really wanna get back to what is on the page." Then I started drawing on who I am…. I thought a lot about how Jeremy must have this sort of theatrical streak within him, this actor-like desire to inhabit someone else's body. In terms of why it all goes wrong, we talked a lot about how that was due to Jeremy's humanity. He is a deeply empathetic person, and he doesn't have this simple goal of, "I want to have sex with this girl." It's about, "I want this complex person with whom I am infatuated to see me."
How are you keeping up vocal health through eight shows a week?
I am falling apart at the edges. I truly feel so old and broken down. But for me, it's really, really basic. I sleep at least eight hours every night, I'm not going out drinking, I'm hydrating a ridiculous amount, I'm eating light but protein-rich, a lot of salads with salmon and things like that. I have a little office studio in my apartment and I warm up in there every single day, and I stretch every day and I meditate in between shows. I'm doing all the corny stuff that we must do when we're working this hard.
What do you hope audiences take away from "Be More Chill"?
It is my hope that people come to see this story about a young man who endeavors to be someone other than himself and they learn a little something about themselves, and what it means to be real and a friend and honest. And to share yourself with the people around you.
Inspired? Don't miss out on Backstage's theater audition listings!