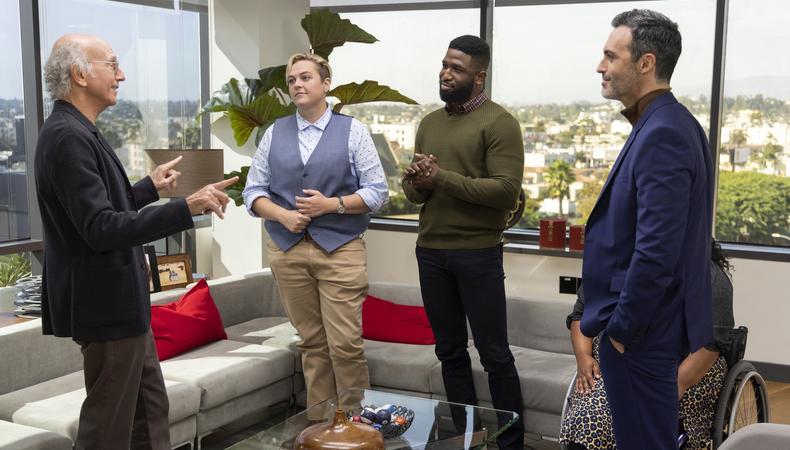 You've written the pilot. You've thought long and hard about the characters and Season 1's potential twists and turns, and constructed a wish list of the perfect actors for each role. So what's stopping you from launching a successful TV series or getting a spot in a writers' room?
For many aspiring TV writers, the dreaded pitch is the biggest roadblock on their journey. The pitching process can be daunting and even downright mysterious to an industry newbie. But everyone from David Chase to Shonda Rhimes had to learn how to nail this step before they could go on to create television history.
Here, some of TV's top writers share their best advice on how to create a pitch that will put you on the path to industry success.
What is a TV show pitch?
A pitch is the document that tells producers, networks, and executives everything they need to know about the TV show a writer is presenting. Successful pitches succinctly explain important details about genre and tone, and prove that the writer has a clear vision for the direction of the series. Pitches vary in length and style, but they most often contain the same basic elements.
Log line:

This is a short, emotionally driving synopsis that describes the most essential elements of the show. It sets up the world and gives readers a touchpoint right off the bat.

One-sheet:

This includes key information, including the writer's contact information and the main show details—including the log line.

Series bible:

This document maps out the show and breaks down key moments and characters. You can even include visual cues to set the tone.

Pilot script:

This is the full teleplay for the first episode of the series.
Your audience should walk away with a crystal-clear understanding of:
Who the story is about

Why you're the right person to tell this story

The obstacles your characters will come up against

Specifics around what can be expected from the show tonally, visually, and plotwise

The potential arc of the rest of the season and series
How do you pitch a show?
Providing you can get yourself in the right rooms using your personal network, a proven body of work, or a stroke of luck—or all of the above!—confidence is a huge factor in getting your idea across. You want the people you're meeting with to understand why you're so passionate about your show.
Here's some more advice from the pros on how to get your TV pitch greenlit or land a coveted spot in a writers' room:
1. Persistence is key.
Matthew Weiner is best known for creating AMC's "Mad Men," which is generally regarded as one of television's best of the best. In Gillian Zoe Segal's "Getting There: A Book of Mentors," Weiner describes the seven-year process of pitching "Mad Men" before it was finally greenlit by AMC.
"I sent it off to my agent and pitched it to everyone I could," Weiner said. "I carried it in my bag wherever I went in case I ran into someone who might be useful. I couldn't get meetings at the big networks, but I pitched it to small production companies. I heard, 'You don't know what you're doing,' and, 'Are you aware of how uncommercial this is?'…. I lived every day with that script as if it were going to happen tomorrow. That's the faith you have to have."
2. Make your pitch relatable, and understand what makes it marketable.
Ask yourself: What series are popular, and why? Can you draw comparisons to your own show? Shonda Rhimes employed a clever tactic when she was pitching "Grey's Anatomy": She knew what the executives wanted, so she linked it to HBO's "Sex and the City." In her Masterclass session on TV writing, Rhimes said that she called her soapy hospital drama "Sex in the Surgery" in order to pique the network's interest. Familiarize yourself with what networks are picking up, and find the connection.
3. Keep your pitch authentic, and don't get discouraged by similar storylines from other writers.
If your creative idea leans more original, that's great! Just make sure it feels genuine throughout the process. Vince Gilligan is responsible for "Breaking Bad," featuring one of the most memorable antiheroes in television history; but Walter White may never have made it on the air had Gilligan been aware of then-current TV trends. Gilligan told Newsweek that he was shocked during his "Breaking Bad" pitch meeting when he learned of another drug-related show in the works. "If I had known of 'Weeds' weeks or even days prior to that meeting, it's likely I wouldn't have had the will to go on," Gilligan said. "I would have said to myself, 'Damn! All the good ideas are already taken!' " Keep your eye on the prize.
4. Flesh out characters that grab people's attention.
Mitchell Hurwitz struck comedy gold with "Arrested Development," a show that found success primarily because of its outlandish characters. Hurwitz told audiences at the New York Television Festival that he always intended for his ensemble to stand out, and he used their wackiness as his secret weapon during the pitch meeting. "One of my interests was to get laughs," Hurwitz said. "You can get a lot done if they're laughing."
5. Know your worth as a creative.
Once you're in the room pitching your heart out, remember to follow your gut when it comes to next steps. Michaela Coel had already enjoyed a successful career as an actor and creator by the time she developed "I May Destroy You," which won praise for its honest portrayal of friendship, sexual assault, and social media. Networks who came early to the conversation, however, weren't offering what she believed was fair in terms of compensation. The show eventually found its home on the BBC and HBO, two networks that gave Coel the creative and financial control she knew she had earned.
"I remember thinking: I've been going down rabbit holes in my head," she told Vulture. "Like, people thinking I'm paranoid, I'm acting sketchy, I'm killing off all my agents…and I finally realized: I'm not crazy. This is crazy." If it doesn't feel right, take your idea where it feels like the right fit.