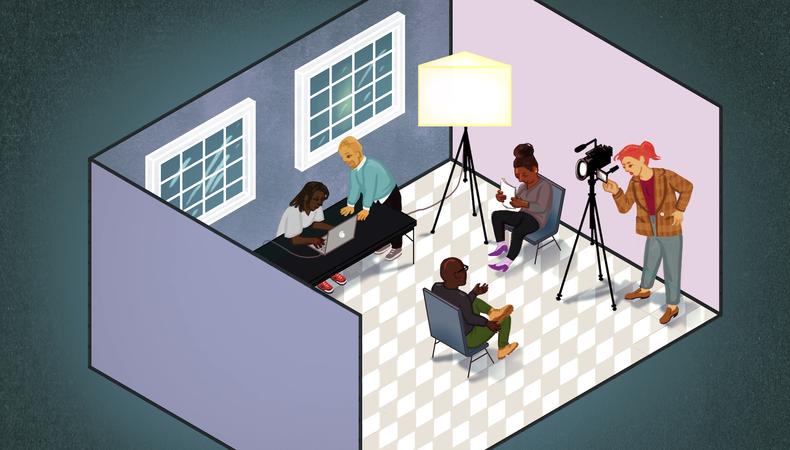 I've had some very interesting auditions lately. When we bring in actors for a role, their background runs the gamut of film, television, and theater training and credits.
When an actor is told to "play the room," do you know what that means? It means to base your audition on the specific task and project at hand. What does the tone of the medium or genre call for? When you're auditioning on camera, the camera will pick up your slightest thought, so your performance needs to be subtle and you need to understand what you're auditioning for. Is it a single-camera comedy? A multicam drama? An indie film? There is a different energy for each one.
I had an actor audition for me the other day who had only trained in theater and acting classes. He had never auditioned on camera. In most auditions, the camera will be about 6 feet away from you, with the reader standing next to the camera. It's distancing and anything but intimate, and if you aren't trained for it, you'll find it very hard to connect. I love actors who trained in the theater because they have such a great foundation and fundamental understanding of the craft. But sometimes they fall short because they don't understand how to work on camera. Training is necessary there, too. I am not suggesting that an on-camera class takes the place of your training and your acting classes. This would be supplemental training.
READ: Nothing but Proper Prep Work Will Ready You for the Audition Room's Curveballs
Years ago, I auditioned a very famous musical theater actor several times. He was quite new to auditioning for the camera instead of stage, and to say that he chewed the scenery is a major understatement. I worked with him to dial it down—to play the room and connect with me, the reader. He had to turn down his volume and his bigger-than-life acting style because he wasn't onstage reaching out to the audience members at the back of the house. His audience was right in front of him with the camera's lens. He learned how to audition in the room and fine-tuned his craft, and he ended up starring in a series which ran for six seasons.
Another practice that will help you play the room is to study the TV show or film that you're auditioning for; do your research to see what world your characters are living in and to learn what the filmmakers' expectations are. With a TV series, I suggest you watch two or three episodes of every one you can. Yeah, it's hard, time-consuming work—but this is your job, folks! It's much better to do this ahead of time so you're not wasting valuable time the night before your audition trying to catch up watching a series. If it's a pilot, research the creator. For instance, we all know producer and creator Shonda Rhimes' work. If she's creating a pilot, make sure you watch her other series to see what's expected of you. You'll notice a certain cadence and speech pattern in her writing. All of the actors on her shows are able to embrace that style and easily rattle off her amazing dialogue.
As they say, first impressions are everything, so make sure you have this training in your pocket before you come into the audition room and make a bad one.