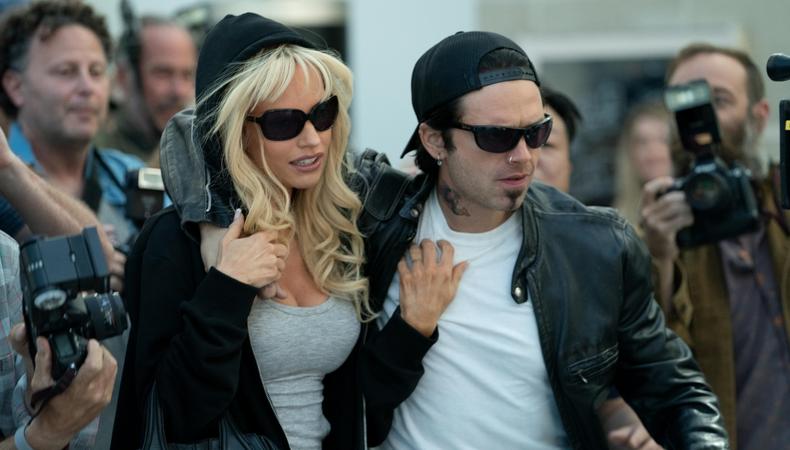 Craig Gillespie knows a thing or two about fictionalized stories based on real people. He is the director behind "I, Tonya"—which tells (some of) the tale of Tonya Harding's rivalry with Nancy Kerrigan—and his latest project centers on events that are even more infamous.
"Pam & Tommy" follows the whirlwind romance between actor-model Pamela Anderson and Mötley Crüe drummer Tommy Lee—and the notorious leak of their sex tape. "They met and were married within four days. On the surface, that seems very impetuous," says Gillespie, who is a director on the limited series. "But it was really important for us to understand the complexities of the people involved and the motivations."
Unlike biopics of long-ago historical figures, the events depicted in the show take place in a past recent enough that many viewers will remember reading the headlines at the time; so it could be a challenge to get audiences on board. Fortunately, Gillespie has Lily James and Sebastian Stan in the title roles. Both of their portrayals are so convincing that they are, at times, indistinguishable from their famous counterparts.
"It's always such a tricky thing when you're playing a real person, and particularly an iconic person that the public is very familiar with, because they tend to know their mannerisms and their inflections," says Gillespie. "Lily and Sebastian did so much of their own work, really getting the cadence and their speech patterns and body language down."
He adds, however, that once a certain amount of work has been done to capture a person externally, the performance still needs to come from an internal place. "There's a point at which they felt good about it, when they just had to let that go and really embody the spirit of what we were trying to do in a scene as those characters," he says of James and Stan, "and not just be doing an impersonation."
When retelling history, it is inevitable that some artistic license will be taken in order to prioritize the story's emotional truth. "You do have to take liberties, but you're taking liberties that help inform the characters and the situation," Gillespie says. "You want to stay true to the intent. It's in the spirit of what's honest to what was going on—or what we have perceived was going on."
Above all, when rendering real people onscreen, it is the job of the director, writer, and actors to ensure that the outcome is never a caricature. That's especially true for "Pam & Tommy," which, Gillespie explains, is as much an indictment of tabloid journalism as it is a study of its central duo. "It became such a commentary on our relationship to the media and how, as a society, we're complicit in destroying people's lives with no real consequence," he says.
Though the form offers more room for storytelling—"It's like doing a really long film"—the director knew he'd never be able to represent everything about these two people. "I just wanted to give respect to their relationship and capture the fun of it, but also the connection," he says. "They were really kindred spirits."
With that intent in mind, he stuck to his guiding principle for all projects: Leave your options open. "I shoot the script, but then, you've got actors who know the characters so well; and within those boundaries, they can play with it," he adds. "Get the script, then let the actors contribute and see what else comes on the day."
This story originally appeared in the Feb. 3 issue of Backstage Magazine. Subscribe here.