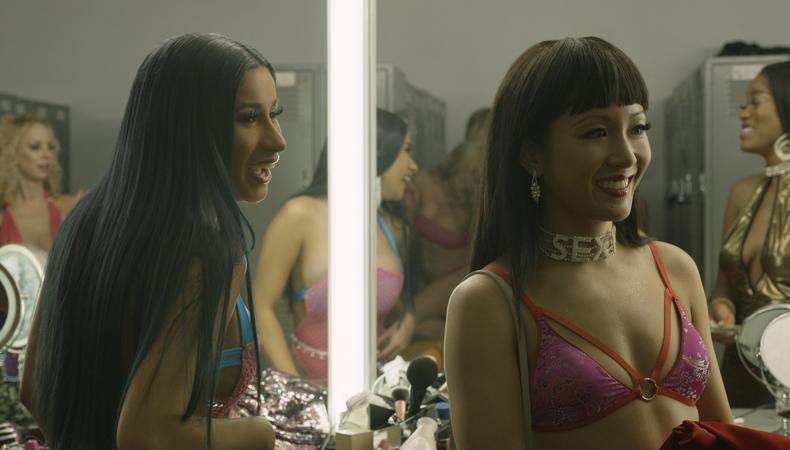 With this Year in Review, we at Backstage have picked through the weeds and found 2019's true gems of the best big- and small-screen ensemble work. And don't worry: We've got you covered with everything else you need to know this awards season right here.
Distributed by: STX Entertainment
Directed by: Lorene Scafaria
Written by: Lorene Scafaria
Casting by: Gayle Keller
Cast: Cardi B, Madeline Brewer, Lizzo, Jennifer Lopez, Trace Lysette, Keke Palmer, Lili Reinhart, Mercedes Ruehl, Julia Stiles, Mette Towley, Constance Wu
Any words you'd use to describe "Hustlers" are a giveaway that you'll be entertained: a buddy crime dramedy; an early 2000s period piece complete with flashy costumes; a sticking-it-to-the-man revenge story with a big comeuppance to cap it off. As much as those elements combine to make this real-life story thrilling, it's so much more than that thanks to an incredible script and direction by Lorene Scafaria and her all-star cast led by Jennifer Lopez and Constance Wu.
Adapted from a New York Magazine article by Jessica Pressler about a team of New York City strippers who exploit their club's Wall Street clients for money (and are later caught), the film puts women front and center. Sharing the screen with Lopez and Wu are Lili Reinhart, Keke Palmer, and Madeline Brewer, plus hilarious cameos from the likes of Lizzo and Cardi B, making for a refreshingly diverse cast; "Hustlers" broke the record for biggest opening weekend for a film featuring multiple leading women of color.
Lopez and Wu adeptly navigate scenes revealing their characters' complexity and humanity. Lopez's introduction to the film as Ramona is an unforgettable pole dancing sequence to Fiona Apple's "Criminal" that leaves Wu's Destiny—and the audience—with mouth agape. Her charisma and commitment are evident throughout as Ramona acts as a sort of den mother, a source of comfort and security, to her fellow strippers making ends meet by whatever means necessary.
Why Only Jennifer Lopez Could Star as the Mastermind Stripper of 'Hustlers'
And it's astounding how much command Wu has of her emotions, as both an eager dancer in 2008 and later, in her suburban living room, recalling the events that ended with her in handcuffs. When Julia Stiles' reporter Elizabeth suggests Destiny joined Ramona's schemes for camaraderie rather than revenge, we feel deeply for her.
Although Wu and Lopez form the story's central friendship, it's the ensemble that supplies the film with such a unique energy. Reinhart, best known for her role as Betty Cooper on the CW's "Riverdale," shows a new, comedic side as oddball Annabelle; her timing is impeccable as she delivers some of the film's funniest lines. As Mercedes, Palmer's dynamism opposite heavy hitters like Lopez makes it seem as if they've been working together for years. Brewer, best known for "The Handmaid's Tale," manages to wreak havoc and elicit sympathy in equal measure in the film's second act. And Trace Lysette and Mette Towley get quite the fabulous introduction, and hold their own, as part of the ensemble of strippers.
"Hustlers" spends many of its initial scenes in a locker room or on stage with the club's dancers, packed with dialogue that zings like a game of pinball—quick and bouncing from one character to another. Yet, no one woman steals attention away from another. Later, during a scene where the women celebrate Christmas together, you feel the love, playfulness, and sisterhood between them. The chemistry Scafaria fostered in her cast becomes the film's heart, and this is what sticks with you after leaving the theater. It's a stranger-than-fiction, high-energy, female-driven crime drama that's not a gender swap, sequel, or prequel. And it's one of the best films you'll see all year.
This story originally appeared in the Nov. 13 issue of Backstage Magazine. Subscribe here.
Want more? Stay in the loop with everything you need to know this awards season right here!