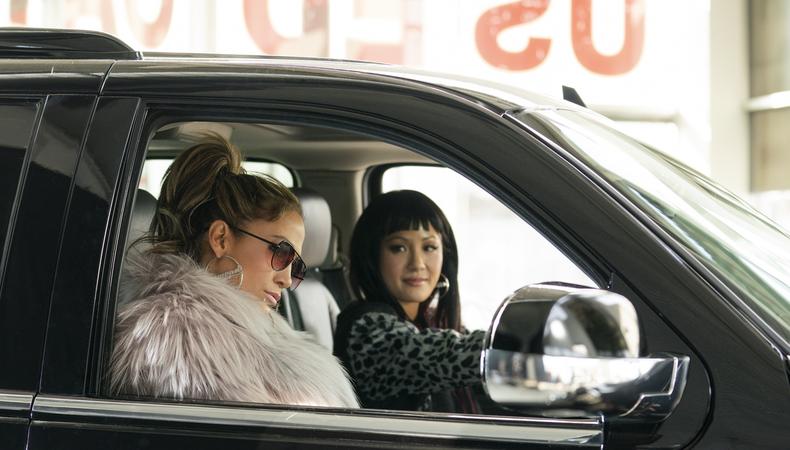 The victims in "Hustlers" are men—filthy rich, philandering men whose recklessness turns to helplessness at the hands of a New York City strip club and its leading ladies. At face value, their biggest crime could be that they were just too rich, but writer-director Lorene Scafaria's feature has much to say on that topic. Her "Hustlers" is really a story about women; women behaving badly, but in shades of gray. Based on Jessica Pressler's 2015 New York Magazine article, it follows a team of strippers who exploit their way through their Wall Street clientele until they get a little too reckless themselves—and get caught.
Jennifer Lopez and Constance Wu lead an all-star ensemble cast with huge names filling out the rest of the club: Cardi B, Lizzo, Lili Reinhart, and Keke Palmer among them, as well as dancers and actors Scafaria met while making the film.
READ: How to Become a Film Director
On its surface, the story is an equal-parts thrilling and satisfying crime tale prime for a film adaptation. But at its core, "Hustlers" is much more complex. "It felt like a world that we don't often see, even though it's such a prevalent part of our culture," Scafaria says. "It was full of themes that I was excited to talk about: gender as it relates to capitalism, money, friendship, and what we're valued for. Also, I felt a responsibility to talk about a marginalized group of people who I feel faces a really gigantic stigma every single day because of the job that they do."
Once the script was written, Scafaria says it became evident that she should be sitting in the director's chair, too. "The tone was really specific, and I felt like I tried to write it and express the kind of visual language of it on the page as much as I could. In that way, I thought I was the right person for the job."
So, despite some big names being floated to direct the STX Entertainment film, Scafaria got her chance to prove that she could pull it off, and she won the job. Then, she got to work.
READ: Beyond the Camera: How 14 Famous Directors Worked With Actors
"I did a deep dive, researched, and spoke to strippers, sex workers, and people who worked in strip clubs then and now about their experiences and how [they] changed with the financial crisis. I met so many different kinds of people who had lots of different experiences."
When it came to casting, Scafaria, of course, had a vision. "I tried to surround myself with people who knew the world, and [tried] to make it a collaborative process with the actors," she says. Although she doesn't write with actors in mind, she saw Lopez on the page as Ramona, the seasoned (and club-favorite) dancer who seems to have seen it all. "It was just obvious that Ramona was Jennifer Lopez and could be nobody but Jennifer Lopez. And then we would figure out the rest from there. I just could never imagine her as anyone else," Scafaria says. When Wu, a breakout from last year's "Crazy Rich Asians," came into the fold, the director was excited about her playing the top-billed Destiny from "the moment I met her."
Then it was time to fill out the ensemble. "It's like matchmaking and making collages and wish lists and fantasizing about the kinds of people that you could get," Scafaria explains. That involved chasing Cardi B on Instagram and by phone (with some help from Lopez) and getting Lizzo, flu-ridden, during a few days off from her tour. Then, with casting director Gayle Keller, more talent was added. "It was a really lovely mix of musicians and performers and trained theater actors," she says.
All of those elements combine to make a deeply entertaining yet surprisingly thought-provoking and insightful film. Though it may be largely a buddy crime comedy, empathy was Scafaria's secret weapon all along. "I think everybody craves that feeling of being understood. And so, in a way, I tried to find that for the women and the men," she says. "I hope that there's familiarity and relatability in these characters that you might not have thought you'd find."
This story originally appeared in the Sept. 12 issue of Backstage Magazine. Subscribe here.