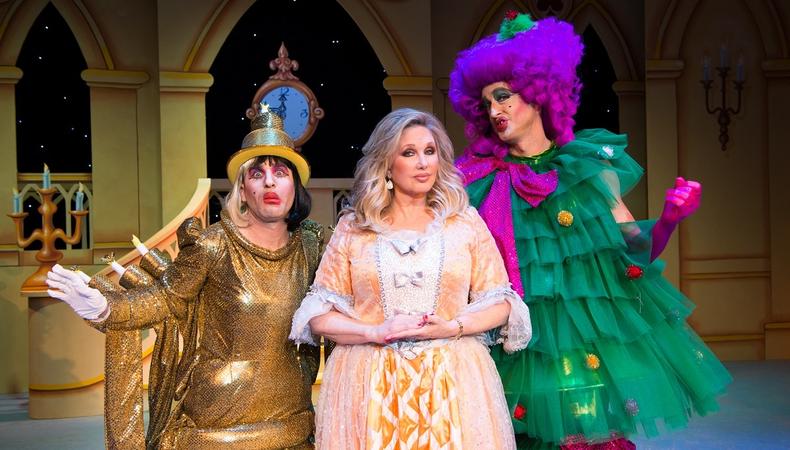 Holiday Panto productions have a long history in Britain. Five years ago, the Lythgoe Family teamed up with the Pasadena Playhouse to bring this tradition to the US. The productions aim to inspire children and expose them to the theater arts. In line with that goal, casting director and producer Becky Lythgoe says they try to cast locally and cast non-professional young performers to perform alongside the seasoned performers in the cast.
This year's offering of "A Cinderella Christmas" at the Pasadena Playhouse stars Lauren Taylor as Cinderella. The production, which started the Panto series back in 2010 at the El Portal Theater, features updated musical selections and changes to the script. However, the casting process remains intact. For the 2010 production, Lythgoe along with celebrity judges found Veronica Dunn at an open call to play Cinderella. While Lauren Taylor was not cast at an open call, Lythgoe says the open calls are still very much a part of her casting process. "We still do the same process we've done since day one," she says. Lythgoe schedules the Equity open calls and advertises on Backstage and other resources before accepting agent submissions so that she'll have fresh eyes. After taking submissions, the best of both groups are brought back for callbacks.
A performer herself, Lythgoe notes that she often wondered if the open calls even helped, but now that she's on the other side, she knows they do. She has discovered and cast many actors that way and open calls give actors an opportunity to show casting directors something they might not expect. "I can't tell you how many times people will walk in and blow me away and I'll be like 'thank god you came here today,'" Lythgoe says. An example of this casting is Matthew Patrick Davis (Buttons), who Lythgoe originally discovered at an open call. She remembered him and reached out to his agent to bring him in to audition. "He nailed it. He was brilliant and he's playing the narrator role this year," says Lythgoe.
"So You Think You Can Dance" runner-up Valerie Rockey surprised Lythgoe when she showed up at the open call. Rockey knew both Lythgoe and choreographer Spencer Liff, but instead of calling them, Rockey just showed up. "She did it and she proved it to us. And those are the kind of people you end up wanting to work with over and over again because they show respect for the project and they also show a passion for wanting to work. And when you're doing eight shows a week you've really got to be that kind of person," says Lythgoe.
Because the step sisters (Hollywood and Vine) are such major roles, Lythgoe says they spent a lot of time pairing together different people. Lythgoe had called a couple previous Panto performers, Josh Adamson (for Dandini) and Ben Giroux (for Buttons), but they let her know they were interested in the stepsisters. "They performed these roles and blew us away." After having seen hundreds of actors "who were brilliant in their own right" Lythgoe says it was surprising to see some of their alumni come in and be incredible in roles she hadn't considered for them. "They took it upon themselves to show us that and it worked." Lythgoe hopes actors will take this as a piece of advice: Don't let anyone pigeonhole you. She encourages actors to tell the creative team if they see themselves in another role. "Sometimes I will not even think of a typically ingénue character to play a big, bold, brassy role, but that's just because you see so many people you do start to want to subconsciously pigeonhole people. So, you the artist, have to always remember do not allow the agents' [or] casting directors' preconceived notions about you to deter you," she says.
"A Cinderella Christmas" runs Dec. 8, 2016-Jan. 8, 2017 at the Pasadena Playhouse.
Pictured: Ben Giroux, Morgan Fairchild and Josh Adamson in "A Cinderella Christmas" at The Pasadena Playhouse.
Inspired by this post? Check out our Los Angeles audition listings!