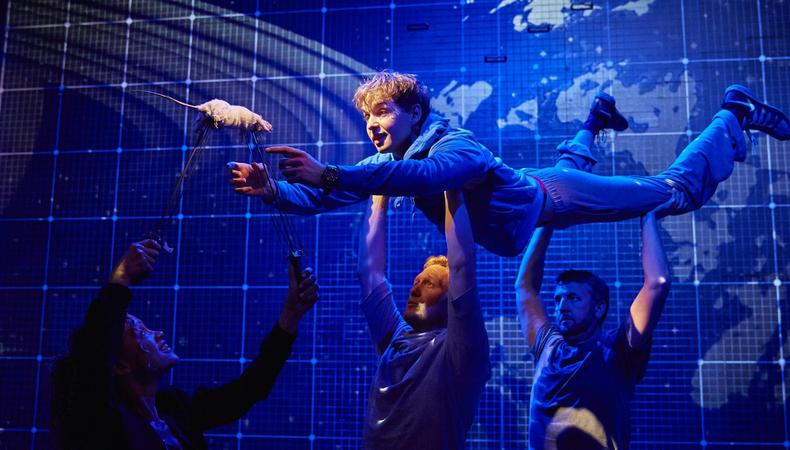 From the Greek chorus to Commedia dell'arte to Japanese Noh, movement has been a key element of storytelling since the earliest days of the theater. Often incorporating elements of music, dance, and fine art, physical theater is a diverse style that blends traditional and less-than-traditional techniques. Lovers of clown work, Viewpoints, and corporeal mime take note: Here are 11 companies producing physical theater all over the world.
Billed a "center for discovery," Double Edge's rural home features highly theatrical indoor and outdoor performances, physical theater training, and community engagement on and off their 105-acre dairy farm. Emphasizing the actors' autonomy in the creative process, Double Edge develops visually and physically engaging pieces based on actors' personal experience and research, and performs at the farm and all over the world.
This London-based dance-theater company integrates real-life interviews, current events, and stylized movement to address social, psychological, and political questions. In addition to internationally touring fully conceived theater pieces, DV8 has lent its unique theatrical style to film, creating award-winning films over its decades-long history.
Movement, music, design, and language are equal players in this vibrant London-based theater company's work. An emphasis on text and physicality sheds a light on new works and classics alike, opening traditional narrative through innovative visuals.
Founded in 2004, this physical theater ensemble aims to "move, innovate and inspire." Not Man Apart blends dance and the spoken word to create compelling theatrical events; their piece "Ajax in Iraq" used haunting physicality and the Ajax myth to tell the story of the first female military combatants in U.S. history.
This Copenhagen-based theater company emphasizes collaboration above all else, creating ensemble-based multi-disciplinary works with community integration in mind. Previous pieces included "Georgette va au Supermarche," a woman's absurd journey through the supermarket performed in French and English, and "Next Door," one man's profound exploration of connection in the aftermath of his neighbor's death.
This award-winning company draws from real-life events and actors' personal experiences to create devised pieces that blend several forms of expression. The company has over a dozen works in its incredible repertoire, including "Red Ball" (2013), a collaboration with the National Technical Institute for the Deaf and the Rochester Institute of Technology, and "Parenthood" (1996), an autobiographical reflection on the chaos and hilarity of family life.
This famed New York ensemble was formed by Anne Bogart and Tadashi Suzuki in 1992 to "redefine and revitalize contemporary theater in the United States." The company's mission statement emphasizes new works and international collaboration, and the revolutionary movement training developed by SITI is taught at universities across the world. The company's innovative productions tour nationally and internationally, and movement-loving actors can study Viewpoints and the Suzuki method at their source.
Synetic's Paata and Irina Tsikurishvili moved to the United States from Georgia in the 1990s and founded Synetic as a fusion of American and Georgian storytelling styles. The company uses stunning physicality to express classical texts with or without words, and has earned over 100 Helen Hayes Award Nominations taking home dozens of wins over the course of its existence.
Theater Grottesco was founded in Paris in 1983 to produce movement-based pieces in the great tradition of Jaques Lecoq. Santa Fe-based since 1996, Grottesco's classical and contemporary techniques (buffoon, mask, and ensemble work) come together to create visually stunning and surprising performances. Workshops in neutral mask, commedia, and clowning train actors for the company's imaginative process.
Theatre de l'Ange Fou was founded in 1984 Paris in conjunction with the School of Corporeal Mime; founders Steven Wasson and Corinne Soum were the last assistants to the "father of modern mime" Étienne Decroux. The company uses mime work, music, and spoken text to explore "impressions of the mind, the absurdity of life and the resulting questions," and has been touring the world since its inception. After moving to London in 1995, the school and theater recently relocated to a country church in Spring Green, Wisconsin.
Zen Zen Zo
(Brisbane, Australia)
This Brisbane-based physical theater creates compelling work that combines ancient Asian dance-theater with pop-culture and the avant-garde movement. Their productions range from "radical reinterpretations of the classics to innovative self-devised works, many of which have been showcased at national and international festivals," according to the company website.