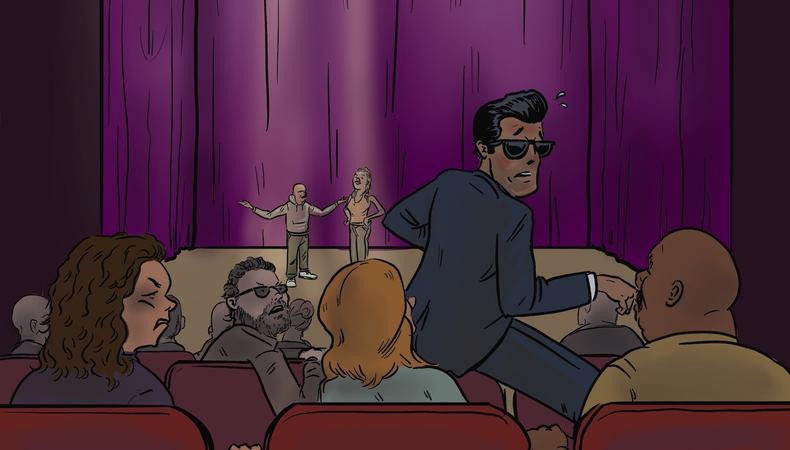 Over the years, I've signed some amazing talent I never would have found unless I'd happened to catch them performing live onstage. If those same people had sent me a standard email submission, I probably would've missed out on working with them. And there's good news for you: I'm finally back to getting bombarded with invites to waiver productions from actors seeking representation.
Now, I'm all good attending a show at the Geffen Playhouse or any of the other respected theaters in Los Angeles, but I have mixed feelings about smaller productions that exist to mainly showcase their casts. And waiver productions are traditionally just that: small-scale shows held at 99-seat or smaller theaters around the city. Yes, they're a great way to discover talent, but they can also be a disappointing way to spend an evening when my streaming options at home are limitless.
To maximize your odds of acting in a successful waiver production that attracts industry attention, here's some advice from an agent who has been going to these types of shows for 12 years and counting.
1. Location is everything. The space has to be easy to reach with limited travel time. For example, if you're based in New York, it would be fun to do some experimental theater out in Brooklyn, but it might be tough getting Manhattan-based reps to attend the show after a long day at work.
2. Is your theater car-friendly? Parking is important, especially in a city like L.A. where everyone has to drive everywhere. If I have to struggle to find a parking spot, I'm not going to be in a good mood by the time the curtain goes up.
3. Make sure the theater meets basic human needs. Comfort is first and foremost. Years ago, I attended a play in North Hollywood during the summer, and the theater's air conditioning was busted. I left at intermission. I'm assuming that the audience members who stayed died from heatstroke.
4. Save your industry contacts a seat. If seating is limited, I prefer to be on the aisle. I'll probably be racing from my office to your show, and I don't want to twist myself into a human pretzel as I search for a place to plant myself.
5. Be selective. Don't invite agents to a show just because you're in the cast. I remember getting an invitation from an actor who explained that the play wasn't very good, but he had an amazing scene in the second act. I would go broke if I pitched my clients the way that dope pitched his show.
These days, attending a waiver production feels quaint in a world dominated by digital entertainment. I can review a ton of potential clients in no time flat from the comfort of my own office. So why would I choose to drive all the way across town and spend two hours in an uncomfortable space watching a handful of actors do their thing? It's because there's still something magical about attending theater, even when it's a small production. It's the difference between listening to Billie Eilish in my car and watching her live in concert.
Here's one last piece of advice: Don't perform in a play with the singular goal of getting an agent. Do it for experience. Do it to act. Do it because you love the stage. The rest will come when it's meant to.
This story originally appeared in the June 16 issue of Backstage Magazine.