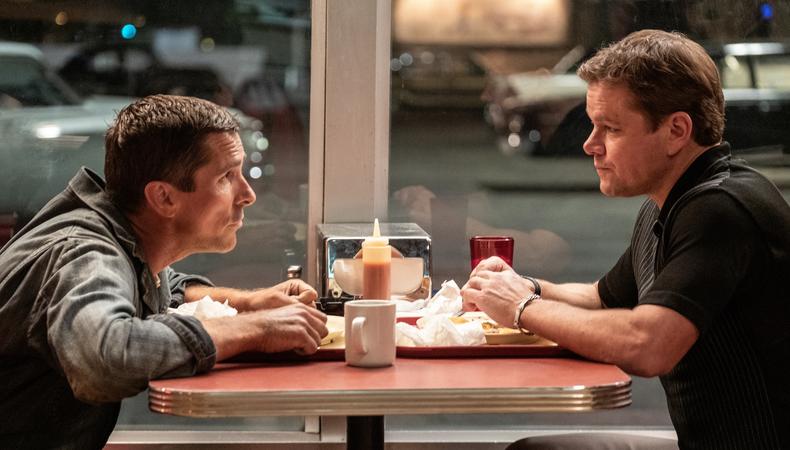 As the old adage goes: In love, opposites attract. But can the same be said of co-stars? "Ford v Ferrari" director James Mangold thinks so, and that's exactly why he cast straight-shooting everyman Matt Damon opposite Christian Bale's live-wire racecar driver to tell the true story of Motorsports Hall of Famer Ken Miles' historic 1966 race at Le Mans. The Oscar-nominated "Logan" and "Walk the Line" filmmaker has long known the two actors personally, and he knew they had a mutual respect for and interest in working with the other. But, aside from that, Mangold also knew the two Oscar winners operated very differently—and that's what most excited him.
READ: Why 'Ford v Ferrari' Has One of the Best Acting Ensembles of 2019
"I'm a big believer in casting actors that have slightly different acting processes," Mangold says. "I think that you get the most sparks in a movie when everyone doesn't work from the same hymnal or borrow the same methodology." To approach casting any other way, he posits, is to risk boredom. "I'd much rather see a mumblecore actor with a nonmumblecore actor, for instance. When everyone is doing full-on mumblecore, you end up with just a lot of mumble. But when someone's pushing and pulling at them, you suddenly have this orchestral meeting of brass, woodwinds, percussion. Different instruments are meeting, and there is an artistic clash going on."
He turns to his "Walk the Line" leads: Reese Witherspoon—an "organized" actor, an "expert pilot" who "comes to work ready to go"—and Joaquin Phoenix, whose "way of working is to try to almost keep the plane from landing [and] see how he can undermine the agenda of a scene or push against it."
"When you have two actors like that, you have a very unique spark that starts to fly because both are out of their element a little bit," Mangold continues. "There's an interesting friction that develops that is kind of indescribable."
In the case of "Ford v Ferrari," Damon, playing former world champion-turned-car salesman (and Miles' level-headed right hand) Carroll Shelby, is naturalistic, internal, and zen-like. "He's capable of any kind of performance, but there is a kind of commitment he builds from the most subtle sense of commitment," Mangold explains. "I don't think there is a close-up you can do on Matt that will reveal falsity. He starts with a true place and keeps expanding."
Bale, on the other hand, "has an explosive interest in experimentation and trying things and playing." Rather than inch his way into his performance as Miles, he wanted to "dive in from the tallest board."
The results speak for themselves; "Ford v Ferrari" is one of the best-acted films of 2019, and certainly the most fun and literally fast-paced buddy dramedy in recent memory. It helps, too, that Mangold has a similar sensibility in the audition room: He's always thinking of the creative alchemy of the film at hand. As such, he holds "extra-long audition periods, 45 minutes to an hour per actor," and invites everyone to come in "hardly knowing the pages." He also advises actors to ignore speculations from agents or casting directors prior to the audition. "Nine out of 10 times, whatever helpful hints they've gotten about the role lead them down rabbit holes that I have to pull them out of," he explains.
"Often, they've developed too much character before they've arrived, and now I have to course correct as opposed to building something with them," Mangold says. "I'm interested in the working dynamic with an actor and what we can do together. Therefore, that all plays a role. So what I try to make an audition into—and I've been very proud to have actors confirm this to me—is something that feels more like a wonderful rehearsal or a workout session, where you are really experiencing the joys of acting."
This story originally appeared in the Jan. 9 issue of Backstage Magazine. Subscribe here.