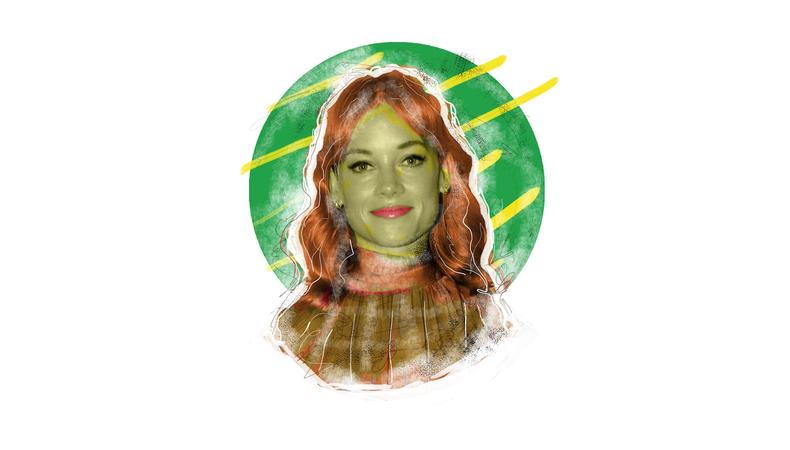 From prime-time sitcoms to horror and suspense, Jane Levy has built a career around versatility. Her first major role came in 2011 on ABC's "Suburgatory," followed by a spate of horror roles in 2013's "Evil Dead," 2016's "Don't Breathe," and on the Hulu series "Castle Rock" in 2018. Now, Levy returns to network TV for NBC's "Zoey's Extraordinary Playlist," where she plays the titular Zoey, who realizes she has the ability to hear people's inner dialogue in the form of song.
How did you first get your SAG-AFTRA card?
The first job that got me a SAG card was "Shameless," which is still on the air. I had just moved to Los Angeles. I had finished a year-and-a-half conservatory at Stella Adler [Studio of Acting] in New York City. I believe [I booked] "Shameless" within two weeks of arriving in L.A., which was really exciting. I was driving home in my mom's Volvo from my callback, and I found out I got the job from my agent and crashed my car.
"Shameless" was also your first time on a professional set. What was that experience like?
It was so surreal and incredibly exciting. I was nervous. It was a moment in my life that I remember feeling immense gratitude. I felt like, Wow, this is a dream come true; I'm living my dream. I felt very welcomed by the cast and crew on that set. I think I had wrapped "Shameless" when it was pilot season, and "Suburgatory" was the first pilot I ever auditioned for and I got the job. It was a pretty spectacular year for me.
You've done work in so many genres. Does that affect how you typically prepare for an audition?
I don't prepare differently for different genres. I tend to think about the character and what the character needs, and I also like to think about the conflict within the character, because I think that, as humans, we are very complex and we want different things at the same time. And often the things that we want conflict with one another. That is something I'm always thinking about when I approach new characters. The writing tells you a lot. Most of the time, if you're working on something with good writing, the writing takes care of a lot of the storytelling and your job is to fill in the blanks. I've been thinking a lot while I've been working on "Zoey's Extraordinary Playlist," because I'm working with so many incredibly talented and seasoned theater actors. Because we're doing a musical, I think about Broadway a lot. I've been sort of itching to get on stage. I think that [audition] approach would be much different than my approach now. I'm terrified of having a live audience and doing the same thing eight times a week, but I'm very intrigued by that idea right now.
Speaking of "Zoey's Extraordinary Playlist," what has playing Zoey added to your acting skills?
I have been joking around that it's the Olympics of acting because the show is a drama, but it's also a farcical comedy at times. I get to do everything in this show that an actor would ever be asked to do—besides riding horses or driving a car very fast. I have gained a lot of new skills on this job. This show is told through my perspective, so I'm on set all hours of every single day, because the show doesn't exist without the character Zoey. In that alone, I do feel like an Olympic athlete. I'm very, very excited for people to see it because I'm extremely proud of the work that we have done.
What advice would you give your younger self?
My same neuroses that I had when I was 21, auditioning and working in this industry, I still have—maybe they're even more amplified. But in terms of acting, my advice would be to trust yourself. The more personal and intimate and trusting of yourself you can be, the more universal I think the work will be.
What is your worst audition horror story?
I auditioned for a Marvel movie, and the casting director told me, "This is film, not television." I don't know what the fuck that meant, especially now that television has become so prestigious. It's a pretty funny thing to say in general. Another horror story of an audition would be… I don't know if this is a great thing to share with the public, but I was in New York and I went on an audition and I was out of underwear, so I wasn't wearing underwear under my jeans. When I walked out of the audition, I realized my fly had been unzipped the entire time. I did not get the part. [Laughs] They probably thought it was a weird power move. That was horrific and hilarious.
What's the wildest thing you ever did to get a role?
I think that kind of behavior actually can work, or it can backfire and you look like a cuckoo clock. But I tend to believe the work will speak for itself. I don't know if I have the balls to do [something wild].
What performance should every actor see and why?
"I Love Lucy," I think, is such an important part of our cinematic history. Lucille Ball—she went to clown school; her farcical comedy is something that I've been referencing a lot when it comes to "Zoey." I think that she is so clever and so…I don't know how to explain it; there's an earnestness and also a strategic element to her acting that is just so fucking good. I also think about the time, [and] a woman having her own show and how powerful she was is something I'm really impressed by and inspired by.
This story originally appeared in the Jan. 2 issue of Backstage Magazine. Subscribe here.