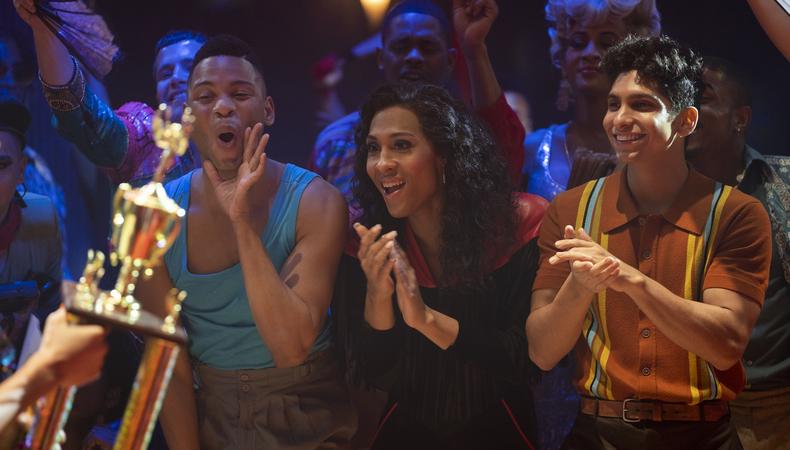 Choosing the most rewarding aspect of working as a writer and first-time director on FX's "Pose" isn't hard for Janet Mock. "It's been watching this cast showcase their talent," she tells Backstage while discussing the 1980s New York City–set show. Ostensibly a fictionalized take on the glittering drag ball culture first immortalized onscreen in "Paris Is Burning," the Ryan Murphy–produced drama emerged during its first season's eight-episode run as a poignant exploration of how trans and queer people of color survive in a world that's at best indifferent and at worst hostile toward them.
"We thought we were doing a really shady, glamorous dance musical," Mock says, "and it surprised us that we ended up doing a family drama." With a mother figure who is a trans woman (played by Mj Rodriguez), a father figure who is an HIV-positive gay man (played by Billy Porter), and a group of "children" who run the gamut from runaways to sex workers, "Pose" is a queer riff on that familiar genre. It's also an aspirational story that puts queer heroes at its center, both in front of and behind the camera. Mock, who is best known as a writer and activist, joined Murphy's writers' room and became a key creative collaborator from the very beginning—even before the show was fully cast. She went on to write three episodes of Season 1 and, with the episode "Love Is the Message," became the first trans woman of color to direct for TV.
READ: Billy Porter on 'Pose,' Being Pigeonholed + Chasing the Dream
Mock admits she went in blind when she first took on the role. "Blind in the sense that I had never done it before. My vision was very clear, because I had written the episode with Ryan, but I just felt so inexperienced, so in over my head. An important aspect to point out for me is the unsureness came from a sense of never really having seen someone like me—with my experiences, my background, my history; anyone who really looked like me—take that director's chair. So, for me, not only as a young woman but as a trans person and a person of color, all of those things combined in one body—for me to be the No. 1, to call the shots, to make the decisions, it was revelatory."
The multihyphenate went on to direct two more episodes for Season 2, which premiered June 11. Through it all, Mock credits Murphy for trusting her and for his boldness in doing what many would cite as a radical thing. "I think for any of us who are the first, all we want to do is a great job. And we have the weight of the world on our shoulders, because if we mess up, we're scared other people won't get the chance. But once I sat in that chair and I was doing it and I saw this cast that I love and who respect me and whom I respect, the job became easy."
The first episode she directed is also a gift to one of the show's standout performers, "Kinky Boots" Tony winner Porter. Having already explored the fabulousness of his character Pray Tell at the balls, where his signature line "Category is…" thunders throughout, Mock's episode focused instead on his anguish over losing his lover to AIDS. It gave Porter the chance to not only sing on camera, but showcase a more dramatic side to his larger-than-life character. Mock remembers Porter coming up to her after seeing a first cut of the episode. "I finally feel as if I have something to show the world," she remembers Porter telling her. "Like, there it is right now. This is all that I felt that I could do. And I did it! And I put it right there in this episode. What a gift that has been to be able to have that and then just share it."
This story originally appeared in the June 13 issue of Backstage Magazine. Subscribe here!
Want to hear more from the best creators in film, TV, and theater? Get it right here!