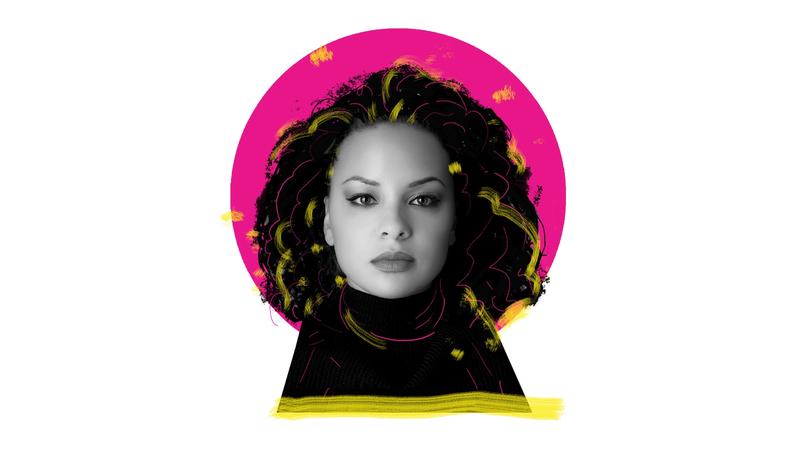 A native New Yorker, Jasmine Cephas Jones was raised with the ability to hustle—and it's only aided her stage and film career in the years since. The daughter of actor Ron Cephas Jones and a graduate of LaGuardia High School of Music and Art and Performing Arts, she made a dual Broadway debut in "Hamilton" as Peggy Schuyler and Maria Reynolds and continued her career on screen, appearing in the films "Blindspotting" (she'll star in the Starz TV adaptation) and "Dog Days." Now, she's back on stage appearing alongside "Game of Thrones" Emmy winner Peter Dinklage in Off-Broadway's "Cyrano" as Roxanne, which runs through Dec. 22 at the Daryl Roth Theatre.
READ: The Career Launch Pad That Gave Lin-Manuel Miranda His Start
What advice would you give your younger self?
I would tell my younger self not to change for anyone. There's only one you, which makes you unique. No matter if you feel like you're different and you don't belong, you're exactly where you're supposed to be. Trust yourself and your instinct and just go for it; don't be afraid and dive in. Things will always be fearful, but it's not about that. It's about working through it and still doing things even if you're afraid—because that will never go away. Usually, when something is scary, it means it's the right thing. Otherwise, you wouldn't be pushing the boundaries or really trying anything new. When you're constantly stuck in your comfort zone, it means you're not growing.
How did you first get your Equity and SAG-AFTRA cards?
My first Equity card was "Loneliness of the Long Distance Runner" at the Atlantic Theater. That was fun; it was an English play about the London riots, and I played opposite Sheldon Best. He played my boyfriend in it. Malik Yoba was in it. I had such a fun time. It was another cast that I absolutely loved. My SAG card was from doing "Blue Bloods," an episode called "Justice Served."
What's the wildest thing you've ever done to get a role?
I don't know! I've messed up in an audition before. [Laughs] That I've done multiple times. I don't think I've ever dressed crazy.
What is your worst audition horror story?
To be honest, when I auditioned for "Hamilton," my first round of auditions, I kept messing up two words. I had to redo it three times. It was very, very embarrassing. It was two simple words in one of the songs, and it just wasn't processing in my head. I was so, so nervous and they were like, "Listen, you are perfect for this. Just, when you come back, please remember those two words." And I was like, "OK! I got it!" Everything went well after that. But I literally could not get these two words for my life. I've also been to an audition where there was a fax machine going off right in the room, and it was so loud and I was trying to concentrate. You have to concentrate as hard as you can when there are distractions.
How do you typically prepare for an audition?
I think, depending on what the role is, if it's something that's very emotional and deep, I try to put myself in that mode in my head. I get my sides, I try to memorize as much as possible so I'm not even thinking about the words. All I'm doing is thinking about my actions and my intent. If it's a singing role, go over the songs as much as possible. I like to find a quiet space where I can breathe and ground myself before I get in. I try not to talk to many people so I can just concentrate.
What's your go-to audition song?
It's really funny: It's a Prince song called "How Come U Don't Call Me Anymore." I absolutely love Prince, and I feel like Prince is not usually [a songwriter] people use for auditions. I try to find songs that aren't very popular, just to stand out. I love singing that song so much. I think, any of your audition songs should really be a song that you are so confident with and can pull out of your back pocket. Find a song that shows your entire range very quickly.
What performance should every actor see and why?
Anything that Gary Oldman is in. He's one of my favorite actors of all time, and he completely transforms himself all the time, to the point where sometimes you don't even recognize him until you see the credits. He represents a true performance artist, transforming yourself to the fullest. I feel like I always learn something when I watch him. "The Fifth Element" is one of my favorite movies. He has this country accent with a limp and the side of his head is shaved. Watching him in anything that he does is a masterclass in itself.
READ: Moving to NYC for Your Acting Career? Avoid These 6 Mistakes
What advice do you have for other native New Yorker actors?
The hustle of the way that we live, surviving all the elements of the winter, the hustle and bustle of it all—use that for this business. How you've grown up and the survival tactics of being aware of your surroundings, that can help you with this business; auditioning and going through the rejections and keeping a good head on your shoulders and being aware. I think being a New Yorker has definitely helped me through the ups and downs of this business.
What has this latest role as Roxanne added to your acting skills?
She has really taught me to stand my ground and speak up for myself. It's the first time I've played a leading lady, and [I'm] learning what that means. She's a very strong, awesome, badass firecracker. I've learned her characteristics and some of her ways, and [how] to keep some of that in my life. And to have the courage to stick to my guns and really fight for what I want and what I believe in and what I think I deserve.