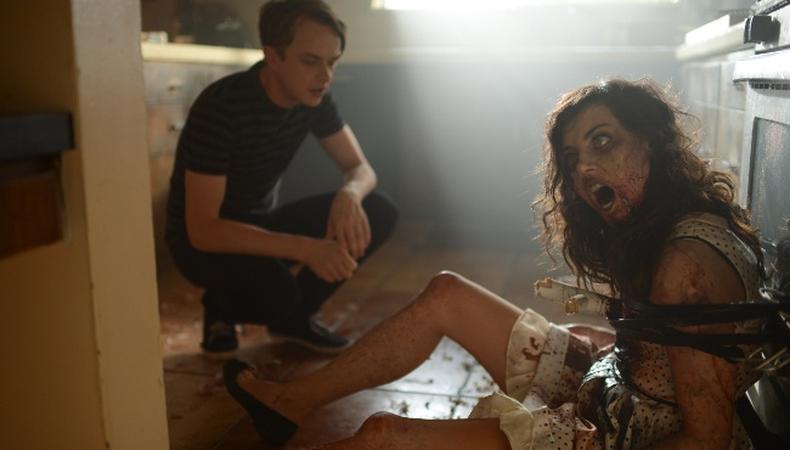 Jeff Baena says his latest film felt like it came to him in a fever dream. He saw it clearly and specifically before he wrote the script in 2003: "It was this sort of subjective, contingent character piece that ended up involving a zombie apocalypse," he explains.
"Life After Beth" marks Baena's feature directorial debut, and the character-driven "rom-com, zom-dram" (as dubbed by lead actor Dane DeHaan) has a solid cast that includes Aubrey Plaza, John C. Reilly, and Molly Shannon. Coming from writer-director Baena, known for penning the quirky existentialist comedy "I Heart Huckabees," "Beth" tackles a different realm of the surreal.
"Life After Beth" centers on Zach (DeHaan) in the aftermath of his girlfriend Beth's (Plaza) death. He's devastated by the loss, but his mourning process is cut short when Beth comes back from the dead. At first it feels like a second chance, but it's soon clear that Beth's new affinity for mud and smooth jazz is indicative of something else. While her parents (Reilly and Shannon) want to believe she's "resurrected like Jesus," Zach becomes more suspicious as time passes.
Weaving a zombie apocalypse with the banality of couples' arguments over things like where to eat is difficult both on paper and screen, but Baena knew where the center of gravity needed to be. "When I conceived the project, I knew the lead had to have more dramatic skills than comedic skills," he says of casting DeHaan. "In order for it, in my mind, to work, he needed to be grounded. [The movie is] zany and insane, but as long as you're still tracking the emotionality of the main character, it's what keeps it in line for the rest of the movie."
Baena never set out to make a zombie film—zombies just happen to be involved. It's the well-imagined realism that comes with being young and in love, blended with the idiosyncrasies of having your girlfriend slowly turn into an eater of flesh, that makes the film work. Toward the end of the zombie progression, Beth becomes violent and the only thing that can soothe her is smooth jazz, a genre the director hates and by which DeHaan's character is confused. The idea came to Baena after reading a study that showed jazz proved to boost the immune system. "I guess my logic was if the music is operating on such a base human level and so are zombies, it would be their music of choice. But I obviously took liberties with that," he says, laughing.
Baena allowed his actors to take liberties as well, because working with seasoned professionals instead of his usual fellow film school students brought invaluable things to the table. He says directing his actors felt like working with Lamborghinis and Ferraris when he was "used to riding go-carts."
Inspired by this post? Check out our film audition listings!