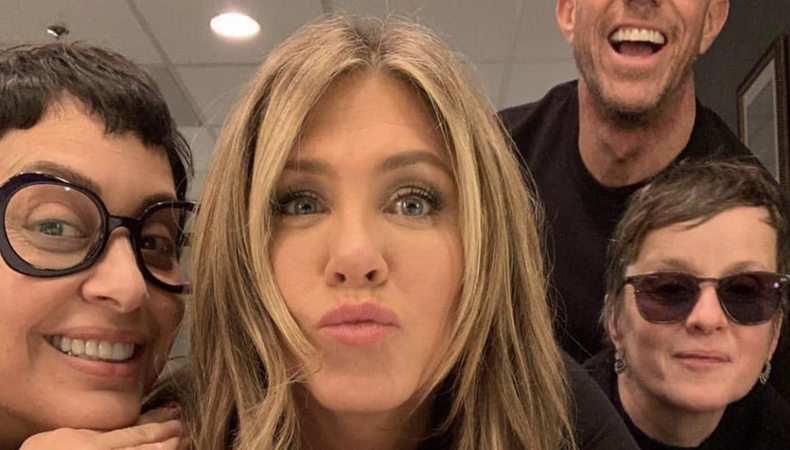 Welcome to Social Studies, wherein we take a deep dive into actors' social media practices. What works, what doesn't, and what should be avoided at all costs? We're glad you asked, and you've come to the right place to find out.
In the Instagram post heard (liked?) 'round the world, Jennifer Aniston joined the picture-sharing platform in October with quite the proverbial bang: a selfie of she and her five "Friends" co-stars. Unsurprisingly, it has amassed nearly 15 million likes in roughly three weeks.
Aniston, who has to this point been entirely social media–less, forayed into cyberspace for an obvious though unspoken reason: She's promoting a new television show. Apple TV+'s "The Morning Show," on which Anniston stars opposite Reese Witherspoon, is her first series regular gig since that NBC sitcom you may have heard of, which means she had to get with the digital times.
READ: Why Kiernan Shipka Is the Instagram Pro
Honestly, the gal is doing what she's gotta do marvelously. Posting once every few days, she's establishing a perfect blend of behind-the-scenes sharing from her current series, glimpses into her personal and professional lives, and even a Rachel Green–starring #TBT.
It's well-established that the actor has been one of the foremost generators of tabloid gossip for over two decades, but with her digital presence, Aniston is in a way curating her own narrative for the first time. And though you may not be featured prominently on the cover of Us Weekly, you can take that lesson to heart, too: Tell your own story. People are going to talk—let them. Get on social media and show 'em you spend less time obsessing over your life than they do.
If you need tips for doing so, scroll through Jenn-An's 'gram, maybe even give her a follow, and remember: She'll be there for you. Cue the "Friends" theme song!
View this post on Instagram
View this post on Instagram