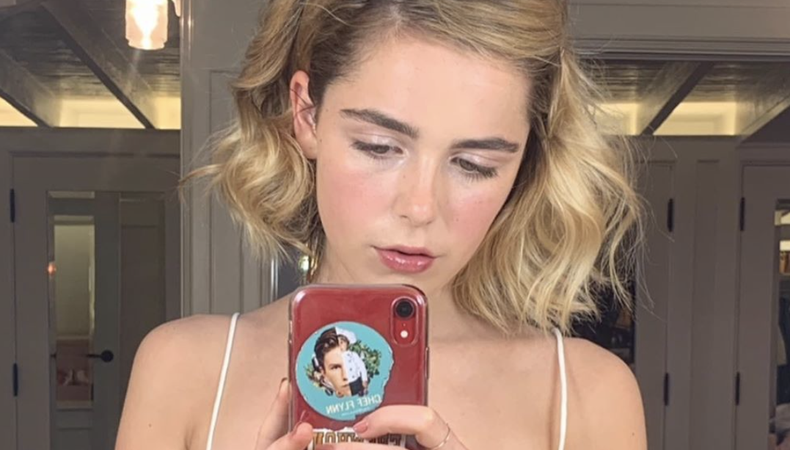 Welcome to Social Studies, wherein we take a deep dive into actors' social media practices. What works, what doesn't, and what should be avoided at all costs? We're glad you asked, and you've come to the right place to find out.
Kiernan Shipka is one of the biggest stars of the small screen, currently playing the title role on Netflix's Gen Z hit "The Chilling Adventures of Sabrina." But judging by her Instagram alone, one might not know she's the lead in a major streaming series—and that's probably exactly why she's got 5.5 million followers.
First things first, Shipka is 19 years old, which is to say, social media has existed in her lifetime for more years than it hasn't. Also, having starred on "Mad Men" from the time she was a child, she's spent most of her life in the public eye. In other words: She knows her way around a public persona on a public platform. And a quick scroll through her profile can teach those who are less social media-savvy some tricks.
READ: Why EVERY Actor Should Be on Social Media
For starters, she isn't overly promotional. Sure when a new season of "Sabrina" drops she usually posts a gram about it. Same goes for her upcoming Netflix film "Let it Snow" (see: below).
View this post on Instagram
View this post on Instagram
Shipka's true Insta genius, however, comes in the form of tapping into the internet culture and fandom of "Sabrina." For example, her appropriating a "Mean Girls" meme on "Mean Girls Day" of she and her co-star Gavin Leatherwood.
Similarly, she gave her show's "Nabrina" shippers exactly what they wanted the month prior—and nearly broke the internet with the photos and caption.
For the most part, though, most of her social media presence is about down-home relatability (if you can relate to 19-year-old superstardom): pictures of she and her friends, the meals she eats, silly memes, and a well-placed TBT. Scroll through Shipka's whole profile and look, learn—and "like," of course.
While you may not have 5.5 million followers (yet!), you've got a brand to promote just like Shipka, and you can do exactly what she does to bolster it: Promote your projects when called for, of course, but more often try to showcase that glowing personality of yours. Further, let followers know your career is important in your life but it isn't your entire life. No one wants to be that person—and more crucially, no one wants to work with that person. Happy posting!
View this post on Instagram
View this post on Instagram
View this post on Instagram
View this post on Instagram