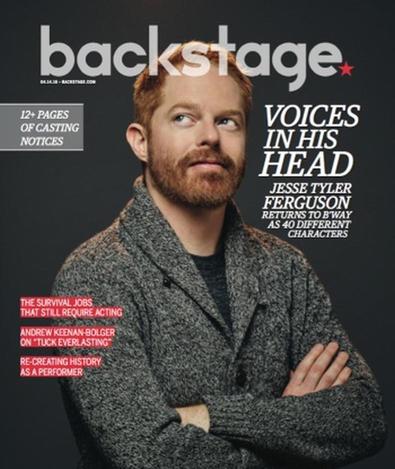 Broadway's "Fully Committed" should come with a trigger warning: Will hit close to home for actors with fine-dining waiting experience. Luckily, the one-person show will leave them laughing in spite of themselves.
"It is still traumatizing at times, even when I read it," admits its sole star, Jesse Tyler Ferguson, with a laugh. He plays Sam, a struggling actor working in food service. "I think back to those times where I had light months or light years. It's tough getting through those, especially if you have to go back to a job that you don't like."
It's the first day of February, and given a week off from filming "Modern Family" Season 7, the five-time Emmy nominee is in New York City to rehearse with director Jason Moore. The calendar is quickly ticking toward April 25, the opening night of "Fully Committed," his first Broadway show since originating Leaf Coneybear in "The 25th Annual Putnam County Spelling Bee" in 2005. Today, he sits at a corner table at Maialino in the Gramercy Park Hotel, with a morning coffee.
"When there's a ringing in your ear and there's this buzz in your head—that's how this play has been," Ferguson says of his weeks studying Becky Mode's script. "It's always in the background." Little surprise, considering the task at hand. Mode's hit 1999 solo show has its star playing one over-the-top character after another, requiring the theater vet to act like he's never acted before, 40 times over.
"I feel like it's a bit ostentatious of me to be away from Broadway for 10 years and be, like, 'And now I'm coming back in a one-person show and I'm playing 40 characters,' " he says faux-pompously, raising an eyebrow. "It's, like, 'Calm down, Ferguson!' "
If one thing's clear, though, it's that he relishes the challenge. And if nothing else, the constant ringing in his ear brings him that much closer to Sam. The rapid-fire satire digs deep into fine dining's underbelly, setting Sam at the basement reservation desk of one of New York City's trendiest hotspots. There, he takes an onslaught of calls from self-righteous patrons, each one seemingly worse than the last. The trick here is that Ferguson simultaneously plays the good-natured Sam and embodies the caller on the other side of the line. It's a schizophrenic juggling act—a 90-minute storm of cartoonish accents, loathsome loudmouths, and (particularly in an arc involving Sam and his father) a tremendous amount of heart.
Ferguson has wanted to do a one-person show since 2013, when his plans to originate Alex More in Jonathan Tolins' "Buyer and Cellar" fell through in favor of Shakespeare in the Park's "A Comedy of Errors." "It was an embarrassment of riches and I had to choose between these two projects," Ferguson recalls. Although "Buyer and Cellar" went on to have an acclaimed run with Michael Urie as Alex, Ferguson's "Spelling Bee" producers Patrick Catullo and Barbara Whitman (who are back with him on "Fully Committed") never forgot about the "Modern Family" star. They knew that if he was going to do Broadway, it had to be a two-hander or one-person play to easily fit the ABC sitcom's tight, 10-week summer hiatus. "That's when 'Fully Committed' sort of fell into my lap," Ferguson says.
"It just felt like when Jesse came up, he was the perfect actor to do a role like this," says Mode, speaking by phone of her play's revival. "He has all the comedic chops and he's also just so immensely likable. How could you not do it if Jesse was interested?"
With Ferguson tapped for top billing, Mode got underway with rewrites and edits to bring "Fully Committed" into the 21st century. "It's not such an old play that you would want to revive it as-is as a timepiece," she says. "And I think if you didn't bring it into the present day, it would feel like it was missing some of the fun."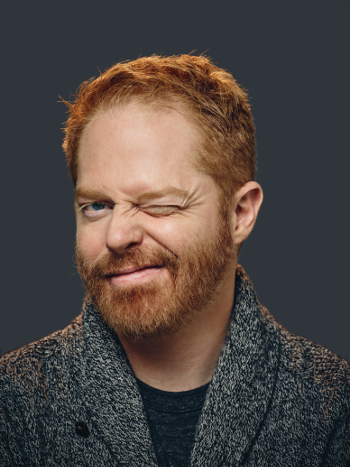 Technically speaking, that means references to OpenTable and the use of cellphones. It also means upping Sam's age from a 20-something actor getting his start to an actor pushing 40 who's seen some success but hit a dry spell. Plus, thanks to reality series like "Top Chef" and "Chopped," celebrity chef and food culture has only intensified in the years since '99, so audiences can expect Sam's upstairs superiors to be all the more smug.
Honing the script's array of personalities has taken Ferguson months of preparation under the watch of dialect coach Kate Wilson, a professor at Juilliard. Ferguson says Wilson's international students were essential in capturing his French maître d' and East London host, as well as callers like a Midwestern secretary and an Arab in Dubai. "[Wilson] helped me out by recording some of her students that are experts in these dialects just because they're from [where] I'm trying to emulate," he explains. "That's been helpful with memorization because you hear rhythms. It's kind of like memorizing a song."
When it came to further memorizing the behemoth one-person script, Ferguson says, "There truly hasn't been much more" than that. (He equates tricks like recording himself and listening in the car to "torture.") So getting off-book was really just a matter of marinating in the material. He's also taken to running lines with his "Modern Family" cast.
So will a Sofía Vergara impression be included in the final array of voices? "That would be fun, actually!" he says. "She's a tricky one."
If Ferguson does end up breaking out Vergara come opening night, that's about as much "Modern Family" as you'll see in "Fully Committed." His beloved Mitchell—gay Pritchett son, lovable lawyer, and husband to Eric Stonestreet's Cameron—made him a household name. But since the Emmy-winning series' start in 2009, Ferguson has made a point to swap prime time for center stage during hiatus, leaving Mitchell behind. He's spent three summers onstage with Shakespeare in the Park ("The Winter's Tale," "The Merchant of Venice," "A Comedy of Errors," and "The Tempest") and done two stints at the Hollywood Bowl ("The Producers," "Spamalot").
"If something comes to me that feels like it's a shade of Mitchell, then I'm more likely to move on from that and look for something new," he admits. "[Mitchell is] a very comfortable role to play. As an actor, I'm always looking to be uncomfortable and challenged and scared."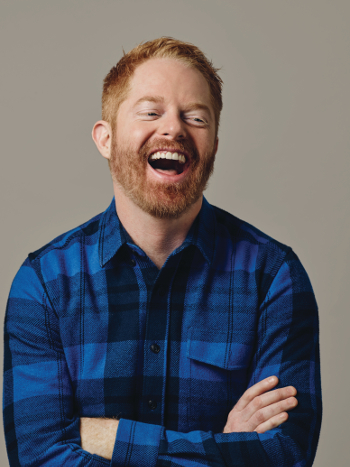 The prospect of playing 40 roles at the Lyceum Theatre is scary, certainly, but playing Sam runs deeper than that. The character's story resonates with the 40-year-old Ferguson in that he, too, has experienced a career of ebbs and flows. Just as Sam found success early in his career, Ferguson landed the opportunity of a lifetime right after graduating from the American Musical and Dramatic Academy when he was cast as Chip in the Broadway revival of "On the Town." That show earned him his Equity card—which then prevented him from accepting opportunities when the show quickly closed.
"It's that thing a lot of people warned you about: When you get your Equity card, you sort of cut yourself off from getting non-Equity work, which is where a lot of people sharpen their teeth and learn their trade," Ferguson says. "I had a bit of a dry spell after 'On the Town.' "
The same can be said for his early television roles. Before "Modern Family," he starred in "The Class" on CBS in 2006. That series was canceled after one season. And 2008's "Do Not Disturb" was the first show canceled that pilot season.
"The reality of the situation is everyone's going to be in that position. I'm going to be in that position again. The most successful actors are going to be in that position," Ferguson continues. "It's about tenacity and knowing that you are good enough and that you will get work again. But you have to really put on that thick armor and realize that there are going to be times when it's really rough. That's part of being an actor."
---
Looney 'Toony
"A lot of these characters are truly cameos," Ferguson says of his "Fully Committed" repertoire. "They come in for three or four lines. You can't have too much nuance because you want them to land and be very specific. So I've allowed myself to be OK with being cartoonish with some of these characters—being a little more 'SNL.' " He says he's watched modern animated classics like "Ratatouille" and "Inside Out" for further inspiration. "That's been really helpful, actually." Coincidentally, Ferguson is due to make his animated debut himself this summer in "Ice Age: Collision Course" as Shangri Llama, a Zen yogi who "comes apart at the seams" when things go awry. "It's really, really fun," he says. "I'd love to go back and do more of that. You can also show up in your sweats—not that I ever wear sweats! But I hear you can do it."
Want to read more? Check out our Backstage covers here!