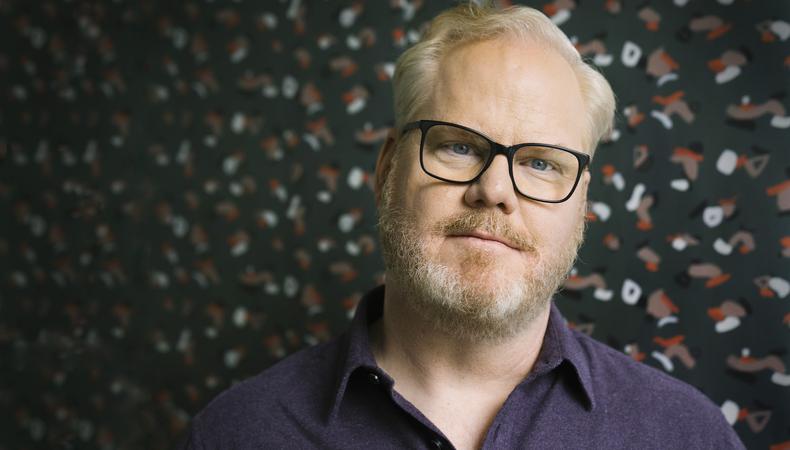 The following Backstage Live was compiled by Backstage readers just like you! Follow us on Twitter (@Backstage) and Instagram (@backstagecast) to stay in the loop on upcoming interviews and to submit questions live on camera.
Jim Gaffigan became one of the best-known names in comedy through his various standup specials and his range of roles in features and sitcoms such as "Super Troopers" and "The Jim Gaffigan Show." While he is not giving up the laughs, as evident by his latest and seventh standup special, "Quality Time," on Amazon Prime, Gaffigan is continuing to exercise his range as an actor—namely as the lead in gritty indie thriller "American Dreamer" and the upcoming "Light From Light" opposite Marin Ireland. He recently sat down with Backstage to discuss how he's avoided being typecast and what advice he has for comedians and actors alike.
On why he chose to star in "American Dreamer."
"I read the script, really thought I could do something different with it, [and] I was also excited because as an actor, you have to show people exactly what you can do. So I knew that if this movie came together, which it did, then I'd hopefully be able to show other directors and producers and writers that I could do this type of thing. Because the entertainment industry puts us in buckets, you know? You have to show them everything. They don't trust you. It's incredibly risk-averse."
READ: How to Become a Standup Comedian
No matter a comedy or drama, Gaffigan is drawn to complex characters.
"I don't really look at it as the difference between the dramatic role or the comedic role, it's just how complex and interesting the character is. I would say that generally, a lot of the comedic roles I've gotten, whether it be TV or film, it's usually a broad stroke of a character. So, it's like, 'Matthew McConaughey's friend,' you know what I mean? (Not that I've played Matthew McConaughey's friend.) But the comedic roles are usually a little bit less to feast on. Whereas a nuanced, complex dramatic character is just so fun because you can build it, you can have different motivations for why he does anything in the movie. Unlike a television show, you know where he's going on this hour-and-fifteen-minute journey, so you can build from a certain place." Like in 'American Dreamer,' I really wanted to establish that Cam, who I play, he's this ride-share driver, and I really wanted to establish his humanity—he was this guy who is doing a job in this gig economy, and people are relatively dismissive [of him]. And so I think people will empathize with him. That was something fun to track and keep track of."
The hardest part of succeeding is risking it all.
"I think for me, right now, the hardest part is to—I said it was all about self-assignment, but it is also about challenging yourself, because it's so terrifying at the beginning, and you're really trying things out. Continuing to take the risk of new material is where the reward is. I feel like I have the benefit of [having] children, so I see that they are taking these risks all the time. Whether it's the first day of school or trying a musical instrument. And I think as we get older, we become risk-averse; we're like, 'I don't want to try that, I might make a fool out of myself.' The continuing-to-challenge-yourself is the hardest thing."
READ: What You Need to Know About Making an Indie Film
Stay motivated by living up to your own expectations.
"It's amazing how little navigating the entertainment industry has to do with acting. It is this strange, ever-moving—there's no rules. It's fluid, so the rules that work for one person might not work for another person. I think that for me, I had to just really look at why I was doing anything and not getting caught up in other people's expectations. Which sounds corny, but at the time, I remember I loved doing standup, I loved [that] the limited amount of acting that I could do was a success. Not by anyone else's standards, but I enjoyed what I was doing. So, not getting caught up in other people's expectations was a pretty important realization."
Comedy is about finding a point of view and building your brand.
"Half of the task [in standup and comedy] is finding that point of view, and it's very much a collaborative experience with the audience. Because standup is very much a conversation with the audience, so you'll find out things about yourself and you'll learn about how you come across that might surprise you. But some of it is transferring that personality that makes you funny in everyday life onstage and making it accessible to broad swathes of people. For me, it took a while. I had stage fright, but I also think that the vulnerability is important for the audience to like someone and to be interested. If I'm not hesitant or vulnerable up there, I don't think people will be interested. It's like any good friendship: You like the friend that is reliable but also challenging and surprises you. I think that is a key element of a relationship a comedian can have with an audience."
This story originally appeared in the Sept. 26 issue of Backstage Magazine. Subscribe here.