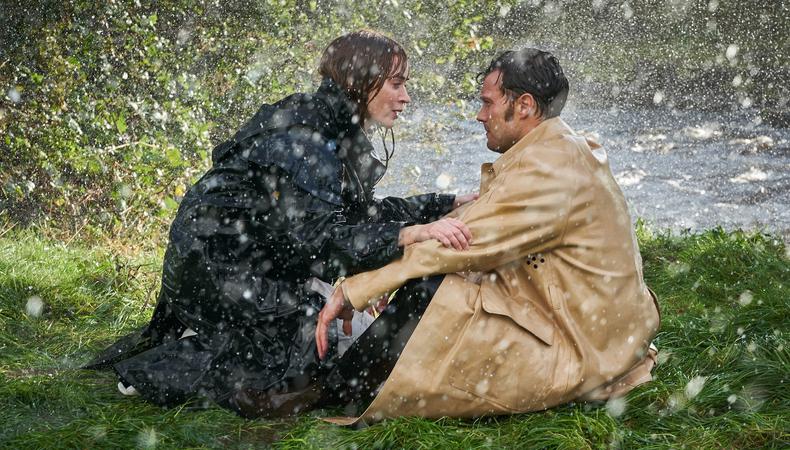 "Wild Mountain Thyme," the new feature out Dec. 11 starring Emily Blunt and Jamie Dornan as star-crossed maybe-lovers, is billed as a "lyrical romance." It's a descriptor that doesn't immediately register until you hear filmmaker John Patrick Shanley explain it.
"It's my personal romance with Ireland, with humanity, with the fact that I have been given life, and particularly [with] the romantic connection with another person," he says. "No matter what angle you look at the movie from, you're going to find a romantic hue to it."
In other words, it's poetry. The same could be said of a conversation with Shanley. The Oscar and Tony Award winner (for "Moonstruck" and "Doubt," respectively) adapted the film from his play "Outside Mullingar," which ran on Broadway in 2014. Though theater, he explains, "celebrates language" in a way that no other storytelling medium can, it's film that immerses the viewer.
"Of these two people, this couple, I would say that Emily Blunt is a warm extrovert and Jamie Dornan is a warm introvert."
"You can actually go to Ireland and shoot the environment, the weather, the animals, the people, and that only violently enhances the beauty of what you're doing," he says. "I think in some secret chamber of each person is a longing to return to Ireland, even if they never lived there. There's a connection between the land and the people that creates some kind of language, storm, mysticism, and beauty that I just don't see anywhere else on earth."
Like "Doubt," another of his plays that he later adapted and directed for the screen and which was grounded in his childhood years spent at a Catholic grammar school in the Bronx, "Wild Mountain Thyme" is drawn from real-life experiences. In this case, though, they're in part his father's, an Irish immigrant who arrived in the U.S. in his early 20s.
Whether for the stage or screen, Shanley's approach to the page has always been to first seek stories that have meaning to him, rather than whatever may be "in vogue." From there, he mines real people—and lets them lead the way. "It's the characters that dictate the language, not me," he says. "The source material is my experience of life as it relates to this specific thing that I'm talking about. From that well water, I can write a play, I can write a film. And I wish that I could always write these characters, because they speak better than I do."
Who does the speaking, of course, is also elemental to a project's success. And that is particularly true of "Wild Mountain Thyme"—which also stars Christopher Walken—in which everything a character says to another is as informative as what they withhold.
"Of these two people, this couple, I would say that Emily Blunt is a warm extrovert and Jamie Dornan is a warm introvert," Shanley muses, putting his director's cap on. "The one thing that I said to them about their initial encounter, which takes place at night in the shed, with fog rolling around and rain outside, I said, 'There's three people in this scene: There's Emily, Jamie, and the silence. Let that silence play.' They do ultimately say a great deal. It just takes the barriers coming down for them to say it, the dismantling of the barriers one by one. That's the joy there is to be found in the film."
And though he insists the cast was, by his measure, 90% of the way there on Day 1 of production, as both writer and director, Shanley's duty was to provide support for that last 10% of the journey.
"Jamie did his first monologue that's in the film. Afterward, I said, 'Very good. We're going to do it again.' And he said, 'Really? I thought it was absolute shite.' And I said, 'Yes, we're going to do it again,' " he recalls with a laugh. "What I was saying was, 'We're gonna stay here in this moment until you get where you need to get. You can do what you want to do. I'm going to help you get there.' I wanted what these two actors had to give. My job, as I saw it, was to shape it, refine it, and, if I felt there was a false moment, to keep playing and taking it down until we got someplace.
"That was a thrill both for me and for them," he adds. "We got on the same page, we were on the same wavelength."
Looking for remote work? Backstage has got you covered! Click here for auditions you can do from home!