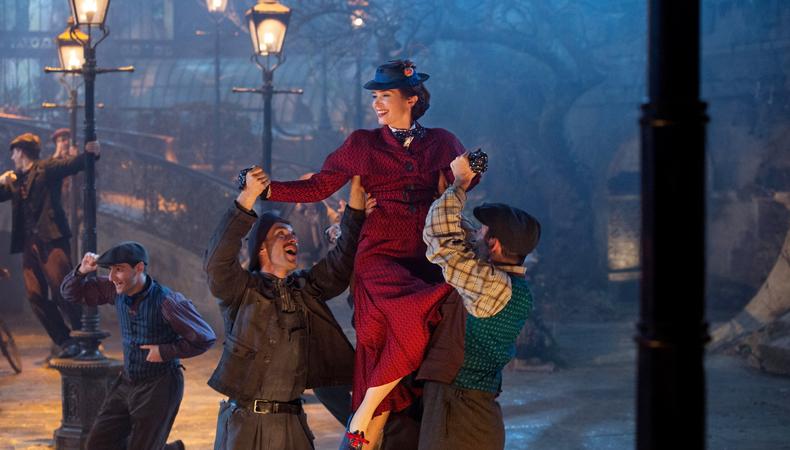 Emily Blunt's biggest question when taking on a new acting challenge is whether or not it terrifies her. "I have to be scared about doing it," she told Backstage Jan. 17 at New York's SVA Theatre. "I really love that feeling of, 'Oh my God, how am I going to do it? I don't know how to do it—yet.' "
And nothing, Blunt added, scared her more than Disney's "Mary Poppins Returns." In a post-screening chat moderated by Backstage's Awards Editor Jack Smart, the triple threat of a star discussed how daunting it felt to inherit the beloved magical nanny from P. L. Travers' novels and the 1964 movie starring Julie Andrews. Although she barely hesitated upon receiving the offer from director Rob Marshall (who first worked with her in 2014's "Into the Woods" movie musical), Blunt knew Mary Poppins would be her most exacting role ever.
With original music from Marc Shaiman and a screenplay by David Magee, "Mary Poppins Returns" co-stars Lin-Manuel Miranda, Ben Whishaw, Emily Mortimer, Julie Walters, Colin Firth, and Meryl Streep. Anchoring Marshall's eye-poppingly gorgeous musical numbers is Blunt, who captures the many contradictions of Mary: she's fastidious yet fantastical, generous yet hilariously rude, grounded yet flying through the air.

Photo by Caitlin Watkins.
"I said, 'Yes, of course! I mean, I'm terrified, but yes!'" she said of her momentous phone call with Marshall. "What a delicious character, what a fantastic character, just once-in-a-lifetime." For inspiration, Blunt studied the nanny of Travers' books rather than rewatching the original film. "I knew that I had my work cut out for me, but I knew that I had to do something different and carve out a new space for myself. Because there's no point in me showing up and trying to impersonate Julie Andrews and her indelible performance, really.... No pressure! We've only waited 50-odd years to hear her sing again!"
Blunt felt the pressure especially while rehearsing, recording, and filming "Where the Lost Things Go," in which Mary teaches the Banks children (Pixie Davies, Nathanael Saleh, and Joel Dawson) about how to grieve for their late mother. The song put both character and actor at their most vulnerable, according to Blunt. "I said, 'I'll never be able to sing this without crying,' " she remembered. "[Mary] can be tough on the kids and she's not sentimental with them. But I do feel at that moment it is her most tender side."
Asked for her advice on how to navigate an acting career, Blunt responded, "You've got to get out into the world and you've got to look at it and absorb it. Travel, meet people, be open. Soak them up because you're going to use these experiences one day." Growing up in London to a mother whose experience in the entertainment biz showed Blunt how tough the industry could be, she recommends developing a thick skin against rejection.
"I had seen how much you have to wear a helmet to get through, how personal it can be. However much people say to you, 'Don't take it personally,' it's personal. It is a personal job, it just is.... All you have are the choices you make and everything after that is out of your hands."
For her performance in "Mary Poppins Returns," Blunt is nominated for outstanding actress in a leading role at the upcoming Screen Actors Guild Awards. For more on the film, visit Disney's official site.
This content has been sponsored by Walt Disney Studios.