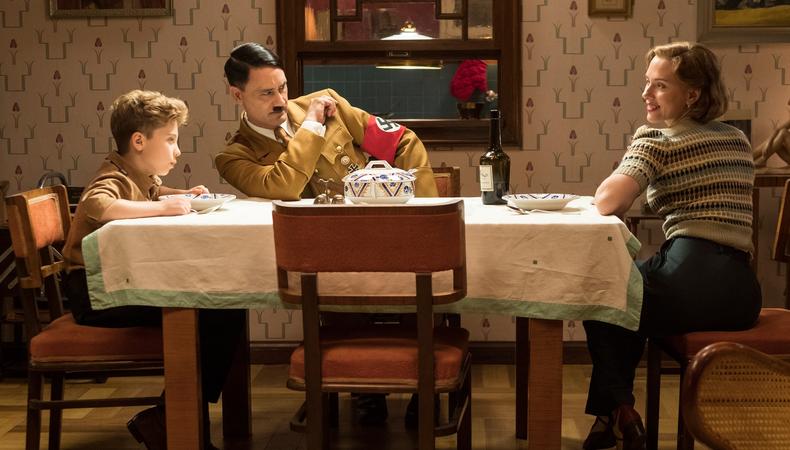 With this Year in Review, we at Backstage have picked through the weeds and found 2019's true gems of the best big- and small-screen ensemble work. And don't worry: We've got you covered with everything else you need to know this awards season right here.
Distributed by: Fox Searchlight Pictures
Directed by: Taika Waititi
Written by: Taika Waititi
Casting by: Des Hamilton
Cast: Alfie Allen, Roman Griffin Davis, Scarlett Johansson, Thomasin McKenzie, Stephen Merchant, Sam Rockwell, Taika Waititi, Rebel Wilson, Archie Yates
How do you find levity in one of the darkest periods in human history? How could an actor today portray Adolf Hitler as a silly man, sharing his outlandish ideas with casual enthusiasm? Is it possible to look for laughs in historical events that, these days, don't seem too far in the past? The answer would seem to be no, but actor-writer-director Taika Waititi, along with his cast of accomplished names and one young acting newcomer, somehow make it happen.
"Jojo Rabbit" walks a very fine line as it follows a Hitler Youth member, Jojo (Roman Griffin Davis), who has been raised in Nazi Germany and whose imaginary best friend is a much more personable version of Hitler (Waititi) than people know to be true. But after he's injured and no longer has a chance to serve as the Führer's right-hand man, Jojo discovers his mother, Rosie (Scarlett Johansson), has been hiding a Jewish girl in their house. Everything he's learned about his country, his family, and the "enemy" comes into question. As Germany gradually loses the war, Jojo befriends the young Elsa (Thomasin McKenzie, best known for "Leave No Trace") and feels caught between turning her in, what he's been taught to do, and protecting himself and his mother from the repercussions of this rebellion.
In his first film role, Davis commands the screen like a seasoned pro. Within the first minutes of the film, you understand Jojo completely, and Davis' on-screen chemistry with Waititi's Hitler, McKenzie's Elsa, and Johansson's Rosie have the easy familiarity of someone who has been in front of the camera many times before. He strikes that balance between funny, sweet, young, and naive—a skill required for a story inviting us to see war from a child's perspective.
McKenzie plays the friend and foil to Davis with perfect calibration, her careful stoicism bringing out both defiance and compassion in Jojo. The audience gets to be in on the joke with Elsa while Jojo reconciles what he knows about Jews and their allies with this unexpected friendship of circumstance.
The other emotional center of "Jojo Rabbit" is Johansson's warm, playful, and supportive Rosie. She understands her son's Nazi fanaticism comes from the world he's been brought up in and that it's a necessary evil under the authoritarian regime. But there's clearly more to her. Jojo's discovery of Elsa hiding in their wall, and his dawning understanding that his mother is part of the resistance, paints a complex picture, for him and for us, of who this woman is. (With her other contenders, "Avengers: Endgame" and "Marriage Story," this is clearly a career-best year for Johansson.)
And serving as comic relief and highlighting the ridiculousness inside a humorless regime are Nazi officers and camp counselors Rebel Wilson, Alfie Allen, and Oscar winner Sam Rockwell; their clownish characters provide an increasingly absurdist look at what power and authority might do to people inside a hateful authoritarian government.
After its Grolsch People's Choice Award win at the 2019 Toronto International Film Festival, it's obvious "Jojo Rabbit" resonates with audiences, while also risking becoming divisive. Bringing to life a historical snapshot with such a comedic twist is Waititi's vibrant cast, drawing out humor and genuine emotion in equal measure.
This story originally appeared in the Nov. 13 issue of Backstage Magazine. Subscribe here.
Want more? Stay in the loop with everything you need to know this awards season right here!