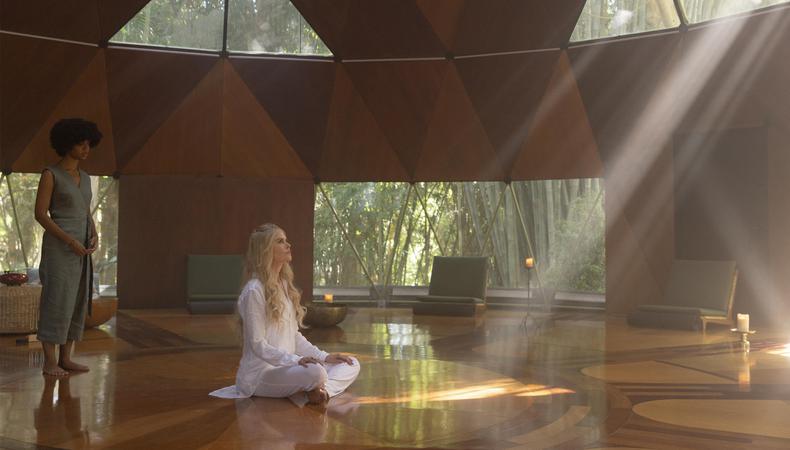 "What happens at the end of something like this—or even halfway through—is that something clicks in. You're no longer directing with your intellectual brain," says Jonathan Levine of "Nine Perfect Strangers." "You're directing with your heart and your gut." It makes sense that Levine, who directed all eight episodes of the limited series, offers just a trace of new age ethos in discussing his approach.
The Hulu thriller, which premiered earlier this month, is set at a wellness center that takes its experimental methods for betterment to questionable, cultish extremes. Based on the book by Liane Moriarty, author of the novel "Big Little Lies," the series hails from "Lies" creator David E. Kelley. It stars Nicole Kidman and Melissa McCarthy (who are both also executive producers), as well as Bobby Cannavale, Regina Hall, Michael Shannon, and a number of your other favorite actors.
The Australia-set shoot was arduous, and Levine, who has directed films like "The Wackness" and "50/50" but never a full series, needed to turn off what he calls the "critical mind" in order to make room for real risk-taking. "By Day 40," he explains, "you're not shooting a scene the way you're shooting a scene on Day 1, and you're especially not by Day 90. By Day 90, I was trying to come up with new ways to tell the story that interest me and excite me. That was really rewarding and incredible." But, he adds, "the stamina it requires is crazy—not just physical stamina, but mental stamina."
Having returned to the States (and seen a few doctors to help him recover from the toll of the shoot), Levine is planning to take some time off. But he's "emboldened" now by the knowledge that not only can he withstand such an exacting production; he may have also done a great job. And he plans to bring the knowledge that he gained on "Nine Perfect Strangers" to whatever he does next.
"I'll try to get to that Day 50 headspace on Day 1," he says. But that "Day Anything headspace," he acknowledges, exemplifies a catch-22 for up-and-coming creatives. How can a burgeoning director, for example, access something they likely don't even know exists? Remember that Levine himself only just discovered it. The short answer is: You can't know and you won't know—and that's OK. It may even be preferable.
"Certainly, there were things I did in my first couple of movies where I just didn't know any better, and it turned out they were good things," he says. But then "you evolve to a point where you do know better, and you're sort of stopping yourself from taking risks. If you're constantly taking stock and evaluating your process and where you want to be as an artist, that's a really good place to be."
READ: How to Become a TV Director
The fact that the artist and their art are, by nature and necessity, constantly evolving makes Levine reticent to prescribe any specific advice to aspiring filmmakers. He does say, however, that it's most crucial to distill your point of view and be unafraid to stick with it. In other words, he says, "I think it's very important to figure out what makes your take on the world unique."
Malleability is just as necessary when it comes to working with actors, each of whom will inevitably bring different needs and energy with them to set. Needless to say, this was especially true on "Nine Perfect Strangers." "There were so many—not just brilliant actors, but so many big personalities, so many different types of approaches and processes," he says. "It is about getting the whole vision and then intuiting what someone needs in that moment. Sometimes, people need to be pushed. Sometimes, people need to feel safe."
Overall, he insists, "It was a very positive vibe." And if that isn't the root of wellness itself, what is?
This story originally appeared in the Aug. 19 issue of Backstage Magazine. Subscribe here.
Looking for remote work? Backstage has got you covered! Click here for auditions you can do from home!