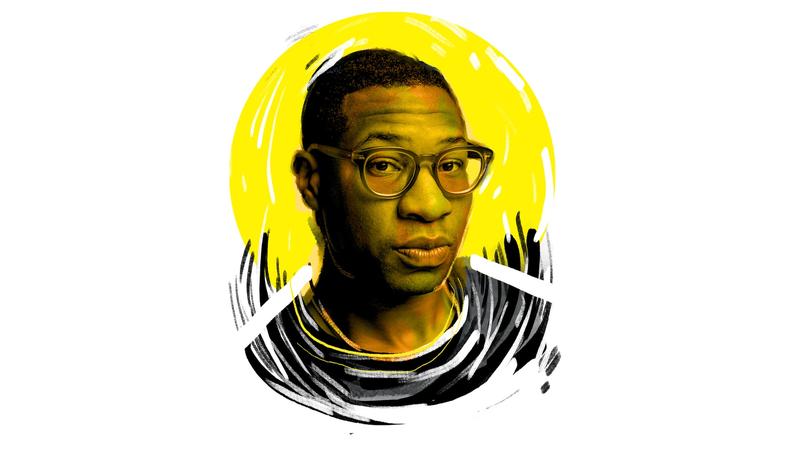 During his final year at Yale School of Drama, Jonathan Majors got cast on Dustin Lance Black's ABC miniseries "When We Rise." Majors has maintained the momentum in "White Boy Rick" and this year's "The Last Black Man in San Francisco," which landed him a Film Independent Spirit Award nomination. Now there's no slowing down; 2020 sees him starring with Chadwick Boseman in Spike Lee's "Da 5 Bloods" and on Jordan Peele's HBO series "Lovecraft Country."
How did you first get your SAG-AFTRA card?
My final semester at Yale, I was picked by Gus Van Sant to play one of the leads in the miniseries he and Dustin Lance Black were collaborating on ["When We Rise"]. I did my final semester of [school] work in a trailer in Vancouver on set with Gus Van Sant. They were like, "If you want this job, you've got to join SAG." My manager paid for it because I had no money.
READ: The Inside Scoop on Yale's Acting MFA
What advice would you give your younger self?
As an actor, you need to grow and experience things. What you experience in life is what is going to help you and your art. Otherwise, it's as if you're mocking something. It can be a good mockery, but we as human beings have an operating system that transcends everything. We can tell that's not real. I have nine years of scholastic actor training, and what I've learned is that training does not an actor make. You have to have an artful way of looking at things. You have to have a certain point of view. And you get that point of view through experience.
Picasso had a point of view on the world and then made his work. Spike Lee has a point of view on the world and then makes his. Meryl Streep has a point of view on the world—I can go on forever. They're very clear in their art form, be it acting, painting, cinematography—they have a clear understanding of how they move and how they operate in the world. I had an acting teacher named Laura Henry who made me—I still do—walk around with a notepad and a pencil, and every time I felt something, every time I had a point of view on something, I had to write it down. You must have a point of view as an artist. And the only way you can have a point of view is by living in the world.
I'd also say, keep your ass in class. If you're not on set, if you're not on stage, go to class. Find teachers you trust and who push you and who you respect as people. That's what you're getting with a teacher: a point of view. You end up taking those points of view and that turns into your point of view as an actor. That's what you get from going to a training program. You get these teachers with great points of view. Those people are 40, 50, 60 years your senior. They've had kids, they've had divorces, they've had mistresses, they've had lovers, they've had deaths, they've been sick. They've experienced life by the bucketful—much more than an 18-year-old from Texas. Your experience as an actor can always grow. What you have to do is be hungry to grow it. Growth is uncomfortable; you have to embrace the discomfort if you want to expand.
What is your worst audition horror story?
I was in my second year at North Carolina School of the Arts. There's a place called Chautauqua Institution [in upstate New York], it's like the Olympics for drama school. I took the Chinatown bus from North Carolina to New York City. I was auditioning for the two artistic directors. I got there and, literally, fell on my ass because he said, "Can you do it in a handstand?" I was so go-hard, I said, "Yeah." I go to do a handstand and do the speech—Shakespeare—and I got up there and bruised my tailbone because I kept falling down. He said, "You can't do a handstand at all." I could do one, but I was so nervous.
I got on the Chinatown bus after eating Chinese food, and I threw up and cried all the way to North Carolina. It was the worst experience of my life. Jump cut, four years later: I'm playing the lead, Walter Lee, in "A Raisin in the Sun" at the same institution. And the next year, I'm playing in "Henry V" at the same place—and I auditioned in that exact same room.
What's the wildest thing you ever did to get a role?
My first year in New York, there was a man named Ruben Santiago-Hudson, who's now like my godfather—I respect him so much as a director and as an actor. I wanted to be in his rehearsal room so bad that I would work my bar job and go stand outside the theater and wait for him to get there and follow him. When I found out he was casting, I went to the casting office and said, "I need to be the reader for this." I end up reading for him, in the room with him. He can't avoid me, because I'm in there for hours on end, I'm reading all the roles and I'm learning all the language. The next [project] comes and I'm right outside the theater and I'm waiting for him and one day he saw me and invited me in. I spent that entire year under his tutelage. He's a dear friend and mentor of mine now.
What performance should every actor see and why?
If you can, make a trip to Berlin and see the Berliner Ensemble do anything. There really is no finish line in their art. I saw them do a production of "Macbeth" in German, and the amount of focus and devotion that they gave to each other and to their work is an example of what I as an artist strive to do: The entire world is in that moment. They're not concerning themselves with a Tony or an Oscar. You're only focused on telling this story to the best of your ability. It's an acquired ability that results in a visceral, spiritual, and extremely social connection to the work. It's the immediacy of it. If anybody can see that company work, I think it's a good litmus test for how they're doing in their work. It's something to strive for.
This story originally appeared in the Dec. 26 issue of Backstage Magazine. Subscribe here.