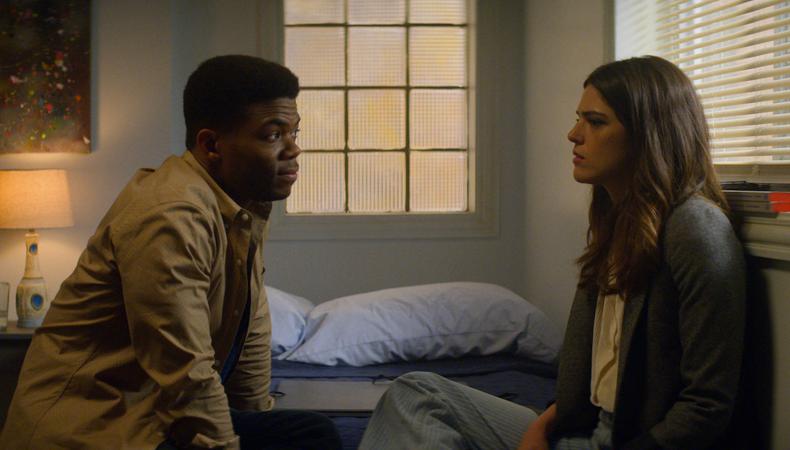 Joshua Safran's resume reveals versatility as well as a knack for buzzy, dramatic stories. The first series he created, "Gossip Girl," established a new era for teen dramas (and people clearly didn't get enough; it's being revived on HBO Max), his second show, "Smash," became a cult classic for theater lovers, and his third series, ABC's "Quantico" delved into the high-stakes world of homeland security and made its lead, Priyanka Chopra, a star in the U.S. His latest creation took his talents to Netflix for "Soundtrack," a...mashup of his past projects as well as his own life. Safran paired narratives from his lived experience with pop songs and when it came together, a cast that includes Paul James, Callie Hernandez, Jenna Dewan, and more lip sync to those songs in order to tell their characters' stories. It's a well-oiled machine consisting of many moving parts and Safran is the one that kept it all running.
Talk about the idea for "Soundtrack" and how it turned into a show.
I went into a general meeting at 20th Century Fox development and I'd already set up two shows that year so I didn't even know if I should take this meeting. But I went in there and they asked me, "What's the one thing you've always wanted to do that you thought nobody would ever want to do?" I said, "Well I have an idea for this show called 'Mixtape' that's a musical about the characters' really rough lives and yet they dream in these big fantasy musical numbers where they lip-sync to pop songs." It really was predicated on this idea that we all have our own soundtracks. If I made you a mixtape of all the music that's in my heart that I want you to hear and feel, you probably will get to know me even better than a conversation because it's a shortcut to fully connect to your innermost hopes and dreams and feelings. By the time the meeting was over and I reached my car, she called my agent and offered a deal. I had not experienced that in a while where somebody was simply saying "We will pay you to develop your dream project even if it's a long shot."
"When you have a show, you have to care about it more than everybody else because it is coming from you. You also have to care about it so much and inspire other people to care about it close to as much as you do so they feel inspired to do their best work."
Once you had the idea approved, how did you go about making the show?
The show came together pretty quickly from there. I knew the story I wanted to tell. It was incredibly personal, probably the most personal things I've ever done. One of the things that was difficult was that it was a very unique piece that was more alternative than what a broadcast show would be. Fox passed on the pilot, but we very quickly found a home at Netflix and I think Fox's pass was because the show really is an oddball. It has never been done on American television where people lip-sync to pop songs. The best option for the show was streaming.
How does the network switch change the process of making the show?
When you make a pilot, you have to turn in a "series bible," where you think the show is going to go. That series doc for Fox was basically the same series doc that Netflix bought. Nothing really changed. Netflix allowed me to do the show that I hoped it would be. I could tell these beautiful, almost closed-ended stories without big cliffhangers. Netflix was really open to trying this experiment of every episode having not just a focus of two different characters, but a different tone, a literal different sound because each character has their own sound.
How does the musical nature of the show affect the process of making it and how is that different from a traditional series?
This was wildly different from "Smash." For "Smash," we'd come up with a concept for what song would be in the "Marilyn" musical this week or in "Hit List," the other musical, and then we would tell the composers, "This is what we're looking for." For this show, my idea was every number had to feel that it was written directly for this show. In a normal musical, if you fast forward the song, the story had no reason for being. My rule was, we will only use songs that basically function as dialogue and character like a true musical does. If it didn't, it had to be cut. I learned a lot on the pilot and then six out of 10 episodes have mashups that we had to create. That process was so difficult because we had to find songs that represented the characters and moved the story forward, then we had to make sure the songs had the same DMP, and the same or complementary keys, then we had to make a mashup. Then, if the mashup worked, we had to present the mashup to the artists and if the artists didn't like it, I had to start from square one. I often chose the music first and then the music informed the character.
How did the writing process work around the music?
I made a playlist for every character before we even wrote one word, including the pilot. The song happened first and the story happened second. And in that way, that's how the show functions as a musical and I kept that all the way through. I would sit in my house and listen to these playlists until i found a song that i felt was a story and i would listen to that song over and over again. And that song would tell me not just its story but also how to prep the visuals for it. And then I would go into the writers' room on day one and we would listen in the writers' room to the songs and I would explain to everybody the stories that were going to happen and then we would construct the episodes around them.
What it takes to be a successful TV and film writer.
Who are you working with people behind the scenes as a showrunner?
We wrote all ten episodes and then we produced all ten episodes. There was not concurrent production with editing and writing. The writers' room got together, we did all ten, and then I was on set every single day for the entire shoot. I would say my most important and constant collaborator was my co-executive producer Beth Schacter obviously number one. Number two is James Alsop, the choreographer. I found James way back when we did the pilot and she followed the story. Without James, there is no show because the dance is so prevalent and is so specific and James was very open to trying all different styles of dance. I also worked a lot with the producer Ali Krug from Annapurna. She's a producer that I work with all the time. So it was really Beth, James, Ali, Ellen, who was our line producer on set, and I. It was the five of us every day. For the music, Jennifer Ross, our music supervisor, is really incredible. I did "Smash" and "Quantico" with Jen, but as for the literal soundtrack, I would say 95% of the songs came from me because they had to. This isn't a show where I was like "Hey, send me 10 love songs, I'll choose one." It had to come from my library. Jen was really instrumental in helping make the mashups and she would make suggestions if we did hit walls about what songs we wanted. Musically, the ideas of the songs came from me and Jen helped me find them and make those dreams come true.
"Every show is pushing a rock up a hill and you have like 200 people pushing that rock with you and it's great, but they have to want to be pushing that rock."
After the show is written and it goes into production, what is your objective as showrunner?
The showrunner is akin to what a director is on a feature. Every episode begins with a concept meeting where you walk through every moment in the script and I say, "Here is what these characters are wearing." Our costume designer Sammy Ratner might jump forward and say "I think she's in daywear here and an evening gown there." I talk about how I would like certain sequences to be shot. All of the department heads are there and then they all go off and do their work. They'll come back as the week progresses they present me the locations they found and the costumes options. I choose the locations, I choose the costumes. I then sit with the director, go over the script, page by page, and talk about what I'm looking for. I'll go to dance rehearsals, I tell James what I'm looking for, James choreographs a number, shows it to me, and I make adjustments. It is very much being a director in another world but not being the director of the show because after I make all of these decisions, it's my job to sit with the director and say, "Hey, I made these decisions" and the director helps with that, too. First, I decide what I'm looking for and then the director is called down and says, "This is the best for me to shoot in. This is the best way for me to achieve your vision."
What advice do you have for aspiring showrunners?
Showrunning is a hard job because it's a full time job. It's not a five day a week job, it is seven days a week. When you have a show, you have to care about it more than everybody else because it is coming from you. You also have to care about it so much and inspire other people to care about it close to as much as you do so they feel inspired to do their best work. What I say to people is, "Make sure when you have a show that you want to make, it's something you truly can dedicate your life to." Every show is pushing a rock up a hill and you have like 200 people pushing that rock with you and it's great, but they have to want to be pushing that rock. So if any part of you thinks that this is more of a show that you would want to watch more than live in or make, don't make it. I would encourage you to make the show that's the headspace you want to live in for maybe five years of your life. It should be the work that matters the most to you because it is such an all-encompassing job. Everything else falls away but the show for the time that you are making it.