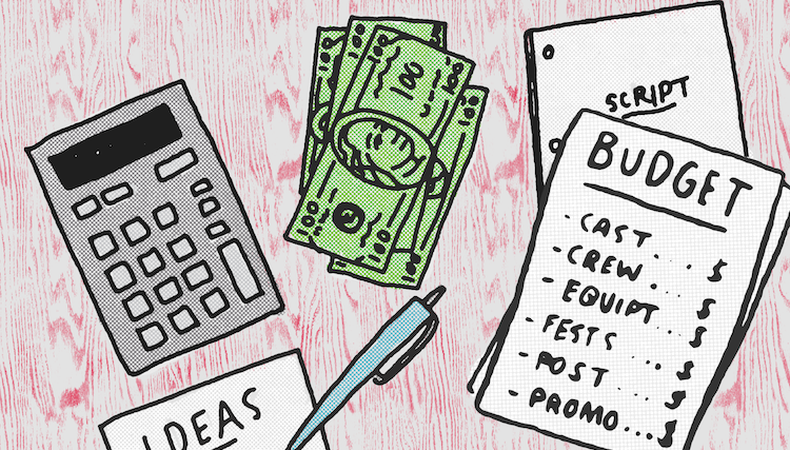 So you've finally written that screenplay, found the perfect theater piece, or have an idea for a new web series. Now what? Here, we break down how to find a producer for the passion project that you are ready to bring to fruition.
What is a producer, and what are the responsibilities involved?
When you think of the term "producer," the first thing that usually comes to mind is someone who is in charge of finding financing for a project, whether that be for film, television, or stage. While this is definitely a significant part of what a producer does, it by no means is the only task that a producer handles. In general, a producer oversees a project from start to finish to ensure that all of the various parts work together as a whole for the overall success of the piece. The specific tasks a producer handles can vary based on the medium of the project, as well as the size (and therefore budget) of the piece. Read on as we explore all the different types of producers and their responsibilities.
What are the different kinds of producers?
Since the title of "producer" can mean many different things, we'll define what different producing titles mean and what type of tasks they typically handle:
Producer: A general term for someone who finds financing for a project and oversees it from start to finish to ensure that all of the various parts of production work together as a whole for the overall success of the piece.
Lead producer: This is often a theater-specific term for someone who guides a project from inception to the end of a show. It is pretty synonymous with the general term of "producer" listed above.
Showrunner: This term is specific to television. The showrunner is a leading executive producer who has the overall creative authority (the show's vision is theirs) and management responsibility for a TV show.
Creative Producer: A producer who handles the artistic side of a project including hiring, rewrites, director notes, serving as a liaison between departments, etc.
Line Producer: Makes sure everyone stays on budget, keeps everything running smoothly throughout the different departments, and ensures proper lines of communication are in place. This person has to stick around after the project ends to make sure that all of the financial ends are properly wrapped up.
Executive Producer: Usually has a personal financial interest in the film, or they helped to gather money for it. Can have similar day-to-day duties as the line producer.
Co-producer: This type of producer differs between theater and film and TV. For theater, this is often someone who helps with fundraising but is billed below the lead producer. For film and TV, this person is often brought on to work on a specific area of production (i.e., a visual effects producer, etc., for a film is a type of co-producer).
"In Association With" Producer: The next billing down from a co-producer.
Associate Producer: The next billing down from an "In Association With" producer.
What's the difference between single producers and full production companies?
A single producer will likely be more hands-on through every step of the process, as they will help with all the various aspects of producing as a whole. (Please note this is not necessarily the case with single producers who are solely billed for their financial contributions to the project.)
Meanwhile, a production company is a full business in and of itself that produces entertainment. Usually, production companies are formed by a group of producers along with others on the business side of film and TV because they pay less tax as a company than as an individual. This normally results in different departments in charge of each of the various aspects of producing. Production companies will search for investors to fund their work and for talent to carry it out. You could either be hired by the production company to work directly on their projects, or you might sell a script of yours to them to produce as they see fit. An example of a production company is Lucasfilm, which is behind the "Star Wars" movies.
How does producing differ among film, TV, and theater?
Film Producer:

On any large film set there is a line producer or executive producer who specifically oversees the budget. There is also a creative producer, who, as you likely guessed, handles some of the artistic decisions in the creation of the film. The director is the ultimate boss on a film set and usually has final say calling the creative shots, but if they run into trouble, the creative producer can always help them out. On large films, there can also be producers for specific jobs or parts of the set known as co-producers.
TV Producer:

A TV show will also have a line producer to oversee the budget. However, a producer who handles the creative side of the show is known as a showrunner on a television set. The showrunner can sometimes (but not always) be the individual who created the show (often the writer), and they take on responsibilities such as what the script is for each day, the location, which scenes are shot, who is acting for that day, etc. If an artistic problem arises on a TV set, the showrunner can often "write their way out of it," so to speak, by altering the script as needed, in a way that a creative producer on a film cannot necessarily. When needed, this can help to solve problems both on set and in postproduction.
Theater Producer:

Like film, there are financial producers (someone who receives a producer billing for investing their own funds into a show) and creative producers (someone who finds the material and essentially orchestrates the show's evolution) for a theater production. However, in the theater, someone who helps to manage the budget works under the title of production manager instead of a line producer.
What questions should I ask myself when looking for a producer?
Perhaps the most important question you should ask yourself when looking for a producer is what values are important to you. As Mary Murfitt, creator and star of the acclaimed Off-Broadway musical "Cowgirls," tells Backstage, "Finding a producer is almost like getting married. You have to find somebody who has the same values. But it's always the creative and the business; there's always this weird balance you have to find. So you need to find people you can trust, which almost seems like an oxymoron."
Finding a producer means more than just finding financial backing for your project, too. You are entrusting your name, brand, livelihood, and all of the hard work and passion you put into your project with this person or production company, so do not necessarily jump at the first offer that comes along.
You should know what about the project you are willing to artistically compromise on and what you are not. If it is a theater piece and the producer wants you to agree to cast it (or recast it) with their choices, are you willing to do that? If it is a film and all of a sudden the producer wants you to cut it by 30 minutes, are you OK with that? These types of conversations will come up during negotiations, so be prepared ahead of time.
Also, be sure to keep in mind what sort of financial agreement you are willing to come to. Know how much equity you are willing to give over to the producer for their original investment or, relatedly, how you will be affected in the billing of the piece.
Finally, be knowledgeable about the type of producer you are looking for. Are you hoping to find a young and hungry producer to get you noticed at a small festival? Or does your past experience and the quality of this particular project allow you to look for a huge producer to pitch your project for Broadway, network TV, or a major motion picture? It can be hard to find a producer if you cannot realistically look at your project and know who would be a good match.
What are the first steps to finding a producer(s)?
The first step to finding a producer is to do your homework. This is both in the sense of creating a knowledgeable list of possible producers, as well as getting your project or pitch for your project in the best shape possible.
In terms of creating a list of producers, start by researching producers who have worked on projects in similar genres and within your target budget. You can get this type of information from sources like Backstage's Call Sheet or IMDb. Be sure to not waste your time contacting producers who may no longer be in the business. Finally, be realistic. Do not expect a producer who works on films with multimillion-dollar budgets to run to a microbudget project, or a producer who is working full-time for a studio to be able to work on a project outside of the studio.
As for your project, be confident that it is in the best possible shape before trying to contact producers. If it is a script you have written, do multiple rewrites and get feedback from trusted members in the industry before shopping it around. If you are trying to pitch a project that isn't an original work—say, a play that is already written that you are passionate about producing and have a unique take on—be sure that your pitch is thorough and thoughtful, highlighting why you want to do this project now and how it will be different from what else is out there.
Once you have done your producer research and made sure that your project and pitch are in tiptop shape, it is then a matter of trying to get connected with a producer. Personal connections, word of mouth, and attending film festivals are good ways to do this. More information on how to connect with producers can be found below.
How do I get a producer to read my script?
Like most of the entertainment business, it is all about who you know. First, start by asking anyone with whom you might personally have a connection (perhaps you've worked together on a project in a different capacity before or are both alumni of the same school). If your own circle is limited in terms of producers, ask family, friends, and colleagues if they wouldn't mind vouching for you to any of their connections.
If either of these options doesn't pan out, you'll have to try to find producers through networking. Try finding "speed-dating" events with directors and producers in your city. IFP's Project Forum is the oldest and largest forum in the U.S. for discovering new projects in development in the independent movie scene. It is a meetings-focused forum connecting filmmakers with a variety of people in the film industry—producers, funders, agents, broadcasters, festival programmers, etc.
Lori McCreary, co-founder and CEO at Revelations Entertainment, recommends another networking idea: joining the Producers Guild of America. "Almost half of its 8,000 members are women, and they share their mistakes and advice to help other members advance in their own careers," she says.
Additionally, if you have a literary agent, try to get recommendations from them. Please keep in mind that some producers won't even consider an original project without an agent attached.
Lastly, the good old-fashioned method of going to film festivals and meeting people face-to-face to have a better understanding of the industry can never hurt.
What does the pitching process look like? How do I prepare a pitch?
With the sheer amount of people pitching projects, it is vital that your pitch be professional, creative, and thoughtful in order to be noticed.
If you are doing an email pitch, be sure to keep the cover letter portion simple, short, and sweet. Always try to individualize it in some manner to show that you have done your research, even if you do not have a personal connection (e.g., complimenting them on other projects they've worked on that you liked, etc.). Then attach or provide links to your other materials. This may seem obvious, but always be sure to check that all attachments and links are correct and working before pressing send. (You'd be surprised by how often they are not, and this does not bode well for showing your attention to detail!) Another small but important tip is to make sure that any file you send is not too large. It is best if everything can be viewed through a link or in preview mode in their email, as people often don't like to download submission attachments to their computer desktop. It is OK to send a follow-up email after a couple of weeks if you do not hear back, but again, be sure to keep it simple and professional.
In terms of the materials needed for a pitch, it does depend on what the project is (film, TV show, or a play) and whether you are planning to do something that is original or reinvent something that has already been written. Typical pitch packets include items such as reels (a director's reel, a reel of past projects, or a pitch trailer or a "mood reel"), a lookbook or mood board, director statement, brief biography of yourself or history of your company, and a synopsis of what your project is and what type of producer you need. (For example: "We are looking to hire a line producer to manage the finances of the film from start to finish.") Please note that you usually do not send the script for the pitch unless it is requested after they have reviewed your submission.
For films or TV shows, a link to a director's reel (either your own if you are planning on directing, or that of the director you are planning to use) is always a good idea. Just be sure the director's reel is of very good quality. For a play, a director may have a reel, but this is not necessary as it is less common. Perhaps a synopsis of the director's other major credits would help in this case. You can also include a statement from a director about their vision for the project.
For a pitch trailer, it can be a snippet of scenes from the script done on a lower budget with the actors you are planning to use for the film. However, a mood reel can also be sent. This is a reel that is used to evoke the visual of the film you intend to create, but is not about filming scenes from the actual movie. A reel of past projects can also be helpful if it is a theater company pitching to a specific theater, producer, or company. Additionally, clips from a specific show could be useful if you are trying to shop one particular piece around to perform elsewhere.
A lookbook or mood board is a collage of original photos, newspaper and magazine clippings, and archival photos meant to evoke the settings, characters, and even colors of the piece.
A short statement from the director of their vision is also helpful. This can be included as part of the cover letter, however. Additionally, a brief biography of the writer and director or history of the company you are part of is helpful to vouch for your experience and expertise as to why you should be trusted and given a chance.
Also, be sure to provide a clear explanation of what your goals are and what you are looking for in a producer—but be realistic. Yes, we would all like $10 million to finance our latest project, but focusing on that instead of what we can actually obtain distracts us from the task at hand.
Lastly, be sure that you have done your research and you can explain how your project is different from what else is out there or what came before, and how to connect it to the real world or current events. (You should always be able to answer the questions "Why this piece? Why now?")
How do I determine how many producers my project needs?
How many producers you require completely depends on your project. If your project is smaller, you may just need one go-to person who believes in you and shares your vision to help find backing and facilitate the logistics of the project from start to finish. Or perhaps your specific project finds yourself in need of multiple types of producers—someone to serve as more of a line producer to ensure your financials are in check and others to help in the creative sense. For example, Broadway shows or large films often have a team of producers that are specialized in the type of work they do.
Alternatively, you may end up working with a production company that already has its own departments and way of doing things, but is considered full-service and has a bunch of different producers built in instead of hiring each of the producers individually.
How do I negotiate a producer's involvement with my creative vision?
There is one thing you need to know about negotiating involvement and responsibilities and that is: sign a contract beforehand. Even if the producer you are trying to work with is your best friend, or if you've done work with them in the past, etc., a verbal agreement will not cut it. This is a business transaction, after all, and must be treated as such.
In addition to protecting you legally and financially, a contract can also help to sort out who is in charge of which parts of the creative process. This can be of use down the line to prevent artistic disagreements if you have an already executed contract to refer to.
What's the actual filmmaking process look like alongside my producer(s)?
The actual process alongside the producer is dependent on how big the project is, what type of producer(s) you have hired, and how many producers you have. For instance, if you just have a line producer or project manager to help with financial decisions, they won't be involved with the creative portion of the project. A general producer handling all aspects of the project might be more involved from start to finish.
The general filmmaking process follows the steps listed below, and you can expect producers to help with each of these along the way:
Preproduction:

This includes but is not limited to: casting, hiring, union paperwork, location scouting, obtaining rehearsal space, licensing, setting up payroll, scheduling, logistics, marketing, and contract negotiation.
Production (Filming or Rehearsal/Run of the Show):

This is when the actual project is being made or rehearsed. A producer needs to ensure every department has everything it needs to run smoothly. This often requires a lot of troubleshooting.
Postproduction:

For film or TV specifically, this means the actual editing together of the project. But for all mediums, it includes a lot of financial, logistical, and paperwork wrap-up. This includes: ensuring everyone is properly paid, having everything that was rented returned on time and in the right condition, making sure all reports (for unions, box office, licensing, investors, etc.) are delivered, checking that all the bookkeeping is finalized, etc. Additionally, for film and TV, the edited project needs to be distributed or submitted to festivals.
How do I ensure I'm cultivating the right/lasting relationships?
This goes back to the notion of finding a producer with shared values. As Hayden Field writes for Backstage, "Producing can be difficult, so it's best to work with people you actually like." Field goes on to talk about advice from producer and actor Ron Simons.
"Simons doesn't feel the pressure to 'sell' his vision to people anymore. He simply shares what he's doing, and if they like it enough to come aboard, they're welcome to. Another pro? If you meet someone you connect with enough to start a legitimate friendship, even if they can't help with your project, they might be able to help one of your friends. Connecting the dots is vital to building your network, since it makes for a more positive industry and your contacts could connect you with relevant people they meet, as well."
Taking your project to the next level by finding a producer that is the correct fit can be difficult. So be sure to give yourself a leg up by doing your research, treating everyone well, and sticking to your gut. Seeing your passion project come to life will be well worth it.
CTA: Ready to get to work? Check out Backstage's TV audition listings!