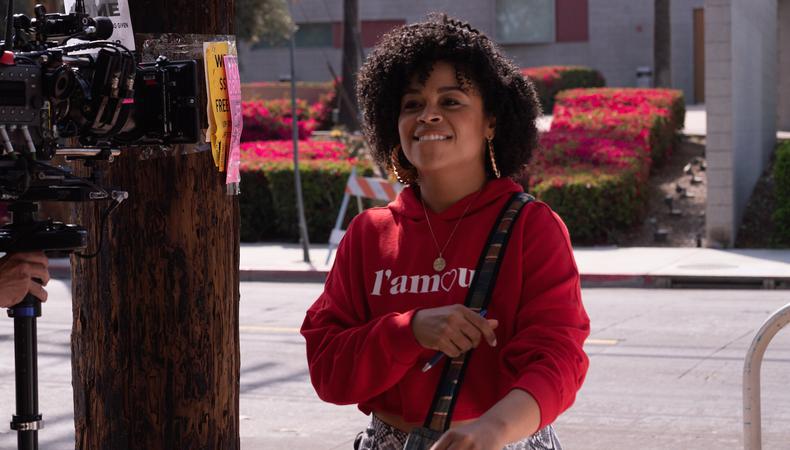 The following Career Dispatches essay was written by Julissa Calderon, who can currently be seen starring on the new Netflix series "Gentefied."
"We're re-writing the role and making her a Dominican girl who moved from New York." Those were the words that came out of one of the EP's mouths of "Gentefied," whom I was on the phone with on April 4, 2019.
Six years ago, I came to Los Angeles on a five-day trip for an audition. Two days in, I made the impulsive decision to stay in L.A. and pursue the career I had always dreamed of. With $300 in my pocket, no job, no friends, and my family over 3,000 miles away, I learned what it meant to sacrifice it all for the thought of making a dream come true.
Before coming to Hollywood, I graduated from the University of Florida with a degree in theater and another in production. I then was cast in my first Off-Broadway show in Miami. I went on to do a few more plays, but my mind was on TV & film. Only thing was, I didn't know anyone who was actually in L.A. When I got here, it was as though I was in a crash course! I picked up advice from anyone who had anything to share—good and bad.
READ: Want to Be a Netflix Lead? Consider Starting as a Casting Intern
For about six months, I worked three jobs so I could pay rent to the girl who was letting me stay on her couch. (You know the L.A. way!) And when I finally felt I had a groove going, I decided to find an agent. I went on the SAG website and scrolled through the hundreds of agencies listed. I emailed a headshot, résumé, and a custom introduction to over 100 agencies…. Only three wrote back. Two of the agencies asked me in my meetings with them if I "was able to tone down my accent" because it was too heavy and would make it hard for them. I was a bit shocked to learn I had an accent. Luckily, one woman thought my accent was "cute," and she signed me.
A lot of the auditions I was sent on made me question who I was. If I fit in. If casting would even look at me, because the Latinas in the room were much lighter in
complexion and their hair was fine. Or when I would go on auditions for an African American girl, casting was intrigued on how a black girl had a Latin accent. Of all the auditions, I got one co-star and one guest star. And then next thing I new, I was celebrating my sixth year in L.A., and I auditioned for "Gentefied," and I got passed on, not once, but twice, because I wasn't Mexican from East L.A. Luckily for me, the phrase "third time's a charm" came into play, and I booked the role of Yessika on Netflix's new Latinx dramedy. And yes, the role was re-written for me. If that's not the greatest "yes" possible, I don't know what is!
You see, I'm a Dominican girl, and Hollywood thinks Latinos are all either from Mexico or Puerto Rico and that we all look a certain way. Breaking into this industry is already hard, but even harder for a young woman who has a head of coily curls, melanin in her skin, and an "accent" that will never get toned down. But like I said, I am a Dominican girl. I come from a line of resilient people. We are people who make a way out of no way and are proud of the ancestors they descend from. I have always stayed true to my culture, and because of it I landed my first big role playing Yessika, a Dominican activist from NYC who moved to East L.A., fell in love with it, and fights for the community like no other. There's no coincidence that I get to play her; I call it divine order!
And so, I think this is the part I give you advice: BE YOU! There's no one else like you out there, and as cliche as it sounds, my story is a testament of it. Your authenticity and what you stand for will get you into the right places. Be patient, your time is coming! All the struggles you're going through are meant to happen and they will build your character and make that first big "yes" even sweeter!
So put in the work, take the classes, audition like they need you, and be bold in your choices. You never know when your choice could be better than what they thought they wanted.
What advice would you tell YOUR younger self? Get more Career Dispatches right here!