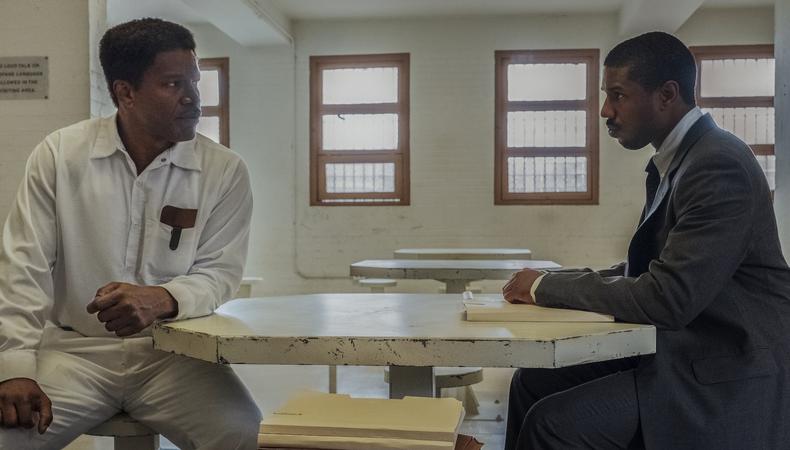 In a world where the goal for films is often purely to entertain, director Destin Daniel Cretton is pushing audiences a step further: He asks them to make the world a better place.
For "Just Mercy," Destin follows the true story of Bryan Stevenson, a defense attorney determined to free as many falsely incarcerated people as possible. The Warner Bros. film centers on his fight for Walter McMillian, a black man who spent six years in jail beginning in 1988.
Michael B. Jordan—who also served as executive producer—and Jamie Foxx star as Stevenson and McMillian, respectively. The film follows the pair's fight to secure McMillian's exoneration after evidence that could clear his name surfaces.
READ: Why 'Just Mercy' Has One of the Best Acting Ensembles of 2019
"I spent time with Bryan Stevenson in Montgomery, Alabama, to prepare for filming," says Cretton of the film's preproduction process. "We saw where Walter McMillian grew up, and we visited Monroeville [where the murder for which McMillian was falsely convicted took place]. I was also able to meet a lot of [Stevenson's] co-workers who are doing this type of work every day."
Bypassing the usual setup for the sleek Hollywood based-on-a-true-story movie, Cretton and Jordan are among the few in the industry who have implemented an inclusion rider on their set, requiring a higher level of diversity than most major motion pictures.
"[Jordan] was a huge champion for creating a tone on set that really reflected the heart of this book," says Cretton, referring to Stevenson's memoir "Just Mercy: A Story of Justice and Redemption." "He was also really instrumental in making sure through the inclusion rider that we had a crew that was diverse and had a combination of different viewpoints, as well as ethnicities."
That on-set tone was vital to the film's success, says the director. "In theater, actors have an audience. In film, the audience is the crew." (Audiences can affect performances, so during filming breaks, Foxx would play music right up until Cretton called "action" to keep the mood light.) Sometimes the crew would be almost reverential in response to darker scenes, noted Cretton. "People were sharing things about their own lives and how their own lives were connected to the stories that we're telling. It was a very fulfilling process."
While Stevenson's story is the film's main arc, Cretton also explores the camaraderie that many incarcerated people experience on death row. "What we wanted to do for audiences is shift the perspective a little bit and allow people to really experience [an execution] through the eyes of the inmates," Cretton says.
When a convict is walked to the execution room in the film, cellmates often bang cups on the bars, the director explains. "Initially, I thought that was in protest of the execution," says Cretton, "but Anthony [Ray Hinton, who was wrongly convicted of murder in Alabama] told me it was really to let their friend know that they're not going through this alone." Hinton, played onscreen by O'Shea Jackson Jr. ("Straight Outta Compton"), was jailed alongside McMillian and later joined the Stevenson-founded Equal Justice Initiative, dedicated to exonerating wrongly convicted men and women.
Cretton calls Stevenson "a genius of empathy," adding that the social justice advocate roots everything he does in love of humanity and a belief that America can find its way to a better place.
It's not just Stevenson who's changing the world with his work; Cretton is, too. "You can't fully understand a problem unless you allow yourself to get really close it," he says.
So far, it's working. At one screening of "Just Mercy," Cretton experienced a small example of what he hopes to achieve. "An older white gentleman came up to me after the screening and he was in tears. He said that the movie just hit him so deeply that he completely changed his view on capital punishment."
With the right tone and an eye for authenticity, Cretton might just join Stevenson as a leader of change.