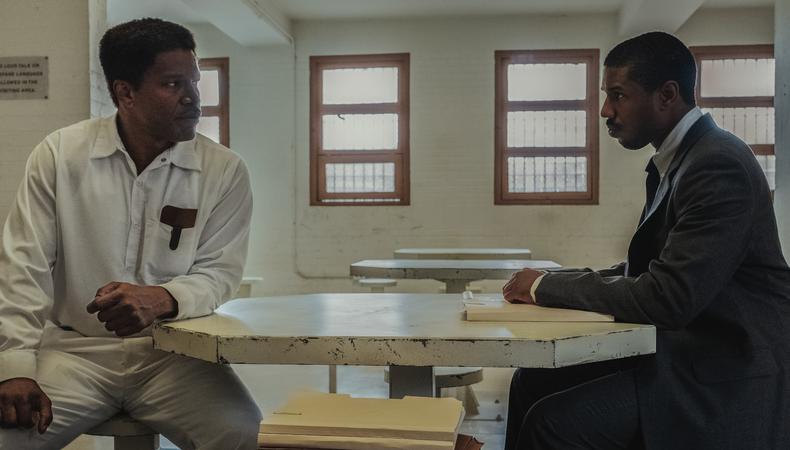 With this Year in Review, we at Backstage have picked through the weeds and found 2019's true gems of the best big- and small-screen ensemble work. And don't worry: We've got you covered with everything else you need to know this awards season right here.
Distributed by: Warner Bros. Pictures
Directed by: Daniel Destin Cretton
Written by: Destin Daniel Cretton, Andrew Lanham
Casting by: Carmen Cuba
Cast: Jamie Foxx, Michael B. Jordan, Brie Larson, Rob Morgan, Tim Blake Nelson, Rafe Spall
"This is about all of us," reads the tagline for the upcoming feature film "Just Mercy." From producer-star Michael B. Jordan and writer-director Destin Daniel Cretton, based on the real-life account of lawyer-activist Bryan Stevenson, the movie's saga is as universal—and as stirring—as that quote suggests.
Awards Contender Michael B. Jordan Fights for Justice in 'Just Mercy
Stevenson, an attorney who in the 1990s took his Harvard degree to the deep South and began representing men on death row he believed to be wrongfully imprisoned, has the kind of story that, only in retrospect, seems to lend itself well to a Hollywood depiction. As "Just Mercy" makes clear, Stevenson did not set out to establish something as ultimately far-reaching as his human rights organization, Equal Justice Initiative, is today. Nor did he have any idea, as a black man moving to Montgomery, Alabama, just how many challenges and roadblocks would stand in his way—and how dangerous his work would become.
As portrayed by Jordan, Stevenson is charming, modest, and somewhat buttoned up, determinedly optimistic about making institutional change. That optimism starts to feel like naiveté during his first prison visit in Montgomery, which begins with an uncomfortable and unnecessarily invasive strip search. That's the first of many tests for Stevenson: comply with a despicably racist system in order to be able to fight it. Never rise to their bait. Bend, but do not break.
As Stevenson's work progresses and begins threatening the local status quo, he and his allies find themselves in more and more danger. Jordan excels at conveying the flurry of adrenaline and emotions underneath the man's placid facade; you can feel him tamping down his outrage, or, during a cop's routine traffic stop that may as well be an outright threat, fear for his life.
The fiery yin to Jordan's steady yang is Eva Ansley, Stevenson's legal assistant and first of many employees. More able and much more willing to speak her mind, Eva is brought to vivid life by Oscar winner Brie Larson, who proved a strong collaborator with Cretton in "Short Term 12" and "The Glass Castle."
The first death row case they have a shot at overturning is that of Walter McMillian, a black man convicted of murdering a white woman. It's McMillian more than anyone who emphasizes to Stevenson how much of a long shot reversing his conviction would be. In the role, Oscar winner Jamie Foxx reminds us why he's such a masterful on-camera actor: watching him go from a man who's accepted his end to feeling glimmers of previously unthinkable hope, there are no barriers between his emotions and us. He can break your heart just by breathing.
Equally remarkable performances come from Rob Morgan and O'Shea Jackson Jr. as McMillian's neighbor cellmates Herbert Richardson and Anthony Ray Hinton, respectively. Tim Blake Nelson turns in a chillingly memorable turn as Ralph Myers, the man who could potentially exonerate McMillian, while Rafe Spall does an admirable job at demonstrating District Attorney Tommy Chapman's crumbling certainty about the case. Both find ways to lend the tiniest bit of grace to the people benefiting from a racist system that silences and dehumanizes innocent people like McMillian—to this day.
That's what makes "Just Mercy" feel so urgently relevant.
This story originally appeared in the Nov. 13 issue of Backstage Magazine. Subscribe here.
Want more? Stay in the loop with everything you need to know this awards season right here!