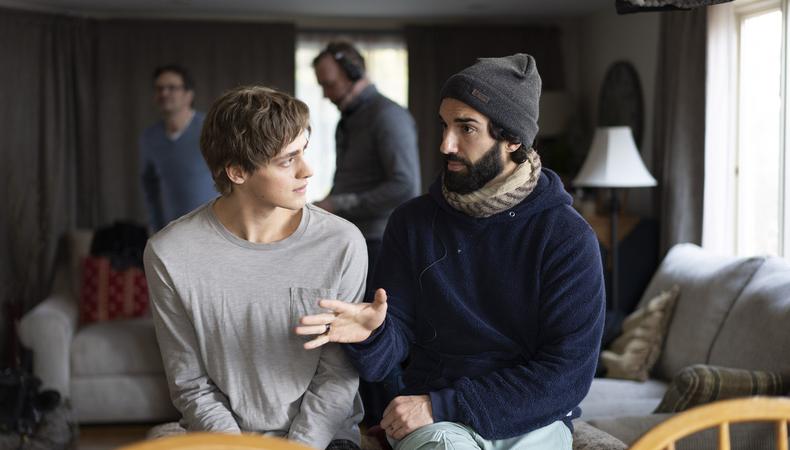 The following interview for Backstage's on-camera series The Slate was compiled in part by Backstage readers just like you! Follow us on Twitter (@Backstage) and Instagram (@backstagecast) to stay in the loop on upcoming interviews and to submit your questions.
Director, producer, actor, and filmmaker Justin Baldoni ("Jane the Virgin") joined us on Instagram Live to talk about his new feature based on a true story, "Clouds," which hit Disney+ on Oct. 16. The film miraculously launched the titular song by its subject, Zach Sobiech, back to the top spot on iTunes seven years after its release. (We suggest you bring tissues to watch the cancer drama.) Plus, we dove into how Baldoni's company Wayfarer Studios launched its Six Feet Apart Experiment, which gave filmmakers funds and access to create films during this unprecedented time in Hollywood.
Baldoni's directorial style on "Clouds" stems from his experience as an aspiring actor.
"I remember auditioning, I left feeling like I didn't matter. On sets at times, the way that directors would talk to me, I just didn't feel for a lot of my career that anybody valued or appreciated my contribution, especially when I was a day player or wasn't a part of the main cast. I think what that does for actors-turned-directors is it gives us empathy, which I think is the key to every job. You can't be in a position of power and not have empathy and compassion and understanding and true knowledge of what everyone else is doing. I try, in many ways, to lead from the bottom up and not from the top down, because I think making a movie is about galvanizing a crew and a cast, and being in the trenches with them. People need to feel loved and appreciated and welcomed and safe to try new things and be vulnerable, because acting is extremely vulnerable."
His own Wayfarer Studios has mentored first-time filmmakers during the COVID-19 pandemic.
"I started this studio to finance and tell and create stories that could make a difference, and to help find filmmakers and champion filmmakers who deserve that support. And when the pandemic hit, I was talking to the team, and we had this money and these resources, and nothing was getting made, and one of my team members said that we should shoot a movie during quarantine. And it just gave me the idea; I saw it as clear as day. I was like, 'Well, forget about us doing it—what if we empowered five new filmmakers to do it?' And everyone was like, 'Yeah, let's do it!' And so we started the Six Feet Apart Experiment. We gave five filmmakers $50,000 to make their own movie and then provided them with a ton of extra support. And we had this national competition, and we picked five…. All of them were first-time filmmakers, four of them were first-time female filmmakers, and it's been an amazing process to support them."
READ: 9 Stars Talk Confidence + How to Deal
When You're Lacking It
Finding your self-worth as an actor can be complicated.
"As an actor, it's really hard because our success is measured by what other people think of us. Everything in this business is this hustle and climb, and we constantly use one thing to get us to the next thing; it's this never-ending ladder. Even when you get to the top of that ladder, which I'm not at, you are constantly looking around you and looking down to see who's coming behind you to try to knock you off. Our business masterfully makes us all feel less than, no matter how successful we are. That's the first thing I'll tell people: You have to know that's going to happen. There's no job, there's no movie, there's no amount of success, there's no role that will ever leave you feeling satisfied. You will be on a constant quest for perfection and to be seen and valued if you allow your jobs and the people in this business to dictate your self-worth."
Want to hear more from Baldoni? Watch our full interview below, and follow us on Instagram: @backstagecast.
This story originally appeared in the Nov. 5 issue of Backstage Magazine. Subscribe here.
Looking for remote work? Backstage has got you covered! Click here for auditions you can do from home!