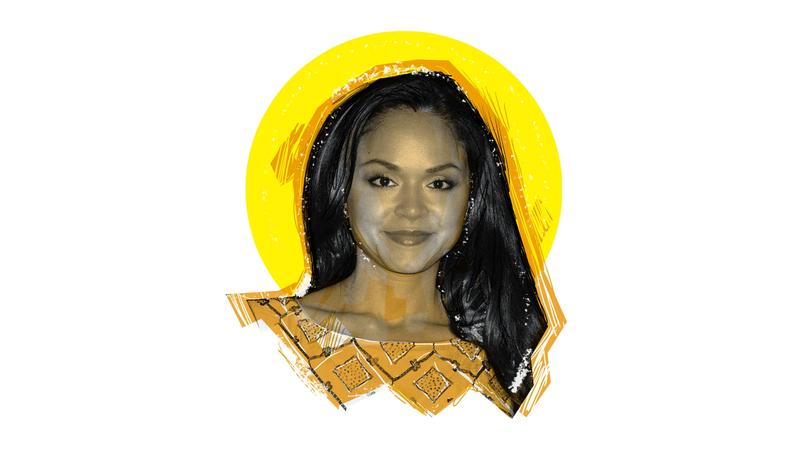 At this point in her career, Karen Olivo can afford to do what she wants, which is just one of the reasons why her return to Broadway this season in "Moulin Rouge!" is so exciting. A Tony winner for "West Side Story" and alum of such beloved shows as "Rent," "In the Heights," and "Hamilton," Olivo says that stepping into the shoes of Satine—the tragic nightclub performer played by Nicole Kidman in the 2001 film—was "a very big challenge—and I like a lot of challenges, so I decided to audition for it." Here, she reflects on her early days on the stage and offers her best advice to her fellow actors, including the recently announced cast of this season's "West Side Story" revival.
How did you get your Equity card?
I had done a summer stock gig in Warsaw, Indiana, at a place called Wagon Wheel Center for the Arts, and that was back in the day when you could be eligible if you worked at specific theaters, so I became eligible there. And then the next year, "Rent" had opened on Broadway, so the moment that I heard the soundtrack, I drove to the first open call that I could find, which happened to be in Toronto, and my eligibility got me to the front of the line to be seen, and I ended up actually getting the job.
What is one performance that every actor should see and why?
I've come to the theater to be inspired a million times, but I remember specifically watching Julia Murney in "The Wild Party" as Queenie. At the time, I was working on Broadway [and] I had been watching things on Broadway, but I had not seen anyone do what she did. It kind of shifted my brain and it made me seek a different kind of character. I started looking at different shows to be in because of that.
What's the wildest thing you've ever done to get a role?
I think I've been lucky. Other than being seen for the same thing more than 10 times, I think I've been spared. I'm not really one of those people who seeks out the work unless I know that it's something that I want to do, and everything that I really felt like I needed to be a part of, I've been able to close the deal pretty early on.
READ: How to Get Cast on Broadway
What advice would you give to your younger self?
That it's a marathon, not a race. I think ambition is incredible, but [you have to] realize that it will take time to get to the place that you actually want to get to and give yourself this space to grow into it without getting frustrated. I would have wished some patience on myself.
Do you have an audition horror story you could share with us?
Oh, absolutely. I auditioned for something a million years ago, and I picked a song that I did not know very well but I thought would fit the piece. It was lyrically challenging, and I fumbled through it once or twice. They let me start again. Then, at the end, I could tell they felt bad [when] they were like, "Is there anything that you would like to sing?" I think they were just trying to get me to not throw myself off a bridge after leaving the room. The big takeaway from that is if it's not material from the show, pick something from your book that is your go-to.
Do you or did you have a go-to audition song?
When I was working pretty regularly, "Rent" had just come out, so everyone wanted to hear some sort of pop song or rock song. So I sang "Come to My Window" [by Melissa Etheridge,] and I used it for years. When I needed to start transitioning into a different kind of perspective, I went to "I Honestly Love You," that old Olivia Newton-John song.
How do you typically prepare for an audition?
I try to know everything about everyone in the room and what they've done, because I feel like that really informs me. You know, a lot of people say, "It's an audition for you to see if they want you," but I also think, "Do I want to be a part of this?" So once I know enough about them and I've learned the material and I know what I'm going to bring to the material, then it's just about being honest and personable in the room and trying to collaborate. I don't really think of trying to leave an impression, I just try to be the best version of myself in the room and, hopefully, that is what will get you the job.
What has playing Satine in "Moulin Rouge!" added to your acting skills?
I mean, nothing has ever been written this way. I kind of feel like we bridge the gap between all the different tonal styles. We go from being highly contemporary to what seems like very period, and back and forth. The funny gives way to some very tragic and serious moments. I don't know of a piece that spans time and styles in that way. So I had to really, with a lot of help, work on making the funny bits incredibly funny. As you know, comedy is the hardest, and the dramatic things have always been a little bit easier for me, so trying to find a way to bridge all of those and make them believable as one human being was a bit of a challenge. So, to answer your question, I think my comedic chops have been the one thing that I've been trying to hone on this show.
"West Side Story" is also coming to Broadway this season. You won a Tony Award for playing Anita in 2009—do you have any advice for Yesenia Ayala, who's tackling the role?
Oh, gosh—I would say just make it your own. That's the only way to really do anything. Stay true to the piece and bring everything you can to it. We should be doing that for everything, truly.