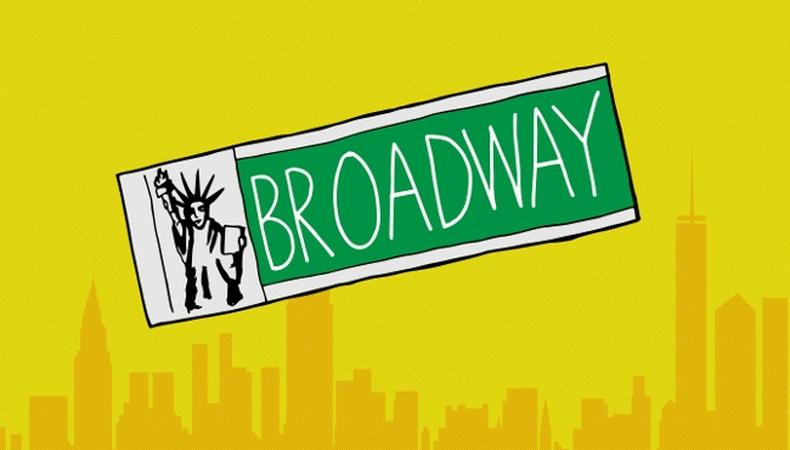 Broadway is an entity, a state of mind, a goal held by so many and attained by so few. Whether you have dreams of seeing your name in lights atop a marquee or inside a Broadway program amongst the names that comprise a robust ensemble, you have a long journey ahead towards the Great White Way. Fortunately, you've got a friend in us! From how to obtain your Equity card to the all-important terms and creative forces you need to know, here is the Backstage Guide for how to get cast on Broadway.

What do I need to get started?
The materials you'll need to get cast on Broadway will probably not be new to you. Still, you know what they say about making assumptions, so we'll break them down below.
Headshot/résumé/reel: These are the materials that you will, unequivocally, need for every single acting job you want to obtain throughout your career. Check out our headshot archives for everything you need to know about what to wear, how to find a photographer, posing tips, and more.
Next, head over to our résumé section for thorough guidance on formatting, what does and does not belong, special skills, and more.
The only difference in these tools for Broadway is, if you're hoping to break into the musical realm, your reel will need musical excerpts as well as acting. Here, Backstage Expert Tim Grady advises you on how to "recreate the energy and atmosphere of an actual audition" for your musical-theater reel and here expands on the subject by giving his five most useful pointers for your best MT reel.
Backstage: Many, many Broadway stars used Backstage in the early stages of their careers (and beyond). Rachel Bay Jones, who just won a 2017 Tony Award for her role in "Dear Evan Hansen," says she "lived by Backstage religiously when I first moved to the city." Broadway icon Beth Leavel also used Backstage at the onset of her New York tenure and tells us she "felt like I was a part of the club when I had my Backstage in my hand." Veteran theater actor Brian d'Arcy James, most recently seen in "Hamilton," also says he feels "like it was yesterday when I was going to open calls and looking at all the columns in Backstage." And this doesn't just apply to Broadway vets. Anthony Rosenthal, the young actor who starred in last season's Tony-nominated "Falsettos" revival, also used Backstage when he was getting started. In short: It worked for them!
Branded social media: This is the only supply on this list that may be a little new or surprising. While a strong digital presence and brand certainly aren't actual requirements to perform on Broadway, in the year 2017, they are instrumentally helpful. Even if a curated social-media presence doesn't land you a starring role on Broadway, it may very well catch the attention of someone in the industry: a writer, a director, an all-important casting director. That could make your headshot stand out in the pile of submissions on the desk, help you get in the room, and that could, in fact, help get your name on the boards. But building your digital brand is easier said than done, of course, which is why we have an entire guide on that subject alone right here.
WATCH
What should I know about the Actors' Equity Association?
Let's start at the beginning, which, when it comes to Broadway, means the Actors' Equity Association (AEA). Maybe you're a member, maybe you've spent years trying to become one, or maybe you have no idea what the organization even is. Whatever the case may be, we're here to provide a tell-all explanation.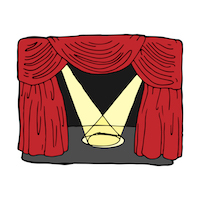 Actors' Equity Association (referred to most commonly in the biz as "Equity") is the U.S. labor union that represents upwards of 50,000 actors, as well as stage managers. Founded in 1913, it intends to "foster the art of live theater as an essential component of society," as well as provide its members with benefits such as healthcare and pension plans, fair working hours and conditions, and leverage for negotiating wages. Members receive their Equity card upon initiation, which serves as proof of membership and is used for many purposes, primarily at Equity Principal Auditions and Equity Chorus Calls (which we will delve into deeper later in this guide).
A slight digression but an important distinction to make is that the actors' union in the United Kingdom is similarly called simply Equity. Apart from the fact that Equity and Actors' Equity Association are both affiliated with the International Federation of Actors, however, the two are entirely separate entities.
Actor Kate Shindle, who is in the midst of starring as big Alison in the "Fun Home" national tour, is the currently serving president of AEA. You can learn more about Actors' Equity Association via their full website here.
Do I have to be an AEA member to perform on Broadway?
We won't mince words. Yes, you have to be a member of AEA to perform on Broadway. There is virtually no exception. Every single performer you have ever seen on Broadway has been represented by AEA. There are, however, many, many different paths to gaining membership, which brings us to...
It's a tale as old as, well, as old as the AEA. How does one become a member? As previously mentioned, there are different ways to get that coveted card in hand. Luckily for you, Backstage has already taken an extensive dive into the subject. Apart from the unicorn scenario where the creative team hands a Broadway contract to a non-union actor and thus has his or her Equity membership pushed through (unsurprisingly, this happens mainly with stars of film and television), there are three primary ways to get your card. They're broken down below:
Get an Equity Contract
While it may seem obvious, getting that first Equity contract can prove tricky. Depending on a variety of factors such as size of the house, budget, and ticket price, theaters may be operating with a limited number of Equity contracts per show or season. Those contracts are likely to go to actors who are members already, but not always. When a union contract is left over with no union member to fill it, it's bestowed upon a qualified non-union actor. That actor is now paid union wages and, more importantly, is eligible to join during his or her term of employment. Hired as non-union but interested in joining? Particularly with larger companies, it may be worth asking for one or two contracted weeks as part of your negotiation process.
The Equity Membership Candidate Program
The EMC program is a great way to work towards union membership while gaining valuable early career experience. Mimicking an age-old theatrical apprenticeship model, Equity gives candidates the opportunity to earn their eligibility through 50 weeks of work in participating theaters. Once enrolled in the program, candidates earn one point for every eligible week worked; 50 points (and 50 weeks) later, EMC actors are welcomed into the union.


Join Through a Sister Union
Another route to an Equity card? After a year's membership, actors can buy into one of Equity's sister unions with at least one principal contract or three background contracts worked. Eligible unions include SAG-AFTRA, AGMA (the American Guild of Musical Artists), AGVA (the American Guild of Variety Artists), and GIAA (the Guild of Italian-American Actors). Actors wishing to join through a sister union must provide proof of membership (and good standing), evidence of jobs worked within that one-year time frame, and at least $400 towards the Equity initiation fee—which currently stands at $1,100.

As with SAG-AFTRA, joining Equity is a big decision and a big commitment! Equity actors are barred from taking non-union contracts, so non-union tours, certain Off-Off Broadway companies, and some small regional theaters may be off limits to members. On the brighter side, Equity actors enjoy tons of perks like salary protections and healthcare—and don't forget access to EPAs and ECCs—alongside a community of 50,000 talented fellow members.
RELATED:
WATCH
How do I audition for Broadway?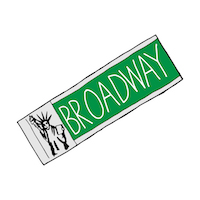 You knew it was coming, and now, here it is. Chances are, you won't book a Broadway gig without auditioning first. Here's what you should know about the three prominent types of Broadway audition, before stepping into the room.
Equity Principal Auditions
Every production with a negotiated Equity contract is required to hold EPAs wherein Equity actors can show up to these somewhat open calls and audition with or without representation. Naturally, your first few EPAs in particular may be intimidating. To take some of the pressure off, Backstage compiled nine important things to know before stepping into the room.
1. Bring your ID
Equity members and Equity Membership Candidates (EMCs) need to bring their paid-up cards in order to sign up for Equity calls. If you are not yet in the union, there's still a chance you might be seen; future members can often sign up on a separate list (creative team permitting) and are seen on a first-come-first-served basis once the equity members are done. Non-union actors should also come prepared with an ID and expect a longer wait time at most auditions.
2. Go to the right call
Do you know the difference between an EPA and an ECC? If not, do a little reading on the Actors' Equity website before attending your first call to determine which audition is really right for you. Generally, the EPA is seeking leading (principal) roles in plays and musicals, while the ECC (Equity Chorus Call) is seeking ensemble members for larger-scale musicals and separates singers from dancers in two separate calls.
3. Know what you're auditioning for
While many actors see EPAs as a way to "get on the radar" of certain casting teams, you need to know what you're auditioning for before spending a day in the Actors' Equity center. Backstage and AEA offer breakdowns for all EPA calls, and it's important to read those character descriptions before attending a call. Don't see a role you're right for in that regional theater's winter play? Best to sit this one out and wait for an audition that you can nail.
4. Know your 20
Actors' Equity assigns six actors to every 20-minute time slot with any remaining time at the end of the block given to Equity Alternates, EMCs, and (often) non-union performers. Actors are grouped in those 20-minute intervals and lined up according to sign-up order when they've reached their assigned time. If you're lucky enough to have that secure time slot, you must be present, ready, and prepared when your name is called.
5. Know when you'd like to audition
If you attend an EPA as a union member, you'll be presented with the chance to choose your own time slot. If the time you'd like is not available (but other appointments are), you may sign up on "Alternate List B" to stand by for an earlier spot. If you arrive after all of the appointments have been booked, the monitor will place you on "Alternate List A" and will call off names one by one at the end of each 20-minute group.
6. Be early
When it comes to EPAs, the earlier the better. The AEA audition monitor arrives one hour before a call's start time and signs up actors by order of arrival. During New York's prime audition season, actors may line up several hours before that monitor arrives (even before the building has opened), meaning that all time slots are filled by very early morning. If it's a hot project with numerous roles, expect a heavy turnout and arrange your schedule accordingly. Additionally, if you do receive a slot, you must check in at least 10 minutes early. If an actor is not present when the AEA monitor reads off his name, he or she will sacrifice his audition time to an alternate, EMC, or non-union actor on standby.
7. Be patient—and have plenty of time
With their (often) large crowds and uncertain timing, EPAs can feel like a pretty big chore. It's important to remain calm, polite, and friendly, and to remember why you're there; the love of performing can always squash a frustrating commute or a long day spent waiting. That said, attending an EPA can often take several hours and should be thought of as an all-day activity. Set the time aside in advance (if possible), and it will be easier to brush off those hours spent in the waiting room.
8. Find great material
EPA breakdowns usually request a two-minute monologue, a 32-bar song, or some combination of shorter song and/or monologue. The rules state that actors get at least one minute per audition, so you'll have, at minimum, 60 seconds to show off what you do best. This is your chance to prove yourself to a new creative team and remind casting fans of your chops. Spend real time looking for a variety of material that suits your type and bring it to the EPA well practiced and polished.
9. Keep a journal
Once you start attending EPAs on the reg, you'll start seeing familiar faces on the other side of the table. Equity posts the ITR (in the room) personnel so you can easily see who was present at your audition. Take notes on this information from week to week, along with what you wore, what you performed, and how it was received by the casting team. In no time at all, you will have a who's who of local theater casting directors and other important contacts.
Equity Chorus Calls:
There are two different types of Equity Chorus Call: those for singing and those for dancing. The designated type will be detailed in the audition listing, however, the most prepared actors will have their given materials (their book, dance clothes, etc.) on hand for either, as performers are oftentimes asked to stay and dance and/or sing even if it was not described in the listing. For a detailed procedural breakdown of ECCs, we direct you again to the Actors' Equity's official website, which has all the information you need.
Straight offers:
Straight offers don't fall under the audition category per se, however, they are prominent in Broadway casting and thus must be discussed. Like so many aspects of show business, there is no uniform method for how a person gets to Broadway, and that is exemplified no clearer than with straight offers.
Here is an example: The actor Olivia Wilde made her Broadway debut recently in the stage adaptation of George Orwell's "1984." It is a safe assumption that, as an established actor of a different medium (or as it is often referred to in the biz, "a name") Wilde did not have to attend an EPA to book her role, despite the fact she did not yet have her Equity card.
In a similar vein, Equity actors who may not be "names" in the traditional sense but who have an existing relationship with a given member of a creative team or who simply have a positive reputation and established type in the industry may also receive a straight offer.
RELATED:
WATCH
Who are the big Broadway casting directors?
The two names synonymous with Broadway casting that you need to know are Bernard "Bernie" Telsey and Tara Rubin. In its more than 20 years in the industry, the former's Telsey + Co has cast everything from "Rent" to "Wicked" to a little show called "Hamilton." Rubin is right on Telsey's heels, though, having cast this season's Tony-winning best musical "Dear Evan Hansen," as well as the ever-running "The Phantom of the Opera." In addition to these two powerhouses, the third name gaining rapid notoriety in the industry is Jim Carnahan, whose Carnahan Casting is responsible for filling roles in all of the prestigious Roundabout Theatre Company's musicals and plays.
What's important to understand about Broadway's casting directors is the continuity between shows; it is unsurprising to see actors cast repeatedly in the different shows of the same casting director. Take two of Rubin's most prominent titles: "Indecent," which bowed on Broadway this past spring, and "The Band's Visit," which will play the Great White Way this coming fall. Both of those shows starred/will star Katrina Lenk. Similarly, all three of the roles originated on Broadway by Idina Menzel were cast by Telsey.
For more on the prominent—and up-and-coming—casting talent, check out our guide to all the industry players in New York City you need to know.
RELATED:
WATCH
What are the different Broadway gigs?
Swing: Frequently regarded as the most challenging gig on Broadway, swing actors are not actually in the cast onstage for most performances. Rather, they cover multiple tracks in a show. That means a swing learns several different principal or ensemble roles and, in the event that an actor is out of a performance, he or she is able to step in at a moment's notice.
Standby: Similar to swings, standby performers are not actually in the onstage cast when the entire lineup of performers is present. Standbys are there to do just that: They standby in case an actor is out of a show. Generally, standbys are only for the meatiest roles where a traditional understudy may not suffice, and they only cover one role in the show. "Wicked," for example, has standbys for both witches.
Understudy: Speaking of understudies, you probably know at least vaguely what they are. What separates understudies from swings is that understudies are in the show, however, they also understudy a bigger or more principal role in the event that the actor playing it is out. (From there, a swing will likely step into that understudy's usual role.)
Ensemble: The ensemble, less politically correctly referred to as "the chorus," is the onstage performers and dancers who, for lack of a better word, support for the principal cast. They are also similar to background actors in television and film. They fill scenes and dance numbers and serve as a literal chorus in musical numbers.
Principal: Finally, principal actors are those who play characters with names and whose headshots are on the main page of the show's program. They play the lead and supporting roles and, if they are well-known to the public, may even see their name above the title on the theater's marquee. A note: If a performer's name is above the title, they will automatically be considered in the leading role category when it comes to awards consideration unless otherwise campaigned for by the creative team.
WATCH
What are the actual theaters (and who owns them)?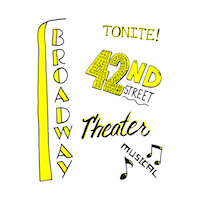 Broadway is defined entirely by its houses. Did you know that what renders a theater a Broadway theater is not in fact its adjacency to the actual avenue, but the number of seats it contains? Five hundred seats or more, and the theater is Broadway; 100 or more, and it's Off-Broadway; and, if it contains under 100 seats, it's usually considered Off-Off-Broadway.
It probably sounds a bit strange conceptually, but Broadway theaters require rent to be paid in order to be occupied. And just like all New York City rents, the costs are exponentially high. For this reason, theater rental is one of the utmost financial considerations when it comes to funding as well as the decision to keep a show open or close it. So, who are these "theater landlords," if you will?
When it comes to Broadway houses, there are three names you need to know: Shubert, Nederlander, and Jujamycyn. These three entities alone own the vast majority of Broadway's now-41 theaters. (That number is thanks to the addition of this year's re-opened Hudson Theatre).
The Nederlander Organization owns nine Broadway houses, including the Brooks Atkinson ("Waitress"), the Minskoff ("The Lion King"), and the Richard Rodgers ("Hamilton").
The Shubert Organization boasts an impressive 18-theater roster including the Music Box ("Dear Evan Hansen"), the Gerald Schoenfeld ("Come From Away"), and the Cort (the incoming "M. Butterfly").
The newest of the big three is Jujamcyn (pronounced joo-jam-sin), which has five theaters with several major hits, including the Eugene O'Neill ("The Book of Mormon"), the Al Hirschfeld ("Kinky Boots"), and the St. James (which will host the sure-to-be-massive "Frozen" adaptation next spring).
These three house owners do not account for every Broadway house, though. In addition, there are smaller, subscriber-based entities including the Roundabout Theatre Company (which owns the American Airlines Theatre as well as Studio 54), Manhattan Theatre Club (the Samuel J. Friedman), and of course, Lincoln Center, which boasts one Broadway theater way up at the actual Lincoln Center, the Vivian Beaumont. (Lincoln Center does get involved in producing other shows from time to time, including last season's "Falsettos.")
Do I need an agent?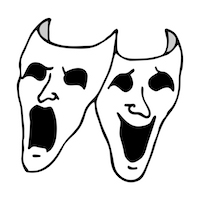 There may be no question asked with more frequency than that of whether or not actors in all corners of the industry need an agent to get cast. Therefore, it's unsurprising that we at Backstage have already done tons of hearty investigation in order to thoroughly and honestly answer it.
And that answer is, well, no, you do not need an agent to get cast on Broadway—but it helps! Of course, you can scour casting notices (hey, Backstage has lots of those!) and, if you're Equity, you can show up to ECCs or try to submit for EPAs. But an agent increases your likelihood of getting seen by a large margin. Additionally, many Broadway gigs will not be publicly broadcasted anyway and will be filtered exclusively through agent submissions.
Similarly, though it's a bit of a catch-22, just having an agent increases your industry cachet and standing, and that alone makes you a more desirable candidate for any Broadway gig.
To understand why exactly agents are so vital and how they help you in the casting process, Backstage Expert Gwyn Gilliss explains what they really do:
1. Submit you for an audition. An agent sends a casting director an email, an electronic submission, a hard-copy headshot and resume, your website link, IMDb page, or other website with your work. You need to provide excellent marketing tools so he or she can submit you.
2. Pitch you to industry leaders. An agent spends a lot of time on the phone and can talk about you—and your talent—with casting directors, directors, and producers in order to get you an appointment, meeting, or audition. You need to let your agent know what you can really do and what you book the most, as well as any unique qualities and talents you may have.
3. Follow up. Agents will follow up for you when you have a callback and you need to arrange the time and place. You need to be available, eager, passionate, prepared, aggressively competitive, and show up 100 percent.
4. Negotiate higher pay. Agents can get you higher-than-minimum pay when you book a job. They go over the details of your contract including salary, travel arrangements, billing, and other special arrangements of any kind. These could include: specific wardrobe designer or clothing style, hair or makeup artist request, special diet specifications, etc.—all things that might be accepted especially when you're an established star. You need to communicate clearly what you want or require so there are no problems once the contract is signed and you're miles away on location. Research and knowledge is essential on your part.
5. Re-negotiate contracts. When your contract is up for re-negotiation for a TV show, Broadway show, or network commercial extension, you agent can negotiate an increase in pay. You need to understand the commitment and the possibility of having to turn down a larger, more lucrative offer for a competitive show or project. You need to take responsibility for the results once you sign or re-sign a contract.
Again, though, just because your chances are higher of finding and booking a gig with an agent than without one, that doesn't mean it's not possible. "Some actors will tell you that it's not worth your time to go to an EPA or Open Call, that we're not really looking, or only seriously seeing agent/manager submissions," says JV Mercanti, a Backstage Expert and head of acting for the musical theater program at Pace University's School of the Arts. "I can tell you that when casting the Broadway production of Andrew Lloyd Webber's 'The Woman in White' many years ago that seven of our ensemble members came from the EPA. Musicals and shows requiring younger people (think "Spring Awakening") especially use these calls to find young, unrepresented talent. For plays, understudy roles can often be cast from these calls."
Ultimately, if you do decide an agent is the right path for you and your career to move forward, actually getting one will be a feat all its own. Lucky for you, we've already devoted an entire guide (similar to this one!) to how to get an acting agent.
Read:
WATCH
What terms should I know?
Do you know what it means to go up on your lines or to be off-book? What about the difference between a production stage manager and an assistant stage manager (neither of which should be confused with the production assistant)? Are you going to understand what's required when your sitzprobe is scheduled, or what a 10 out of 12 will entail?
It's OK if you answered "no" to any of the above—for now. However, Broadway specifically has a ton of lingo that may sound foreign to someone not in the know and, if you plan to be on Broadway, you need to know it. We've got you covered below.
WATCH
What are the best schools for breeding Broadway talent?
Just like having an agent, graduating from one of the "top" schools for breeding Broadway talent may help give you a leg up, but it's hardly impossible to get cast without it. Additionally, graduating from one of these institutions in no way guarantees you a spot onstage. Still, it's helpful to know the major schools, as well as some of the successful alums who've emerged from them. On the Broadway circuit, the "big three" when it comes to collegiate training are:
Carnegie Mellon University: Considered by many to be the top dog for Broadway training, CMU's School of Drama emphasizes established practices integrated with innovation in order to produce artists that are both timeless and forward thinking. Additionally, musical theater actors are required to take the same acting classes as dramatic actors in order to ensure a roundedness. Alumni include "Wicked" and "Smash" star Megan Hilty, two-time Tony winner Christian Borle, "Hamilton" star Leslie Odom, Jr., "Book of Mormon" and "Frozen" star Josh Gad, and "Kinky Boots" Tony winner Billy Porter.
College Conservatory of Music: The oldest musical theater program in the entire country, CCM is widely recognized for its triple-threat approach to training and unsurprisingly has produced tons of talent that has gone on to Broadway. Currently on the boards, alumna Betsy Wolfe is playing the title role in "Waitress," and Christy Altomare is also playing the title role in "Anastasia." Faith Prince and Aaron Lazar are graduates as well, as are "Hamiton" stars Karen Olivo and Andrew Chappelle.
University of Michigan: Michigan's department of theater and dance places importance on balance: Academic excellence and training are focused on equally. Darren Criss of "Glee" and "Hedwig and the Angry Inch" stardom is a 2009 alum, and Gavin Creel, who just won a 2017 Tony Award for his work in "Hello, Dolly!" is also a Michigan-degree carrier.
RELATED:
Who are the composers, book writers, and playwrights I need to know today?
In the same way that art is subjective and will speak to every viewer differently, there is no definitive ranking of creatives working on Broadway that you need to know. A playwright who has been seminal in your artistic drive since elementary school could be entirely obscure to a fellow actor. The same goes for composers and musical book writers. That being said, if you don't have a very basic knowledge of the below artists and their corresponding legacies, well, good luck making small talk at your next ECC.
Lin-Manuel Miranda, composer and book writer:
Recent work on Broadway: "Hamilton"
Most prominent Broadway work: "Hamilton," "In the Heights"
Stephen Sondheim, composer:
Recent work on Broadway: "Sunday in the Park with George" revival starring Annaleigh Ashford and Jake Gyllenhaal
Most prominent Broadway work: "Sweeney Todd," "Into the Woods," "West Side Story"
Jeanine Tesori, composer:
Recent work on Broadway: "Fun Home"
Most prominent Broadway work: "Thoroughly Modern Millie," "Caroline, or Change"
Benj Pasek and Justin Paul, composing team:
Recent work on Broadway: "Dear Evan Hansen"
Most prominent Broadway work: "Dear Evan Hansen," "A Christmas Story"
Lynn Nottage, playwright:
Recent work on Broadway: "Sweat" (Broadway debut)
Andrew Lloyd Webber, composer:
Recent work on Broadway: "School of Rock," "The Phantom of the Opera"
Most prominent Broadway work: "The Phantom of the Opera," "Evita"
Paula Vogel, playwright:
Recent work on Broadway: "Indecent" (Broadway debut)
Joshua Harmon, playwright:
Recent work on Broadway: "Significant Other" (Broadway debut)
David Yazbek, composer:
Recent work on Broadway: "Women on the Verge of a Nervous Breakdown," "The Band's Visit" (upcoming)
Most prominent Broadway work: "The Full Monty"
Bobby Lopez, composer:
Recent work on Broadway: "The Book of Mormon"
Most prominent Broadway work: "The Book of Mormon," "Avenue Q"
Tom Kitt and Brian Yorkey, composing/book writing team:
Recent work on Broadway: "If/Then"
Most prominent Broadway work: "Next to Normal"
Liesl Tommy, playwright:
Recent work on Broadway: "Eclipsed" (Broadway debut)
Stephen Karam, playwright:
Recent work on Broadway: Modern adaptation of Anton Chekhov's "The Cherry Orchard," "The Humans"
Most prominent Broadway work: "The Humans"
RELATED:
WATCH
Head over to Backstage's casting calls to see our hosting opportunities!