Key Makeup Artist Job Description: What Does a Key Makeup Artist Do?
The key makeup artist oversees and leads the makeup department. They are responsible for planning makeup designs for the leading and supporting cast, including special effects makeup or prosthetic work, and hiring assistants to recreate these looks on the rest of the cast.
"I kind of look at the makeup similar to music. Like on a film or TV, the music [can] emotionally elevate a scene [or] can make a scene go from like zero to sixty in terms of emotion," says Doniella Davy, key makeup artist ("Euphoria," "Moonlight"). "I aim to do something really similar. If the makeup I'm doing is not enhancing the story then it's not doing its job."
During production, the key makeup artist applies the daily makeup to the principal actors and assigns tasks to their team, and keeps track of continuity. They're also on set for touch-ups between takes.
"You know how stars always look perfect even when they're standing in the rain or how there is never a drop of sweat even if they're a cop busting a perp in the heat of the summer? That's because every time the director yells 'CUT!' someone like me runs in with blotting papers, sponges, brushes and various tools to move [their makeup] back into place," says Rebecca Perkins, key makeup artist for "Law & Order: Special Victims Unit."
Department
Hair + Makeup
Alternate Titles for Key Makeup Artist
Head of makeup, chief makeup artist, makeup designer
Crew Hierarchy
The key makeup artist is the head of the makeup team within the Hair + Makeup department. (Technically, hair and makeup are two different departments, but are often referred to as one.) They lead a team of makeup artists, special effects makeup artists, and makeup assistants, and report directly to the production designer.
Key Makeup Artist Salary
Movie makeup artists earn an average salary of $78,000.
A key makeup artists' earnings will vary depending on the size and scale of the project as well as how many days they work.
Makeup artists are represented by IATSE Local 706, also known as the Makeup Artists and Hairstylists Guild, which means if you're a union member, there are mandatory minimums for payment. (Information on joining Local 706 can be found here.)
How to Become a Key Makeup Artist
There is no one clear-cut path for becoming a key makeup artist; many begin their professional careers outside of the industry as freelance makeup artists or working in retail before transitioning to production work as makeup assistants and assistant makeup artists. MakeupArtistJobs.com and GetMakeupArtistJobs.com are good entry resources for jobs.
Key Makeup Artist Required Experience + Skills
While no formal training or education is required for work as a key makeup artist, cosmetology school will provide a solid foundation for the job—and help build your professional network.
"Makeup falls into this very bizarre category where you really don't need any sort of license to do it," says Yasmina Smith, key makeup artist on "Nightcap" and "A Kid Like Jake." That said, taking classes can only help you get ahead in the competitive field. "You should always keep learning and always keep going to school and going to seminars. More skills can only mean more work." This is especially true for special effects makeup.
(Some states do require specialized licenses or cosmetology certification; be sure to check with your state's cosmetology board to figure out what, if any, requirements there are.)
Hands-on experience is also critical, whether it's through assistant work or an apprenticeship. A basic understanding of chemistry is also useful as it allows a makeup artist to adapt and innovate on how different products are used, as well as how makeup will react to different conditions (heat, moisture, etc.).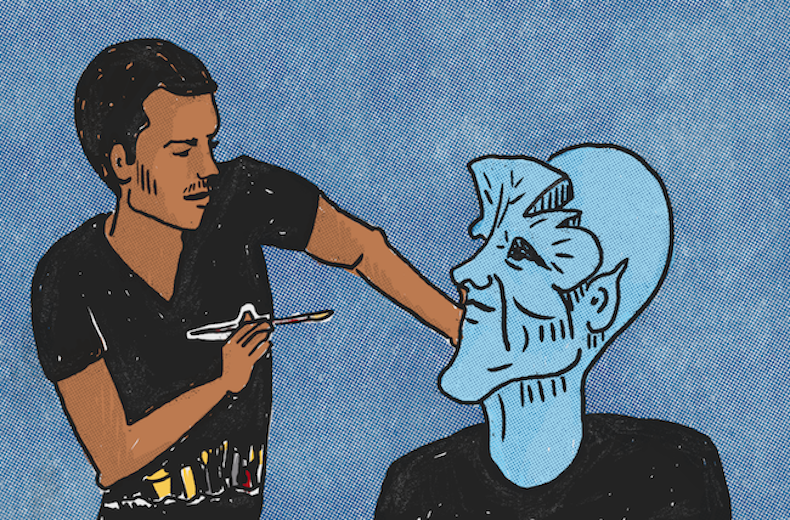 How to Become a Makeup Artist
For more on how to get work on a film crew, visit Backstage's crew hub!