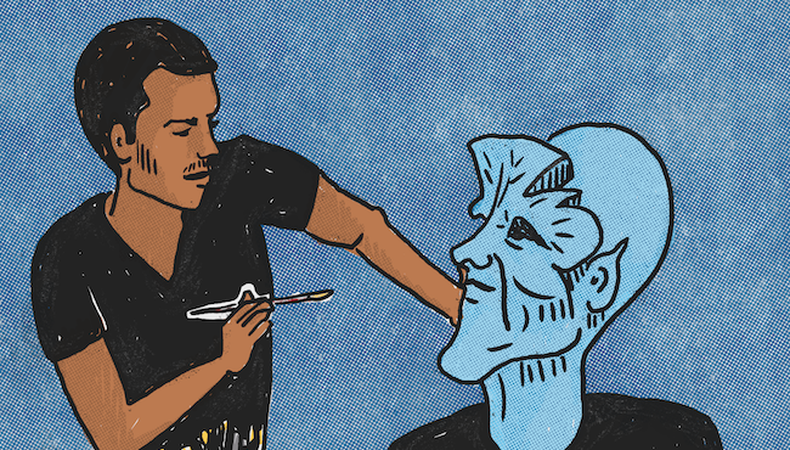 There are many reasons why becoming a makeup artist is a path worth pursuing—you get to boundlessly utilize your creativity, make your own hours (depending on the job), and meet other like-minded creatives across all facets of the industry.
Even more specifically, these days there are more opportunities for makeup artists than ever—simply because there are more opportunities in entertainment, period. And guess what: Just about every entertainment venture in existence requires makeup artists. That's where you come in! But how do you actually become a makeup artist, and what do you need to do it? Should you attend cosmetology school? Should you join the union? Read on for answers to those questions and more in this, the Backstage Guide to How to Become a Makeup Artist.
What are the different types of makeup artistry?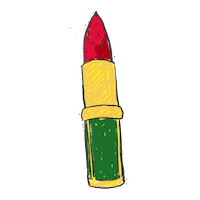 There are as many different types of makeup artistry as there are activities that require it. You're not going to do the same kind of makeup for someone in a modern-day television series that you will for a news anchor or stage performer. However, with the exception of special effects makeup, no two categories are mutually exclusive when it comes to the makeup artist, meaning the more mediums in which you're comfortable doing makeup for talent, the better. Below are the most prominent categories of makeup design.
Print modeling
Makeup for print modeling, also sometimes called "editorial," can vastly vary depending on whether a given shoot is "high-concept" or more grounded. The former can include high-fashion shoots for designers (think the ads you see in Vogue) and often entails makeup that veers toward avant-garde and experimental, while the latter encompasses more traditional commercial shoots and print advertisements, and is thus somewhat more naturalistic.
Headshot
When it comes to actors' headshots, the intended outcome is for them to look like their best self on their best day—but that they do, undeniably, look like themselves. That means, for both men and women, makeup should be natural to the extent that it is there—but the average onlooker may not even know it. "I always ask my clients a few questions about their personal style and what kind of characters they typically play before we get started," says headshot makeup artist and Backstage Expert Bridie Coughlan. "I like to turn this awkwardness on its head by giving my clients a little speech encouraging them to give me feedback and reassuring them that anything can be changed to make them feel comfortable with their look."
Film/TV
There are exceptions depending on the project, of course, but for the most part makeup for television and film tries its hardest to be "natural"—the irony being that off camera it looks anything but. However, beneath the harsh production lighting, less is more does not actually apply.
On-camera personality (news anchors, hosts, etc.)
One step further in the natural/not natural makeup dichotomy is that of on-camera personalities. If makeup for television and film aims to look natural on camera, makeup for broadcasts and similar programming aims to look like "evening-wear makeup."
Theater
Unlike its on-camera counterparts, makeup artists in the theater are somewhat few and far between. There are makeup designers who work with the director to establish the look initially, but for a given show, most cast members—even leading ladies—will do their own makeup. The exceptions are for shows that require specialty makeup, such as "Wicked," but that dips into special effects territory. Which brings us to…
FX
Special effects makeup, known by the industry shorthand as "FX," is responsible for the zombies you see on "The Walking Dead," the all-important fish-human-hybrid in "The Shape of Water," and every other imagination-suspending makeup. Special effects makeup is a different skill altogether than standard makeup design and generally requires specific training (more on that later).
RELATED:
WATCH
What is a kit and what should I have in mine?
What is a kit?
The makeup artist's kit is pretty much exactly what it sounds like. It's your bag of tricks, essentially; your supply of all the makeup and brushes and other beautifying tools you have in your possession that you bring with you to every job you do. Yes, you as the makeup artist are responsible for supplying the actual makeup. In order to get the low-down on all things kit, Backstage spoke with Yasmina Smith, a makeup artist with more than 13 years of experience who is now a member of the union, working on television and film projects.
How do I put my kit together?
Let's get this out of the way right off the bat: Do you have to use only high-end products? Absolutely not. "If anyone is starting out and needs to put together their entire kit, do drugstore brands—it's all the same stuff," says Smith. "If you're someone who's starting out and you're like I was, then you're broke. You're trying to be as handy as you can. Get one or two nice matte eyeshadow palettes from Sephora, but fill it out with drugstore items. Get dollar store sponges, do whatever you can to beef up your kit. Don't be ashamed."
RELATED:
Do I need to go to school to become a makeup artist?
Makeup, unlike specialty in hair or skin, does not actually require a license or certification to practice. That doesn't necessarily mean you shouldn't pursue an education in your craft, but it does make the decision somewhat more muddled.
Is school the right choice for me?
"Makeup falls into this very bizarre category where you really don't need any sort of license to do it," Smith says. "Good friends of mine who are absolutely fantastic, they're just self-taught artists. They did the research on skincare, they learned how to apply on different faces. If you want to become a hairstylist and work in TV and film, you need to have your cosmetology license. Your cosmetology license gives you light skincare and light makeup, but you can cut and color hair. And an esthetician is totally different: It's less hours board-wise and it's just skincare, not dermatology. So makeup is kind of the weird subcategory that you don't really 'need' anything."
Will taking classes help me book more work?
Again, though you don't need school to perform makeup artistry, it truly can only help you get ahead in this competitive field. "In this industry, you should always keep learning and always keep going to school and going to seminars," Smith says. "More skills can only mean more work, and you can speak to your products more. It's a no-brainer."

Smith clarifies, though, that school is not merely a way to bide your time. "You have to want it," she says. "You're not going to school because your parents don't know what to do with you. You have to be willing to give up Saturdays and be willing to do the extra work."
What about school for special effects makeup?
The notable exception to not needing schooling to become a makeup artist is if you want to go into special effects, specifically. For that, Smith urges, a seminar or program should be taken. "I did a three-month special effects course where I learned to shape and mold and sculpt all facets of prosthetics," she says. "That's truly the best way to learn special effects makeup."
WATCH
Can I self-teach using the internet?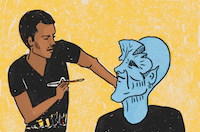 So much about 2018 and the world in which we live today is bleak—but it's not all bad news. In fact, when it comes to self-education for something like makeup artistry, today's internet resources are better than they've ever been. With the swipe of a finger, you can get intimate design lessons, completely free of charge. But is learning from the web really as effective as taking courses or getting hands-on experience? And who should you even follow online?
YouTube
There are too many makeup "vloggers" to count on YouTube. Ultimately, those you look up will be dictated by the style in which you want to be educated. Check out Alissa Ashley for eyeshadow specialization, Karima McKimmie for videos focused on natural makeup looks, and ThaTaylaa for instruction on full-coverage face makeup (she's basically known as a wizard in the makeup community).
Instagram
Just like YouTube, Instagram beauty vloggers are vast, and the ones you choose to follow will depend on your educational goals. Follow @miguelghalichi for male makeup looks (from the natural to the full-fledged glamorous); give @jaclynhill a follow for full-face looks; and check out @mypaleskinblog for some of the best facial coverage content in all the (digital) land.
Is learning online legit?
While internet resources like YouTube and Instagram are certainly valuable tools, Smith warns of the lack of total legitimacy. "YouTube is a really great resource, but learning off of YouTube and then actually understanding how to correctly shape and shade and apply to someone's face—there is such a difference," she says. "The YouTube world is so vast. It's still a really great resource, but there is refinement that you need, and that is harder to get from YouTube."
RELATED:
WATCH
What should I know about makeup arts and the union?
Should I join the union?
Whether or not to join the makeup artists union depends, like most things, on what exactly you hope to do with your career. If you want to be a makeup artist working mainly in the realm of fashion, joining the union will not be super beneficial. However, if you want to work in film and television, the union is definitely worth considering for a number of reasons, but chief among them is the insular stability and union assurance. "Before I was in the union I was like, 'I can't have kids, I can't work in this industry, I can't own a home,' " Smith says. "Now I have not only the stability of knowing I'm getting work, but the stability of knowing I have my brothers and sisters backing me in the union."
How do I join the union?
Because the union is such a backbone of the industry, it's unsurprising that gaining membership is a somewhat arduous process with multiple steps, which Smith spells out for us below:

"You have to submit an application and then you get interviewed," she says. "Your application consists of 180 paid work days within three years, so you basically need 180 call sheets [from film or TV productions]. It can be in either hair or makeup, but once you apply you have to choose a craft. You can't cross crafts once you're in the union, so you're either a hair stylist or a makeup artist. You need letters of recommendation and [must] prove you live in the area. Your application is reviewed by a board. If they approve it, you come in for an interview. During your interview process you sit across the table from three union members. They ask you questions and you bring in your portfolio and they speak to your portfolio. It's all very diplomatic and it's in place for a reason. It takes commitment. You have to want to be in the union. It's not for someone who's like, 'I want to work with celebrities.' You have to want it and that's what they want. They want strong union members because that makes our union stronger."
What do makeup artists need to know about their portfolio?
Speaking of portfolios, they are one of the most crucial components when it comes to makeup artists booking work. It requires time and energy to put together, of course, not to mention actually doing the work so you have something to show off. Once again, the specifics of your portfolio will depend on your career goals—and also once again, we turn to Smith to break down the process of putting it together.
How do I put a portfolio together?
"It really depends on what road you want to go down," says Smith. "For fashion and editorial, they basically want tear sheets, they want you working with great photographers, great stylists. You're working for free, but that gets agencies to look at you. For me, working in television and film, I need to have a broader spectrum. I need the pretty stuff, but I also have to have in my portfolio my special effects work, bald cap work, facial hair, lace pieces for facial hair, wounds, proof that I can work on different skin tones."
How many looks should I include?
"If I was talking to somebody who was looking to apply for the union or to get into this industry or stay busy in this industry, I would say you need to have a portfolio of one photo of everything," Smith says. "You can also put stuff that has people in the chair [after you've worked on them], meaning your continuity photos. I just take them on my iPhone. My phone is filled with random photos of celebrities looking at me really morosely."
RELATED:
How do I find work as a makeup artist?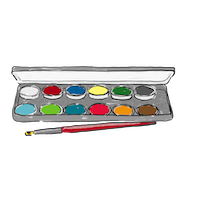 Like everything else in the business of show, when it comes to actually finding work as a makeup artist, no two paths are alike. Also like everything else in the business, so very much of it comes down to luck and the connections you make along the way.

"Regardless of whatever path you're going to take, you have to realize that as soon as you step onto a set, you're making connections," says Smith. "It's the same across the board in this industry: Our job is so much more social than it is talent. You gotta hustle and as soon as you get to the set, you read the room and let your willingness and drive to go forward take you."
As far as places to actually look for work, it's as elusive a notion. There are resources online but Smith urges to proceed with caution. "There are tons of Facebook pages for [makeup artists to find work]," she says. "There is also Craigslist, though you have to be careful with that."
Ultimately, though, when it comes to finding work, Smith circles back to forged connections and emphasizes one characteristic that all of the best makeup artists possess: humanity. "One makeup artist recommends you because you're a normal human being and you didn't bring drama to the set," she says. "And then another does the same. Being a normal human—that's the best advice I can give."
WATCH
Check out Backstage's casting calls!