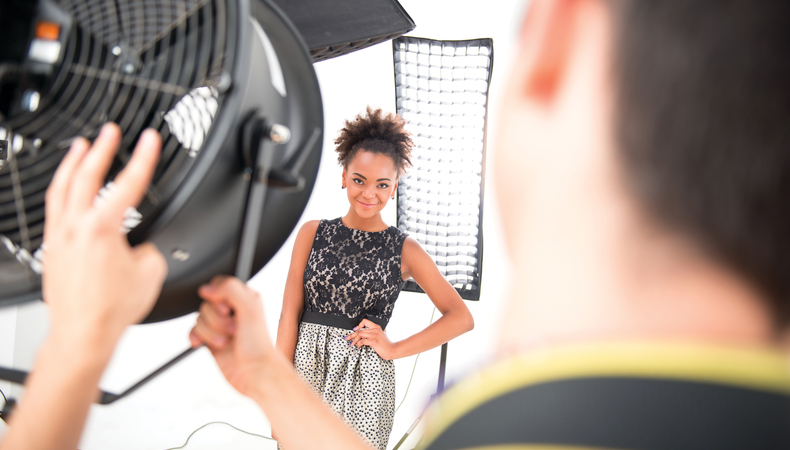 We all know the importance of a great acting headshot, but what about the talented artists who make those killer photos happen? Great headshot photographers do more than set up lighting and choose the right lens; they help us find the best angles, capture personalities, and set actors at ease so everyone can get the most out of a session. Here are eight NYC and L.A. photographers that can help you make the most of your headshots.
Headshot Photographers in NYC
Xanthe Elbrick
A veteran actor herself, Xanthe Elbrick's skill for capturing her subjects' true essence has made her one of the most sought-after headshot photographers in NYC. Clients soak up natural light in beautiful outdoor shoots and work one-on-one with Elbrick to create the perfect shot.
Douglas Gorenstein
Another actor-turned-photographer, Douglas Gorenstein is known for taking vibrant headshots that reflect an actor's true look and personality. No stranger to the other side of the table, Gorenstein understands what stands out in casting directors' minds, and is committed to truthfully capturing his subject's essence in every shot while still creating beautiful images.
Taylor Hooper
Taylor Hooper wants to "reveal the real you." He tailors sessions to his clients' needs, utilizing indoor and outdoor lighting and multiple looks to fit each actor's distinct style. He captures expressive and natural shots for performers of all types, encouraging his subjects to relax and have fun. "Think about the headshot session as a conversation with friends," Hooper encourages.
Barry Morgenstein
This award-winning New York–based photographer aims to "capture the essence of the moment in every photograph." Barry Morgenstein's résumé includes work with legends such as Michael Jackson, Paul McCartney, and Meryl Streep, and his photos are regularly featured in a variety of publications, including Rolling Stone and New York Magazine. But you don't have to be a celebrity to benefit from Morgenstein's skills; actors love the photographer for his carefully crafted sessions and the flawless headshots that follow.
Los Angeles Headshot Photographers
Joanna Degeneres
Former actor Joanna Degeneres approaches sessions as her clients' "scene partner and teammate." The L.A.-based photographer draws on her years within the acting and casting industries (as well as her background in fine arts) to help clients achieve their dream shots. Actors work out of Degeneres' home studio and get around 80 naturally lit shots per look.
Cathryn Farnsworth
L.A.-based photographer Cathryn Farnsworth aims to "show visually what the actor's range is—to assist in getting the actor in the door for the right roles." With a background in acting and producing, Farnsworth knows what casting directors are looking for—hint: an authentic representation of what you can play—and crafts her sessions to meet those goals. Thanks to her technical skill, her shots pop off the page.
David Muller
David Muller also began his career as an actor, booking several commercials and television guest spots before shifting his focus toward photography. He captures gorgeous looks with a variety of lighting options at his state-of-the-art Hollywood studio, and uses his insider knowledge to set clients at ease and give them exactly what the industry wants.
Paul Smith
Angeleno actors love Paul Smith for his laid-back demeanor and his serious technical skills. His studio in downtown L.A. creates multiple backgrounds with natural light and all the comforts of an indoor space. His work is gorgeous, but more important, clients come away from sessions having had a fun, personalized experience—and their headshots reflect it.
Inspired by this post? Check out our audition listings!