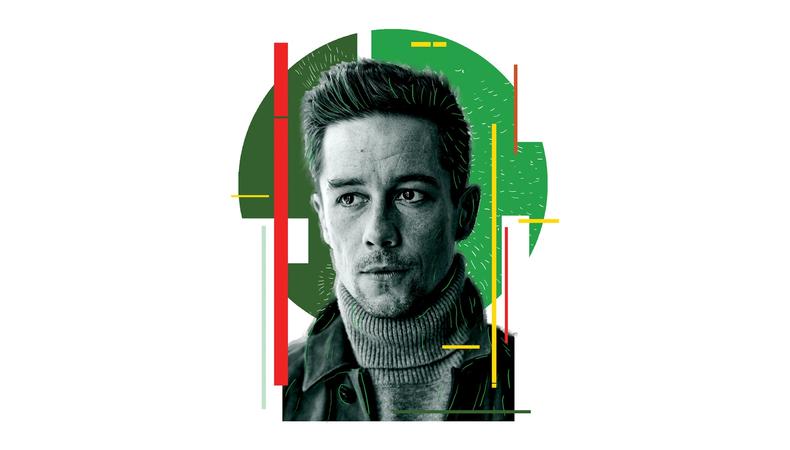 In his 12 years on screen, Irish actor Killian Scott has become a regular stalwart of television in the U.K. and Ireland with his breakout role on the Dublin-set RTÉ One series "Love/Hate," as well as period drama "Ripper Street" and the Robert Galbraith (aka J.K. Rowling) adaptation "C.B. Strike." American audiences got to know the talent as Seth Davenport on USA Network's Western epic "Damnation," and he's back this year on Starz's psychological crime thriller "Dublin Murders." The charismatic Scott recently spoke with Backstage ahead of the series' Nov. 10 premiere about working on the anticipated Tana French adaptation, the performances that have had an impact on him, and the sometimes surprising whirlwind of self-taping for projects around the world.
READ: How to Become an Actor in the U.K.
What advice would you give your younger self?
Anything that's been useful to me as a person has been useful to me as an actor. Anything in the interest of your happiness will affect your work. The more comfortable you become in your own skin, the better you are as another identity. The concepts of "What's for you will find you" and "The jobs you don't get you're not meant to get," those approaches would be really useful. But at the same time, I think an individual has to go through whatever they have to go through. Maybe part of my process was I needed to place so much pressure on my shoulders then and I needed to not get the kinds of jobs I wasn't getting in order for me to be where I'm at now.
What has playing Rob Reilly on "Dublin Murders" added to your acting skills?
I was in London and I got a bizarrely fortunate situation where, right before I started my third year of training, I got cast in "Love/Hate," a gangster drama. Between that and "Damnation" and European indie movies and then "Dublin Murders," which is another TV show, I've found that the opportunity for TV is you get to spend a lot more time with the role and you get to experience and express every shade of a character. Sometimes you don't get that opportunity in a film. The thing I learned from watching Iain Glen and Brendan Gleeson, and Aidan Gillen and Michael Fassbender when I worked with them, there's a huge element of leading something. It's the atmosphere and dynamic you're creating on set. Obviously, the director has a massive influence in that, but the director is normally changing every two to three weeks. So, myself and Sarah [Greene] enjoyed the responsibility of trying to create an environment that's warm, where people can be playful. You want to work in an environment where you feel free to make mistakes, to get it wrong. Things that tend to be the most interesting are risks that you take. That can only happen in a place where people feel comfortable to be able to get it wrong.
"Damnation" and "Dublin Murders" are the first lead roles I've gotten to do. The more time you spend in front of the camera, the more you begin to relax in front of it. That's where most of the good stuff comes from. It's a combination of preparation and relaxing on a set. Every time you play a different role with different actors in different locations, you're developing a greater level of comfort in the act of doing this, which is why you're getting better all the time. Most actors, we all seem to talk about this ingrained anxiety. You get to set and you do your first couple of takes and [you think] the director is thinking, God, can I still get the other guy? On this one, during probably the first three weeks, half the time I was wondering if I was hitting the mark or if it would turn into a grand recasting three weeks in. The more you get a chance to do it, the more you can exist more comfortably with that feeling.
What is your worst audition horror story?
I've had those classic ones where the person who's auditioning you gets a phone call and leaves the room halfway through the scene. I had one a couple of years ago where I made what a manager referenced as the best tape I've ever made. I was asked to come to London and do the [audition] in person. It was a show that was based on a book, and I read the book and stayed up for two days and didn't eat, because the character was starving, and I went into the room—and it was a disaster. I think they got the impression that this guy was going to be too much. That was definitely one where I felt I got in the way of myself.
Want to avoid mistakes in your audition? Check out our guide.
What's the wildest thing you've ever done to get a role?
I've had fun experiences where I've been out of the process and I've been told, "You never need to come back, you don't need to make any more tapes." But I've gone and done the other tape and somehow gotten myself back in the running. Those have never ended with me getting the role. The fairy tale is never actually realized.
When I auditioned for "Dublin Murders," I was in Los Angeles, so I made a couple of tapes and at the time, I was auditioning for 10 other things. That was just another audition, and I didn't have to go into a room or meet anyone so I was extremely relaxed about it. They came back with a couple of notes, I sent back another tape, and then I had the gig. When I was told I got it, I'd almost forgotten I'd auditioned for it because there was a lot going on at the time. Your best shot at the thing is when you can deliver your scenes and leave and forget about it because it's totally outside of your control. It's definitely a better mindset for an actor to be in.
How did you land your first agent?
It was very freakish and very lucky. I had been doing amateur theater for five years in Dublin, and then I went to London to train and I was always sending letters with headshots and CVs to casting directors, producers, agents. It was never going anywhere. Right before my third year of drama school, I sent in another batch, and one of them went to Maureen Hughes, who's a very prominent casting director in Ireland, who's been the architect of the first few years of my career. For some reason, she took pity on me and she decided to ask me for an audition for "Love/Hate." Over the course of that week, I got cast in "Love/Hate" and was going to drop out of my training a year early.
The funny thing was that Maureen was like, "Look, you should have an agent now because this is a big job." So she asked me, "Who would you like to meet?" I had been paying attention to two actors in particular: Paddy Considine and Michael Fassbender. Michael had gone to my drama school and "Hunger" had just come out. When Maureen asked me who I wanted to meet, I looked up Paddy Considine and Michael Fassbender and it turned out they were signed by the same guys, two agents at an agency called Troika: Conor McCaughan and Sam Fox. I said to Maureen, "I'd love to meet these guys if they would meet me." The next day, I got the email back from Maureen saying, "Conor will meet you tomorrow morning." I went and met Conor, and we sat down for two hours and I met with another agent and Conor said, "Let me know before you do anything." The other agent was like, "I'll sign you right now. What do you want to do?" and I said, "Can I have the night to think about it?" The next morning, I went and met Conor and after a nervous 20 minutes of me chain smoking and drinking too much coffee, I said to Conor, "Where do you stand?" And he said, "I thought that was obvious." We shook hands and I went to the office and met Sam, who was the other agent. It was 10 years ago. That all happened in the space of two weeks.
How did you first get your SAG-AFTRA card?
I still don't have a SAG card! The one big American thing I've done was filmed in Canada. "Damnation" was USA Network and it was a very Americana role. I was playing an American dude who was pretending to be a preacher in 1931. But we filmed it in Canada, so I didn't get a SAG card! [Laughs] Which is very frustrating now as I'm trying to get American gigs.
What performance should every actor see and why?
One of the classics is James Dean, obviously: "Rebel Without a Cause." James Dean in that film is the most emotionally authentic performance I've ever seen. It had a huge impact on me when I saw it. I was like, "What's this guy doing? Because he's doing something different, and it's incredible." River Phoenix in "Stand by Me." You know when famous people pass away and it can mean a lot to [people] because their work meant a lot to them? The first time that happened for me was when Heath Ledger died. [I loved] "Brokeback Mountain" and the Joker [in "The Dark Knight"]. Mia Wasikowska is an extraordinary talent. I saw her for the first time on "In Treatment" and I think she's absolutely remarkable. She's a bit like Cate Blanchett in that everything she does, she's entirely believable and truthful. Robert Pattinson, I think, is potentially the best of the bunch in terms of my peer group, in terms of age. I think he's extraordinary. I think [in] his recent run of films, he's been a revelation. Adam Sandler in "Punch-Drunk Love" is a remarkable performance. Léa Seydoux in "Blue Is the Warmest Colour." David Strathairn in everything he's ever done, particularly in "Good Night, and Good Luck." One of the performances that, on some kind of weird level, I respond to [is] John Cazale in "The Godfather: Part II." There's a particular scene at the end of the film between Michael, played by Al Pacino, and John Cazale, playing Fredo, in the boathouse where his lifelong torture as being the ignored brother in the family comes out and he tells Michael of his betrayal. I think of that performance a lot.