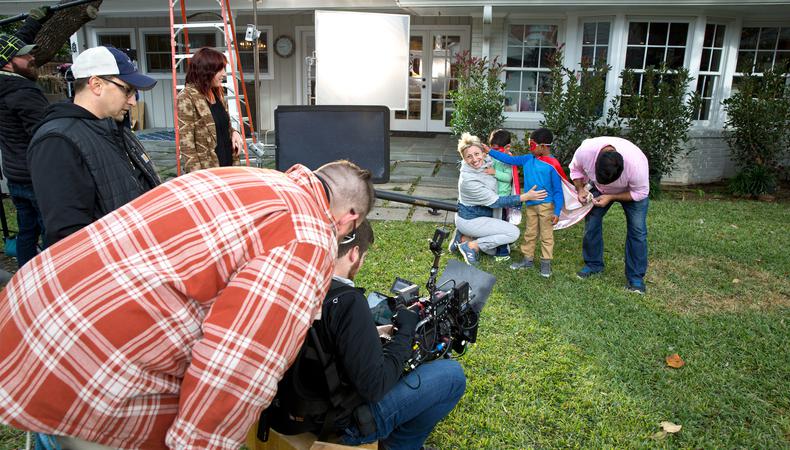 If you were to walk onto one of Kim Lowe's sets, you might not even realize she's the one in charge. That's not because Lowe lacks experience; the commercial director has worked in the advertising world for years, first as an art director, then as a photographer, and now as a director, with clients that have ranged from Royal Caribbean International to Hasbro. No, what's most striking about Lowe is the way she runs her sets: Above all else, she leads with kindness.
"I'm very much a people person," Lowe says. "So the first thing that I always do: I get in there and I make sure that I'm saying hello to everybody. And a lot of the time, people don't even know I'm the director. Not just because I'm female, but because I'm also so friendly."
For Lowe, who studied advertising in college before starting her career in Boston, fostering that inclusive energy on set works in two ways. For one, Lowe specializes in advertisements that center kids and families, and it's crucial, she says, that the children on her set feel a certain sense of safety: "If anyone's got something going on or is just bringing a negative energy onto the set, that child is going to pick up on it, and I'm going to pay for that in the end."
But Lowe also finds that a collaborative shooting environment almost always leads to better work from all members of the production, both in front of and behind the camera. Problems often arise on set, she says, and you never know which team member might have the solution.
"I just remember [on a shoot,] we were trying to capture a child on a swing, and it was actually someone totally unexpected that came up with a great idea of how we should rig something to the swing," Lowe recalls. "And you know, if you don't ask people to bring that to the table, they're not going to. Because they don't think they have that opportunity."
It's especially vital to come up with creative solutions when working on commercial shoots, in which the director must find the sweet spot of knowing what you need to capture while also allowing for the serendipity of performance. "I still have to have a little miniproducer in me," she explains. "You have to be able to juggle the fact that a client is talking to you, wanting a very specific shot and asking for more energy, at the same time that you're hearing a producer say, 'Look, we're 10 minutes behind; we need to get this moving.' "
When it comes to casting her projects, Lowe describes the process as "being a fly on the wall at speed dating." The actors may never have met one another before they show up on set, and Lowe has to instantly make them feel like family, literally—helping to generate the bond between a mother and child, for instance. And that's where Lowe frequently uses her own experience as a mother to create the "synergy" needed to capture the magic she and her clients are looking for.
READ: How Director Bryan Buckley Became
'King of the Super Bowl Commercial'
No matter what she's working on—print shoots, 30-second spots, eight-second internet ads—Lowe says the core tenets of storytelling remain. And she says the one thing that unites all forms, be it feature films or television commercials, is emotion.
For those looking to get into commercial directing, Lowe suggests young creatives practice flexibility above all else: "You have to really be open, and just constantly absorb. Everything you do, you're going to learn something new, and it's going to shape how you shoot something in the future."
This story originally appeared in the June 24 issue of Backstage Magazine. Subscribe here.
Looking for remote work? Backstage has got you covered! Click here for auditions you can do from home!