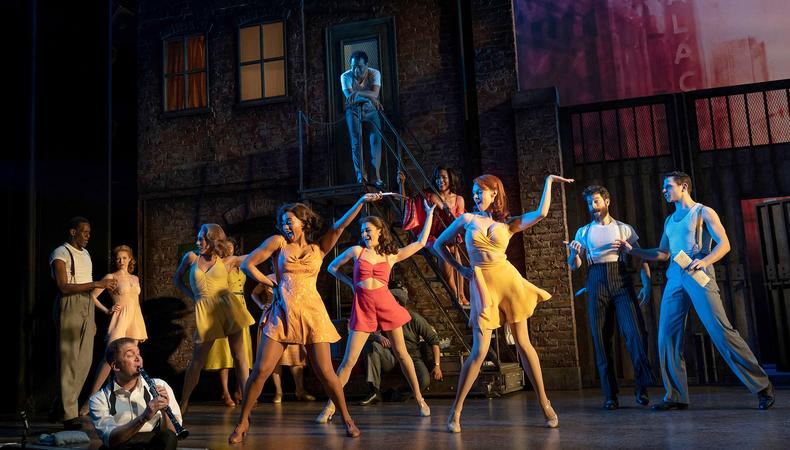 Though he's amassed an astounding 14 Broadway credits as a director and choreographer, Tony winner Warren Carlyle had a first-time collaborator for Broadway's "Kiss Me, Kate": Cole Porter. Handling sole choreography duties alongside Scott Ellis' direction for the current Roundabout Theatre Company revival, Carlyle speaks with Backstage about how Porter's musicals are unlike any other and where actors can find meaning in their movement.
How would you describe the job of the choreographer?
It's about telling a story. It's about furthering the plot. Certainly, in a musical, when you can no longer speak, you sing, and when you can no longer sing, you dance, so I always feel like dance and choreography lives at the highest spectrum of emotion. To express emotion through dance, whether it's joy or love or hate—to make a dance about that is really fun, and in a musical, you get to make these amazing dances that are very much linked to story. They're linked to characters that we know through the show, and then those characters get to dance.
READ: 9 Dance Tips That Will Help You as an Actor
You've worked on countless shows; what sets "Kiss Me, Kate" apart?
It's Cole Porter. I'd never done a Cole Porter show before. His marriage of music and lyric is, I think, second to none. It's incredible, and that music is great to dance to. "Tom, Dick, or Harry" or "Too Darn Hot," it's so many different styles and it's so jazzy. That's been the fun: my collaboration on "Kiss Me, Kate" with Cole Porter. That's who I got to be in the room with.
You frequently direct and choreograph simultaneously, but you're only choreographing for "Kate." Are the two feats very different?
It's very different, actually. I love collaborating. I love having someone like Scott Ellis, who is a wonderful director and who makes me a better choreographer. [But] I also love that kind of [singular] vision, the Tommy Tune version, where it's just a visionary leader who does everything, who does all of the scenes, who does all of the design, who does all of the dancing. I love being that person, too, but those two things are very different.
Does your relationship to actors change depending on whether you're directing or choreographing?
It doesn't, actually. Whichever hat I'm wearing, I love my actors. It's funny, I have extreme contact with them, whether I'm just choreographing or whether I'm directing and choreographing. I get very close to them; I get very involved with them. And what doesn't change is my love of actors. My interaction with them is no different whether I'm directing or choreographing.
When you're working as a choreographer, how would you describe your working relationship to actors?
With ["Kate" stars] Kelli O'Hara and Will Chase, for example, there's a lovely number called "Wunderbar," and I talked to them about going back to their youth and going back to the late '20s, when this operetta was set. We talked about [the characters'] behavior. There's a waltz in it and [with] Kelli having done "The King and I," I was very keen for her not to be in that same frame. I wanted to [make] her and the moment [more youthful], so I talked about how I wanted them to hold hands in front of the body and not be in a very traditional frame. Before I even take a step, I talk to the actors. I really talk about what it is we're doing, how I see the sequence, how I see the choreography being expressed, and then when we're all in agreement about what we think it is, then I'll get into the nuts and bolts; if it's the left foot, the right foot, a one-count, a three.
READ: The Right Way to Behave on a Professional Dance Job
Does your directing background inform your approach to choreographing?
It's all the same storytelling muscle, ultimately, and I think that's why I love directing, too, because it's an extension of the choreography. It's just another way of telling a story. And in some ways, directing is slightly easier because there is a roadmap. There is a script that you follow, there are words on the page. With something like "Kiss Me, Kate," the script says, "And then they dance," but for choreography it's like, what are they dancing about? Why are they dancing? Who is dancing? What are they dancing on? As a choreographer, you're left to write your own script, and that's something I relish. I get to invent all those stories, and that's really fun. As a director, I don't have to invent those stories because some brilliant writer has already written them.
When you're working with actors who are more "mover" than dancer, how do you make them comfortable with choreography?
If they know why they're doing it, I think it helps. If there is always a reason why, if there's always a motivation of some kind, it helps. I try to communicate very clearly what's in my head; I'll say, for example, that each sequence in "Kiss Me, Kate" is about battle of the sexes. In every single sequence in "Kiss Me, Kate," that dynamic is present. That's existed since Adam and Eve, and how fun is it that we get to [show] that? But quite often for character folks or people who dance less, I will make sure they know why I'm doing something—and then the rest of it is just repetition and hard work.
What advice would you offer to the aspiring choreographer?
Just get started. Get in the studio and start making things. Don't wait for an opportunity; don't wait for someone to call you. Nobody ever calls me, honestly, I just do things. Young choreographers ask all the time, "Can I come and help?" or they say, "I want to be a choreographer," and I say to them, "Just jump out of the nest. You have an iPhone. Take your iPhone and film things, even if you're pointing that phone at yourself." Don't wait for someone to hire you, don't wait to assist someone, just start choreographing, get some friends together and do things.