Kelli O'Hara has perspective, and she's not afraid to use it. The Tony Award winner (and six-time nominee) has given us some of the most cherished musical theater performances of the last two decades, but in this moment, she's using her voice in an entirely new way.
"If a woman has choices and she doesn't have to conform, there's power in that," she says. "Now that I'm graduating from the love interest or the 'desirable' roles, I wonder, Where do I fall? I'm a woman, a friend, mother, wife. I'm a person. I fall in the space of humanity. There are so many stories to be told, and I have things to say."
O'Hara speaks to the current societal climate, her industry, and her place in both with a candor that's unexpected from a consummate leading lady, particularly one most closely tied to prim and proper soprano roles. But on a frigid December afternoon in Manhattan's Flatiron District, O'Hara is frank about her beliefs, aware of what she doesn't know, and has worked hard to care less about the rest.
Take, for example, her decision to do "Kiss Me, Kate," the Roundabout Theatre Company revival of the Cole Porter classic, which opens at Studio 54 March 14. She'll play Lilli Vanessi, whom O'Hara describes as "an actress who is powerful and insecure and probably, like me, has gotten parts because she's blonde."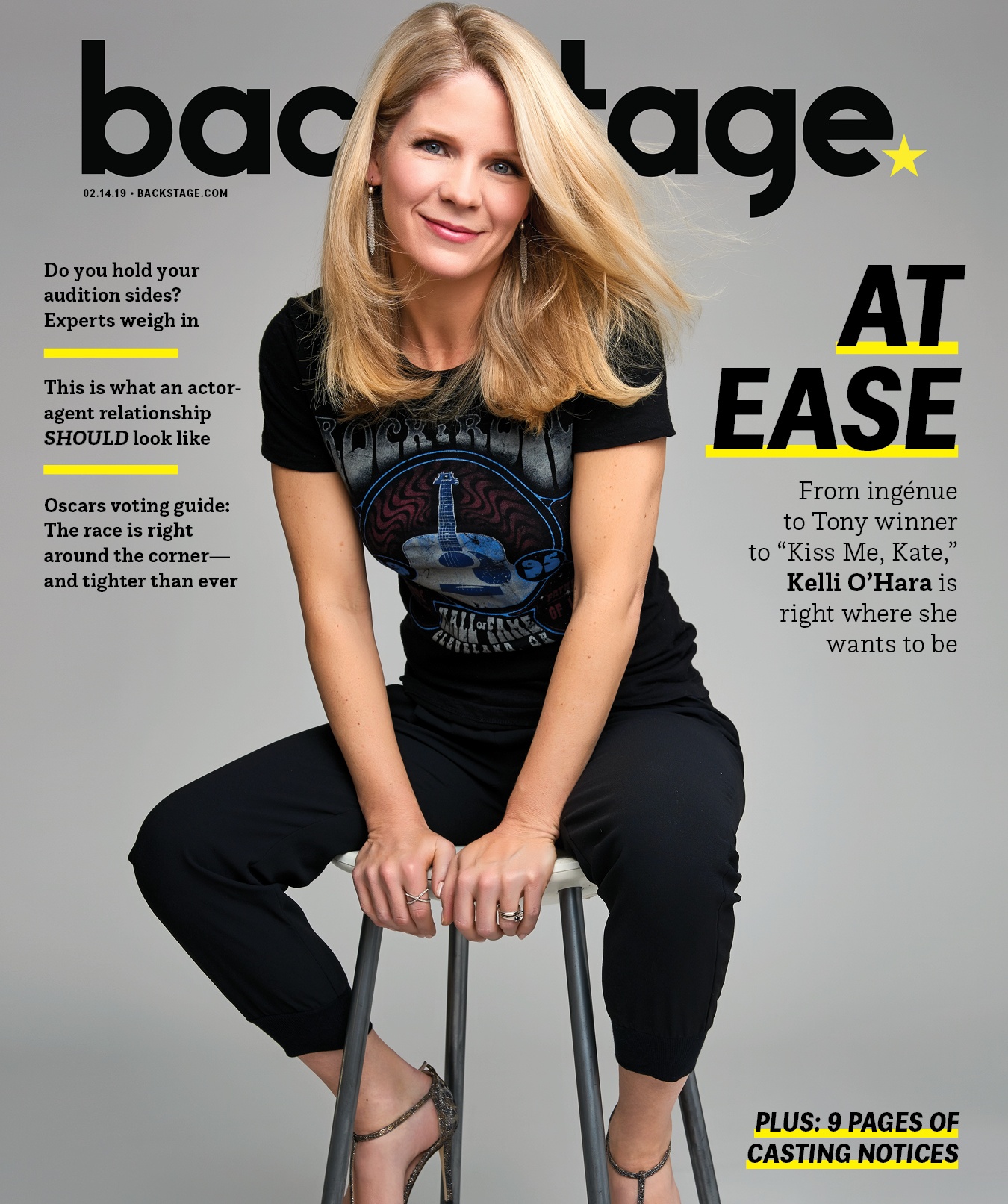 "I think doing ['Kate'] would seem typical of me in some people's minds, but there is so much more behind all of us and it's unfortunate we can't always see that in each other," she says. "I forgot how it feels to wear a blond wig, because older women don't wear blond wigs; to wear sexy costumes, because mothers don't wear sexy costumes. I'm trying to shake it up a little bit, image-wise, to remind myself what it feels like. I'm not sorry about that."
Evidently, O'Hara finds herself at the precipice of something many actors spend their entire careers never achieving: resolution. And with it, ironically, she feels she is finally able to fully understand the ingénue roles that propelled her through much of her career. She cites the young, beautiful, but developmentally stunted Clara from "The Light in the Piazza," for instance, as one that she didn't fully grasp until she revisited Bartlett Sher's 2005 Broadway production 11 years later.
"When I was actually ready to play Clara for the first time was at the anniversary concert when I was about to turn 40, because I was finally skilled enough to be empty," the actor explains. "When I played her in my 20s, I was in the middle of turmoil, deciding who I was, where I was going. Really good artists probably know how to play empty [that young], but the rest of us are clawing our way through. I will need every day of my life to keep learning how to be an artist."
READ: How to Become a Musical Theater Actor
O'Hara is clear, however: She's endlessly appreciative of the ingénue opportunities she's been given, and she also recognizes that her ability to fit that box is precisely what helped her book work out the gate. Typecasting aside, O'Hara emphasizes that young actors should know who they are and how they're perceived from the start.
"I don't want to put you in a box, but I want you to know what you are right now, get the door open, and then explode once you're inside," she says. "People don't have the imagination to see everything at once. You think back to your professors who told you you could never [play certain roles]. What they're trying to do is get the door open with one thing. If you're not focusing in on what you want to say in the beginning, people don't tend to do the work for you—and then you get lost."
Growing up in Oklahoma, O'Hara wasn't exposed to theater because, in short, it didn't exist. She always sang, though, and studied both voice and theater at Oklahoma City University. She was nearly swayed to pursue opera professionally, but when it came time to select a graduate program, she was romanced by New York City and packed her bags. She was going to be an actor.
O'Hara made a deal with herself: If she wasn't working within two years, she'd return home. Fortunately, it didn't take quite that long: After moving to the city on a Thursday, she booked her first job the following Tuesday.
"I will never say that I didn't work my ass off, but I know that I got opportunities that my friend right next to me might not have gotten," she says. "You have to realize that everyone is talented, and we're all lucky to be working. For those reasons, I feel like I have to keep working hard and keep earning my place and keep using [my position] for good."
READ: 10 Musical Theater College Programs You Should Know
But she is also ready to share the space with other women; women who, with everything they represent, may open previously nonexistent doors for a new generation of performers. "I don't want to stop working—ever. But right now, I'm in this nostalgic place where I'm thinking about every step of what happened, why I'm here, that I'm lucky, [and] that I should move over," she says.
That a decorated performer would dare discuss relinquishing the spotlight is another way in which O'Hara breaks the mold, but it isn't for the sake of posturing. "Representation is getting better, so that a young girl or boy can see and experience differently. When I was a kid, I knew exactly what I wanted to be because Julie Andrews and Shirley Jones were on my TV screen," she explains, her voice breaking slightly. "It's time for the options to be as open for everyone. I have been given a lot of opportunities that I want other people to have."
It is with that in mind that O'Hara plans to imbue her Lilli in "Kiss Me, Kate" and every character she subsequently takes on. "Every role I do has to be filtered through the lens of everything I know now, and in 20 years, I'll know way more," she says, again invoking the ingénue-wisdom paradox. "That's the only reason I'll be different playing this from anyone else. It goes back to that reinvention: At some point, you have to go into the 'I have some knowledge' kind of roles."
But for O'Hara, knowledge is not synonymous with cynicism. And whether it's "Nice Work If You Can Get It," "South Pacific," or, most recently, "The King and I" (which notched her that Tony), she believes in the optimism of musical revivals.
"As I get older, I'm understanding why I enjoy doing revivals and also how they might come to be more understood or human," she says. "I am a woman of 2019; I'm educated, but I'm not entirely cynical. The joy, the innocence, the sometimes lack of innocence of these shows, you press on the points of them—when they were written, what was happening politically—to show history and the way it affects us now. And I believe in things like love, I believe in good people, those parts of revivals."
That belief, she says, informs how she approaches life both onstage and off. "I'm an actor, but I can't lie," she says. "If I'm playing a bad person, I have to understand why they're bad. I'm getting to an age where I know I'm on the right side of things; I care about people and I care about my work. Every person I play, I'll judge them, I'll question them, I'll admire them, and I'll find a reason to believe in them. I learn so much about myself through these people."
Looking ahead, O'Hara hopes to keep learning. In that pursuit, she stands on the shoulders of every former iteration of herself.
"Lilli will be strong, but she will not be overthought," she says. "I always thought too much and tried too hard. In my 20s, I was reading about behavioral stuff, and you have to let that be a layer, but then you have to let go. Now, I have all that floating around my head, but I've also had children. I know what it means to be free, and I have felt it."
And what is "it," exactly? O'Hara doesn't hesitate: "Life experience."
Photographed by Matt Doyle on December 6 in NYC; makeup by Tanya Rae for MAC Cosmetics @ Ion Studio Salon; hair by Patrick Kyle