The last interview of the last day of her relentless "Spencer" press tour has finally arrived, and Kristen Stewart is somehow still not tired of talking about acting. The self-described "movie nerd" is at her most animated when she's wrestling with the most nitty-gritty questions about her craft—like whether actors can truly, fully disappear into their roles.
"There's losing yourself in a character, and it's really common for actors to say, like, 'It's about getting the closest to this person as you can,' " she says, then gestures, reaching for the next thought. "But I think in doing that, you're getting the closest to yourself."
Stewart understands why some, when discussing a particularly transformative performance, might opt to distance or obscure themselves. "It's a slippery slope," she acknowledges. "You open a door, and you start articulating the fact that this is really vulnerable and really personal. You open yourself in a way that's a little scary.
"Look, I'm totally not coming for people who sidestep this question and say, 'No, I disappear into the role. It has nothing to do with me,' " she clarifies. "It just doesn't make sense. It's totally an illogical answer. Like, how could you possibly be anyone but yourself?"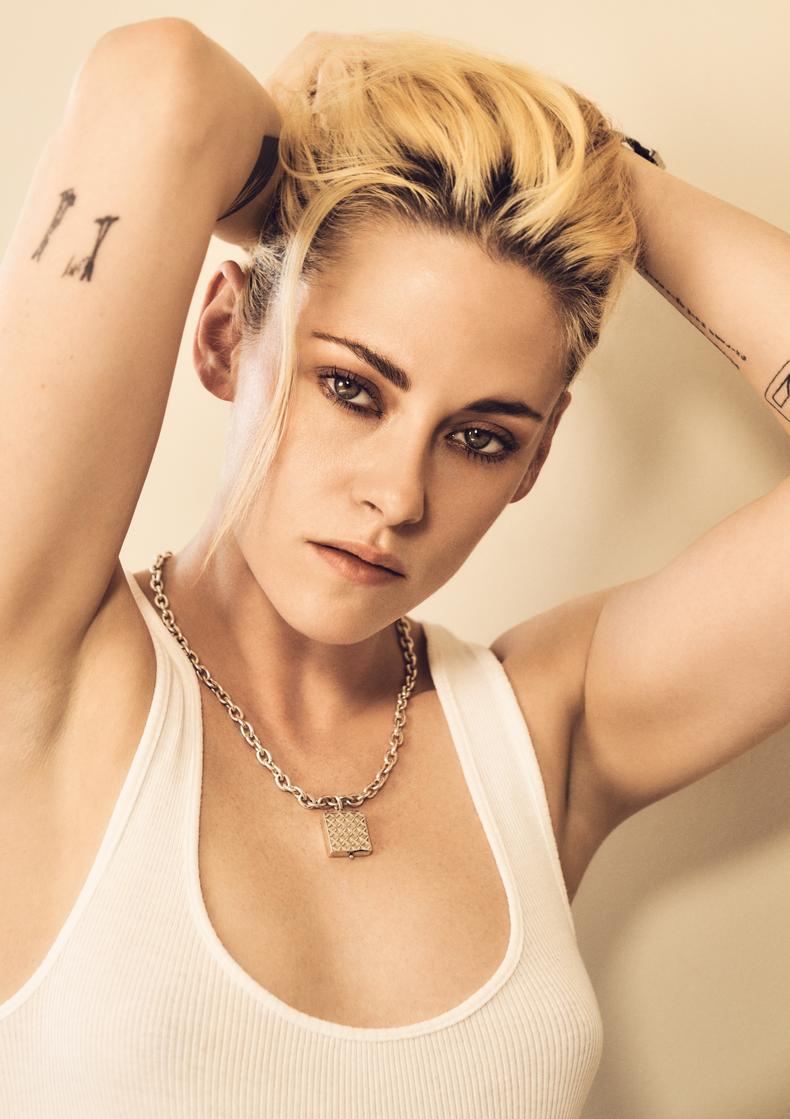 Few people seem as fully themselves as Stewart. She treats a photo shoot at a lavish house in the West Hollywood Hills—complete with eye-poppingly chic clothing and, at one point, a colorful pet bird—as just another day on the job. Tomorrow, she'll fly to Vancouver to film a new project and put a pause on promoting her work as Diana Spencer, Princess of Wales. "Spencer," Neon's horror-biopic from director Pablo Larraín, has earned Stewart film festival honors and leading actress nominations at the 2022 Critics' Choice and Golden Globe Awards. But for now, she's sipping celebratory Champagne out of a plastic cup and giving her full attention to the discussion at hand.
But back to her rant about how—and how not—to approach acting. Although Stewart hesitates to give fellow artists advice, she's certain on one point: If you're losing yourself, you're lost.
"It's not what I gravitate toward, trying to hide behind characters," she explains. "I really want to bare myself and feel revealed and discovered through the lens of cinema and through this sort of new perspective.
"Even if you're not an actor," she adds, "anyone who's not a complete and total narcissist, basically, you use these curiosities to bridge gaps between [yourself and] your fellow man. [Actors] just do the most elaborate version of that, where we try and think about it, we make it physical, we do it sonically—all of it. It's just thinking, God, I wonder what that's like. That's the whole endeavor."
That's one of the many reasons "Spencer" can still provide fresh talking points for her months into an awards campaign. The film is an extreme example of that kind of imagination; it's a jazz riff that's more interested in emotional truth than biographical fact, and it leads to as thorough a transformation as we've seen from Stewart. Taking the opposite approach of many womb-to-tomb Hollywood biographies, Larraín and screenwriter Steven Knight narrow in on Spencer's separation from Prince Charles (Jack Farthing) over three claustrophobic days at Queen Elizabeth II's (Stella Gonet) Sandringham House. The movie bills itself as a "fable from a true tragedy." As Stewart says of the film's take, "To distill a person and examine their truest colors in a state of trauma makes sense. Those times are so revealing of who you are."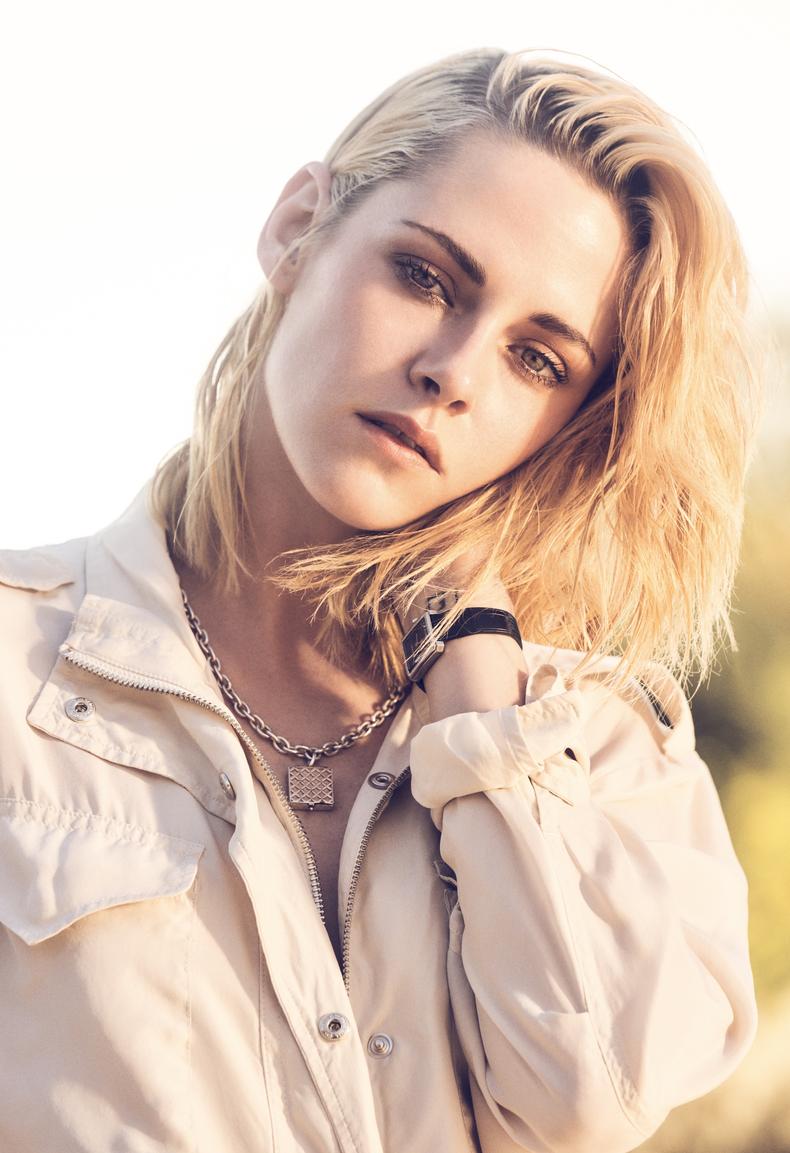 In this case, she doesn't just mean Spencer. Her extraordinarily physical, impeccably made-up and costumed performance pulls off that cinematic magic trick wherein an icon plays an icon; but Stewart's mission to use a character to reveal more of herself was put to the test like never before. "The only way I can be truthful about Diana is to focus solely on my perspective of her. If you start playing everyone's version of her, you're playing a watered-down person. It's a nonperson."
Her approach makes for a performance that's balanced by precise gestures, expressions, and speech patterns filtered through Stewart's greatest acting tool: herself.
"I bet you, if you did full side-by-sides [of Diana and me], we don't walk the same; we don't talk the same; we don't do everything the same at all. But I was inspired by her. And all of the things that I did, I think, say just as much about me as they do about her. It's the both of us," Stewart says. "There was a melding of souls."
The child of a filmmaker–stage manager and a TV producer, Stewart began working onscreen at age 8 after an agent spotted her performing in a school play. Her work in David Fincher's "Panic Room" and Sean Penn's "Into the Wild" led to the role of Bella Swan in the "Twilight" film franchise. The part made her a household name and led to the kind of invasive public scrutiny that, yes, bears a resemblance to the way the paparazzi treated Spencer until her untimely death in 1997. Of her years in the spotlight, Stewart admits, "You bring all of this to your work, and so does the audience."
For an established star, the trick is to use one's reputation to color and texture a story rather than hiding behind voice, accent work, and prosthetics. "I really like when [well-known actors] use it," she says, "versus trying to act like they're untouchable in this way, or they're unknowable. I'm like, 'Dude, you're not unknowable!' You're fully knowable, you're fallible, and you're ever-evolving and changing. I like to invite people on that journey, and it's all evident in my work."
Actors who aren't yet familiar to audiences can do this, too. "It starts with one person wanting to get closer to why something made them feel things," Stewart says.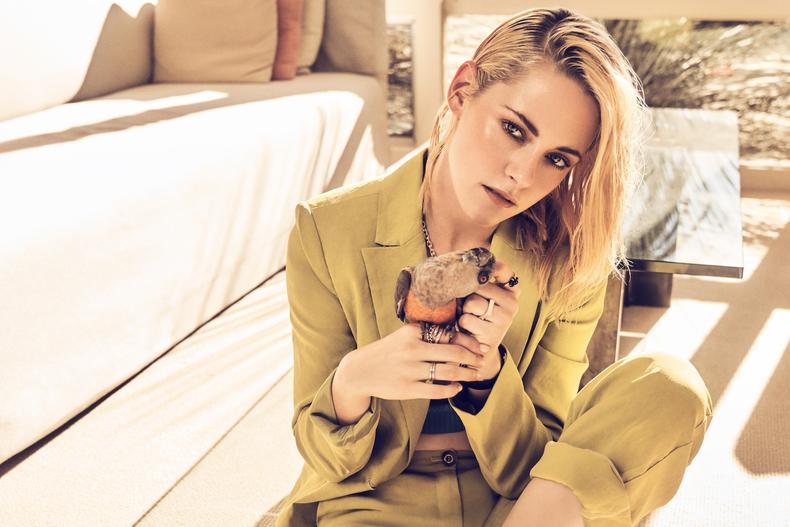 Watch her trajectory through independent film, from playing Joan Jett in "The Runaways" to her César Award–winning performance in "Clouds of Sils Maria," and you'll see evidence of an artist finding herself onscreen. As she excavated her own grief in "Personal Shopper," harnessed paranoia as actor Jean Seberg in "Seberg," and brought easy charm to "Charlie's Angels" and "Happiest Season," she grew more comfortable offscreen, too. Defying warnings from industry insiders, Stewart began dating women and owning her queerness; she recently got engaged to screenwriter Dylan Meyer.
Stewart will next adapt and direct Lidia Yuknavitch's memoir "The Chronology of Water," making her feature-length debut behind the camera. What excites Stewart more than anything is the collaboration between filmmaker and star. "I feel like great directors get you closer to the things you want, not the things they want. Then, somehow, by osmosis, they get what they want," she says. "You share a fucking heart. And when you are finished with the take and you make eye contact with the person who's directing this movie, who set you on this path—if you're not at the same rhythm, if they're not there with you, [the connection is] not going to be evident in the movie."
How often does she make that connection? Practically never, she says, laughing. "When that happens, I literally do backflips and jump for joy." (She has stated in previous interviews that her résumé probably only includes "five really good films.") But while shooting "Spencer" with Larraín, cinematographer Claire Mathon, and a tight-knit crew at various castles across Germany, Stewart experienced that synergy more than ever before. Especially in the semi-improvised "controlled chaos" opposite the young actors playing Prince William and Prince Harry (Jack Nielen and Freddie Spry), she says, "everything just started vibrating…. It's so sacred, the moments that we are rolling and the moments that I am attempting to channel the things I've learned.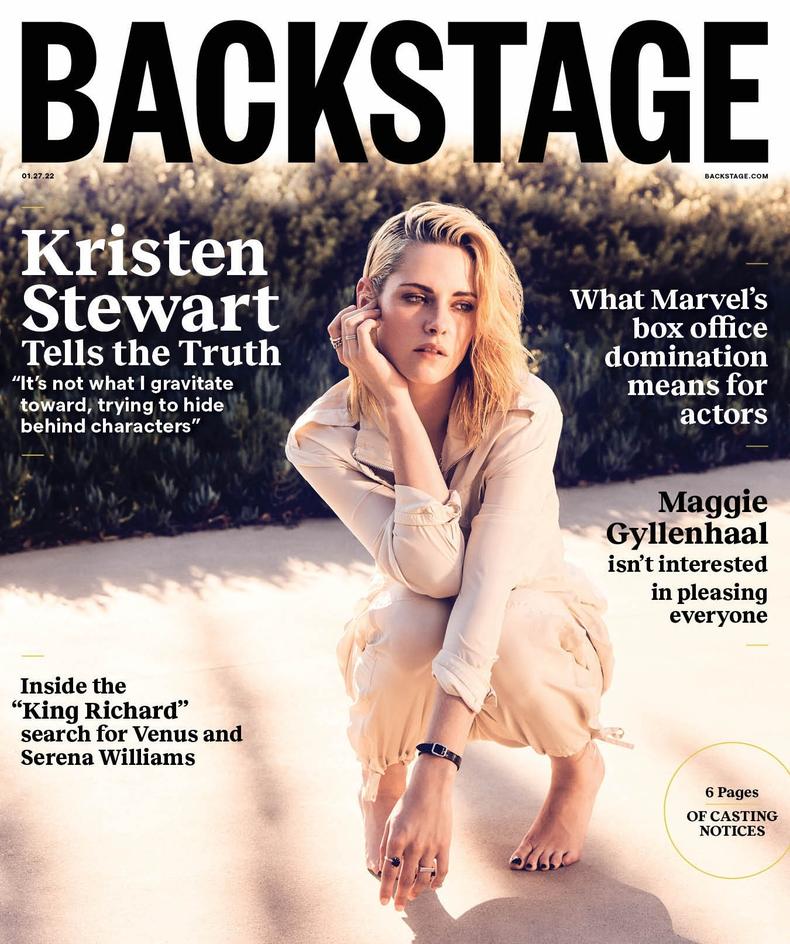 "As composed as the movie is, it was a mad dash. It was always that we prepped and prepped and fucking prepped. And then once we got there, it just felt like juggling water—like we were throwing water balloons. Every single time, I felt that our balance and connection held the content."
That leads into Stewart's ultimate advice on becoming both a movie star and actor: Love the craft enough to spend an entire career chasing that high. "This is what keeps you working—trying to get to that point," she says. "It's so rare that, when it happens, you're like, Oh, my God, this would sustain me for 10 fucking years!"
If you're as passionate about creating characters and art as Stewart is, you're well on your way. "I love movies so much—the alchemy of it, how many people it takes," she says. "There are things, whether they're ways of expressing an idea, an evocative image, an evocative sound, that are truer than the truth. That's what cinema gives us; it gives us this manifestation of dreams. We get to actually take the most inside notions and externalize them, find pictures and words for them."
The reason we make movies, she concludes, is to answer one question: "What does it feel like to be alive?"
This story originally appeared in the Jan. 27 issue of Backstage Magazine. Subscribe here.
Looking for remote work? Backstage has got you covered! Click here for auditions you can do from home!
Kristen Stewart photographed by Shayan Asgharnia on Nov. 14, 2021, at the Simon House in Beverly Hills, CA. Hair by Adir Abergel and Eduardo Mendez. Styling by Tara Swennen. Makeup by Jamie Greenberg. Necklace by Jillian Dempsey. On cover: Outfit by Rag & Bone. Heels by Jimmy Choo. Additionally in story: Suit by Pinko. Bralette by RVN. Shoes by Christian Louboutin. Tank top by RE/DONE. Shorts by Pinko. Shoes by Christian Louboutin. Cover designed by Ian Robinson.