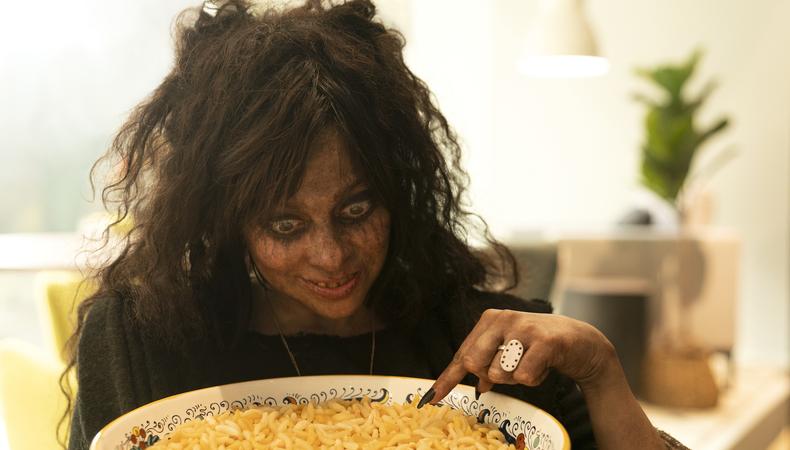 The following Career Dispatches essay was completed via an as-told-to-by interview between senior editor Benjamin Lindsay and Krysta Rodriguez, who can currently be seen starring on Netflix's "Daybreak" and in MCC Theater's "Seared" Off-Broadway through Dec. 22, 2019.
I feel like I'm learning, and that I'm just continuing to learn right now. I definitely didn't realize when I was young and just starting out and very eager how much setbacks were gonna play into the most positive parts of my career.
When I was in high school, I auditioned for an arts high school in Orange County, California, and did not make it in. And so instead, I decided to join the production and design department. I had an amazing time and learned stuff that I would not have learned before. It made me a better actor, and taught me how to be in the right light and how sounds works and things that helped me shape my career.
A bunch of things that I didn't get ended up being a wonderful thing for me because something else came up, or that just wouldn't have been the right place I wanted to be. I would tell my younger self that it's OK, that these setbacks are going to lead you to the most fulfilling parts of your career. My Broadway debut was in a show "Good Vibrations," which was a giant flop. I could have packed it up and left there, but that led me to be in the industry already, I had gotten a Broadway credit, and learned what I needed to learn from that experience. I took what I felt like I didn't know. Years later, that booked me "Spring Awakening," and I came in with a better perspective and more gratitude for the experience I was having because of what I had gone through before. I think that's a big thing that I would've liked to tell myself.
I also teach theater to students, working with a company called the Performing Arts Project, and I'll do master classes and stuff. I always get asked this question, "What do you wish you knew when you were my age?" And I say, "The stuff that I'm telling you right now." There's such a tendency to want to present yourself in your acting instead of really figuring out what story you're telling and who you're telling it to—but it's OK to be messy. It's OK to get dirty, in a way. Get your hands dirty and mess up, and think from your soul.
Dealing With Rejection After a Long Audition Process
When I'm watching and I'm teaching, I don't care if they get that note. I want to see what they're moving from their soul and from their gut. That's what I want people of high school and college-age to know because I think it's going to be better for all of us. I tell them when we're watching each other work that it's as important for the people watching as it is for the people acting, because for the people watching, now that you know that your friend can do it this way, you will never accept anything less than this pure storytelling. You won't accept this sort of what I like to call "adorable" way to sing the song or a cute way to sing the song. You will only accept the real way to sing the song, and that makes you guys better audience members, which will give us better art. You won't accept it anymore. You will demand with your viewership and your patron money that we get stories that mean something. I feel really passionate about that now, and I would have loved to really understand that there's beauty in the mess and that you will get farther than you thought you would by being perfect.
I've pushed myself into that area of thinking about it positively because my setbacks ended up not being the end of the world. It felt like the end of my world at the time, but you go, "OK, I have more time to experiment with things." It actually is harder, in my mind as you get older, to navigate those setbacks, because you know how hard it can feel and you know how long they can last sometimes—and all of a sudden it becomes the thing you have to do in order to eat. But it's good to have that reminder that it's going to be OK. It's also good to be able to speak to the next generation of performers and see their commitment to whatever it takes, even though they don't quite know what that is. I see that, and I remember why I want to do this. I get that positivity rolling again and keep trying.
What advice would you tell YOUR younger self? Get more Career Dispatches right here!