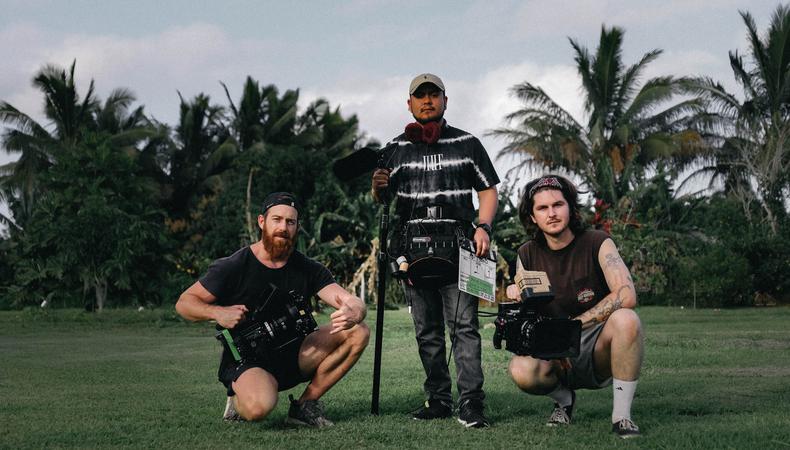 When you're first starting out in crew and production, it may seem like the jobs you can get are few and far between or uninteresting—or both. Listen, I get it: those entry-level roles can be tedious and thankless and may not align at all with the vision you have for your career. But they're necessary. There is no better way to learn, gain experience, and network than taking those jobs and doing them well.
This is why you should say yes to everything—within reason—especially the last-minute gigs that pop up out of nowhere. Sure, maybe you don't see yourself rising up the ranks of the sound department but when your friend calls and says there's a last-minute need for a boom operator on set tomorrow, take it. When a gaffer you once PA'd for texts to see if you're available in a few hours to step in as a set electrician, take that too. Frazzled email from a friend-of-a-friend asking if you can edit a digital ad for a client over the weekend because her go-to editor is busy? Yup, take it.
As I've learned first hand, it's on those last-minute jobs that you'll very often find some of your best connections, the ones that can lead to some of your biggest career opportunities in the future. After all, there's no better networking than on-set networking.
The golden rule of crew work is to always be networking. I'm not suggesting you network day-in and day-out—be sure to do your job and do it well first. But those moments at the end of the day and after the project wraps? Absolutely. You've shared long hours, crazy directors, and funny moments; use those shared experiences to connect and develop relationships that will then help you find bigger, better projects in the future.
Same goes for the producer—you know, the one with hiring power? Networking with the head of a production isn't quite the same as with your unit head, but the producer is the most important to follow up and stay in touch with moving forward if you'd like to find more work in the future.
Starting out, I didn't know many people in town. When I was asked by a friend to join a shoot last-minute, I was quickly put in front of a hiring producer. I had little leverage at the time—and a lot of desire to make money and gain experience—but I made a good impression and was hired. Throughout the shoot, I kept my energy up and positive, and did what I was supposed to (and did it well). Not only had I helped the producer on short notice, but I'd done a good job and endeared myself to him. Years later, he's gone on to hire me again and again (with ample notice) because he knows and trusts me thanks to that first last-minute shoot.
Another element that should never be forgotten or ignored is just how much valuable experience you glean on a job. Yes, you can read great articles online about the world of film and video (like these here on Backstage, of course). But they pale in comparison to the everyday challenges, lessons, and experiences you'll gain on set. A practice I adopted early on that helped immensely was to take notes at the end of every day. What did you observe? What did you do well? What would you like to get better at? What other roles would you like to learn? The more time you spend working—even if it's a last-minute job—the more opportunity you have to get that hands-on experience. The number one piece of advice almost anyone in a crew will give you? Just get on set; learn on the job. There's no better education in the business.
Another thing that will keep your career moving is having consistent credit, which last-minute jobs can help with. This isn't to suggest that doing work just for the credit is wise, but the truth is that credits aren't something you should write off or ignore. Being able to show that you've worked consistently over the years indicates that not only are you experienced and good at what you do, but also that you're in demand. Before you know it, those jobs you took on short notice will lead to having your pick of multiple offers.
Finally, I'd be remiss if I didn't mention the fact that when you're asked to do something last-minute, you're in a much stronger position to negotiate a more favorable rate. I'm not advocating that you drastically exaggerate or lie about what it'll take money-wise for you to take the job, but remember that they need you too, and if it's a last-minute ask, they're probably willing to offer more if you ask for a number within reason.
When I work crew jobs, I have a standard rate I expect to be paid (though I will work for less for the right situation, project or person). But if I'm being asked to join a project last-minute, I have no problem asking for my rate plus more due to the expediency. By negotiating for a higher rate on these last-minute jobs, I can, over time, justify raising my standard rate which, in turn, continues to raise my expedited rate. And while this line of work isn't about the money, it certainly doesn't hurt to set yourself up for long term success with fair rates that reflect your experience and work quality.
(Not sure what you should be asking? Check out this guide to every crew position and their standard rates.)
Alright, so now you're convinced that last-minute jobs may just be the key to cracking your crew career wide open. But how do you find them? Like I said earlier, a lot of them will come from your professional network, the people you've worked with before who know you're reliable and good at what you do. But if you're new to the business and don't have a robust network, you'll have to get proactive. Seek out opportunities; let it be known that you're looking for work. Here are a few ways to do it.
1. Use social media to your advantage.
Sometimes landing a last-minute job is as simple as using the right search terms on Facebook. Use the search bar just like you would on Google: plug in your location and relevant keywords, like, "Austin film crew jobs" or "last-minute production jobs New York." You can also seek out and follow local creators who often post when they're crewing up for a production. A few favorites include Freelance Film Crew - Los Angeles, I Need a Production Assistant!, People Looking for TV Work: Runners, and Film Industry Network. And of course: Last Minute and Short Notice Film/TV Production Needs & Jobs-Casting Calls.
Check these groups every day; set up alerts so you get a notification when a new post goes up. Reply to anything that sounds interesting or worthwhile and get yourself those last-minute jobs.
2. Register on production job sites and crew databases.
While this one isn't groundbreaking—you should already be registered on job sites—it's still important. Not only should all your contact information be accurate and available should someone find your profile and want to hire you, but you should also be using these platforms to seek out work, specifically of the last-minute variety. Many job sites let you filter listings by a production's phase, so if you're looking for something right away, make sure you've filtered by "active" or "filming." Chances are that once something is in pre-production or principal photography, the jobs they'll need filled are of the last-minute variety. Make sure you're constantly checking:
3. Get familiar with your local film office.
If there's something shooting in your area, chances are they need to register with the local film office. Not only can you use these film offices to know what productions are headed your way that may need crew, but many also have crew databases where you can upload your details so that if a local production finds itself in need of last-minute crew members, you're easily findable and contactable:
(You can also follow along with Backstage's Now Filming and Greenlit series to stay up-to-date one what's currently shooting or will be soon near you.)
This story originally appeared in the May 27 issue of Backstage Magazine. Subscribe here.
For more on how to get work on a film crew, visit Backstage's crew hub!