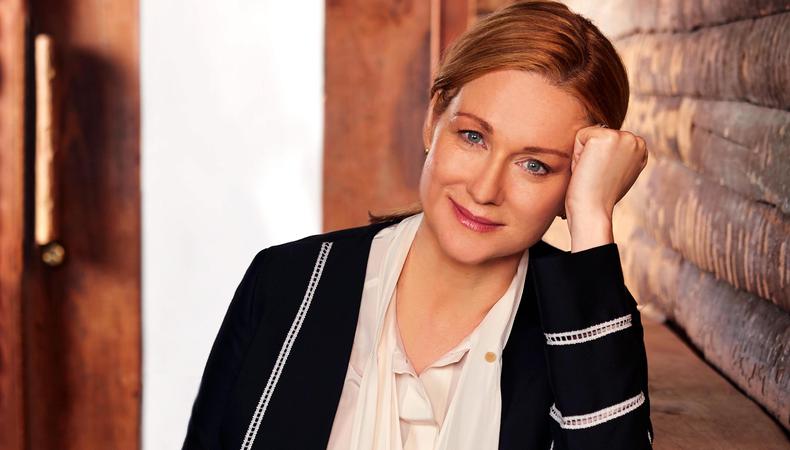 Like many of us these days, Laura Linney has a lot of time on her hands to contemplate the big markers and milestones that have led her to this moment. Perhaps unlike the rest of us, however, this moment marks a time for Linney in which she is starring on one of TV's hottest shows, "Ozark."
Still, she remembers the big break that started it all, and she dropped by "The Late Late Show With James Corden" (at-home edition, of course) to reminisce on it.
"It was getting into drama school, getting into Juilliard," she says. Linney did not in fact think she would get in—not before applying and not on the day of her audition, on which she was one of 450 other hopefuls. "I sort of thought, What the hell? Might as well give it a go. Why not? What do I have to lose," she recalls.
On the morning of her audition, she was the second person (again, of 450) to go into the room, following a woman who, as Linney recalls, carried in with her a sword and wig stand. That same day, a sheet was posted with four prospective students who would be invited for a callback. Guess whose name was on it?
"You don't know quite what to do," she says of the moment. "You can't shriek with joy because there are 446 people sobbing around you." Even then, Linney did not think she would get in—which is, perhaps, exactly why she was able to find freedom in the room. She performed a piece as Hermione from "The Winter's Tale" ("very badly," as she remembers it) and a piece in which she was a belly dancer ("which must have been better").
When she finished, there was silence. "The entire faculty was there and I heard someone say, 'Does anyone need to see anything else?' " she says. "And they went, 'Thank you very much, Laura. Thank you for your time.' And I thought, Well that was nice. The [other girl] got in. And then, much to my surprise, I got in."
Well, looking at her body of work, if Linney is surprised, no one else is.
Looking for remote work? Backstage has got you covered! Click here for auditions you can do from home!